WILSON COUNTY
THE WILSON COUNTY FAIR 1920-1931
   ...   The first Wilson County Fair was initiated in 1920. A group of Wilson County citizens organized the Wilson County Fair Association, which had its headquarters in Floresville, Texas. The association sold shares of capital stock at $30.00 each to create a fair 
grounds area approximately where the Floresville High School is located today. The fair complex included a horse race track with a grandstand, exhibit buildings, show buildings and other related structures. The purpose of the fair was to create a county wide effort to encourage diversification and development. To achieve this goal, it was intended to 
stress educational features, social events and entertaining programs.
In 1920 a fair was scheduled for three days in September. It began on a Thursday and ended on the following Saturday. The opening event featured a parade through the 
downtown streets of Floresville on the first morning of the fair. After the parade, the fair was formally opened at the fair grounds with addresses by local dignitaries and 
political candidates. Visitors and participants in the fair's events came from all parts of Wilson County and from neighboring counties. The fair management established a 
practice of admitting all kinds of agriculture or livestock exhibits without an entry fee. Cash prizes were awarded to all of the winners. This policy encouraged widespread 
participation.
The social features of the fair helped to insure the fair's continued success. The fair itself was larger than camp meetings, a roundup or a big horse race. Old friends had an 
opportunity to meet and reminisce about the days past. Conversations and observations with fellow citizens encouraged them to compare economic situations and to see how their personal industry could be improved. 
Women were encouraged to select fresh and canned vegetables and fruits as well as dried fruits for exhibit. Flowers, fancy needle work, old curios, and relics were called for. Baked goods such as breads, pies and cakes were displayed. Poultry was also placed inthe exhibits. School girls were asked to present their favorite candy recipes. All of the 
presentations were to be entered in the women's department of the fair, which was managed by the county home demonstration agent.
Goat roping contests were well attended events at the fair. These contests were held each afternoon and became a major feature. Participants in the competition were 
individuals from Wilson County and surrounding counties.
Football each day was another entertaining event. On opening day of the 1920 fair, Floresville High defeated Beeville High 13 – 0. On the second day a group of all star players from Floresville won over a picked team from Nixon and Stockdale by a score of 32 - 0. In the football game on Saturday Floresville high defeated the Lutheran College of Seguin by a score of 13 – 6. This gave Floresville High an undefeated fair record.
During this first fair, amusement was furnished each day and night by the De Kreko Bros. Amusement Company. Included were six big shows, a Ferris- wheel, a merry-go-round 
and other attractions. There was dancing each night at the new Floresville Amusement Company Hall. Some of the music included a fine jazz band. Daily horse racing at the 
fairgrounds was another major entertainment event. An airplane stunt exhibition was presented over the fairgrounds in front of the grandstand about fifteen minutes before 
the beginning of the horse races. During other parts of the day the planes were available to give individuals a demonstration flight over the Floresville area.
The first Wilson County fair in 1920 was a gala celebration and it went down in history as a memorable event. Thousands of people attended the fair which had ideal weather. The livestock and poultry shows were better than anticipated. The Women's Department in the main exhibit building, the agriculture displays and associated booths were a great credit to what Wilson County had to offer. The first fair in 1920 was a great overall success from the beginning of the parade on Thursday morning to the last piece played by the orchestra at the grand ball on Saturday night.
The fairs were held annually until 1931 with the exception of 1925. With the early successes, the fair directors increased the event from three to four days. It began on Wednesday morning with the opening parade. The fair directors decided not to have a fair in 1931. However, they were hopeful that a fair would be held in 1932. This decision was reached after the pros and cons were discussed with the various citizens from all parts of the county. The collapse of the cotton market had created unfavorable economic conditions. It was generally pointed out that it would be almost impossible to present a fair equal in kind to fairs of the previous years.
(Compiled by Gene Maeckel from the files of the Floresville Chronicle Journal and the archives of the Wilson County Historical Society.)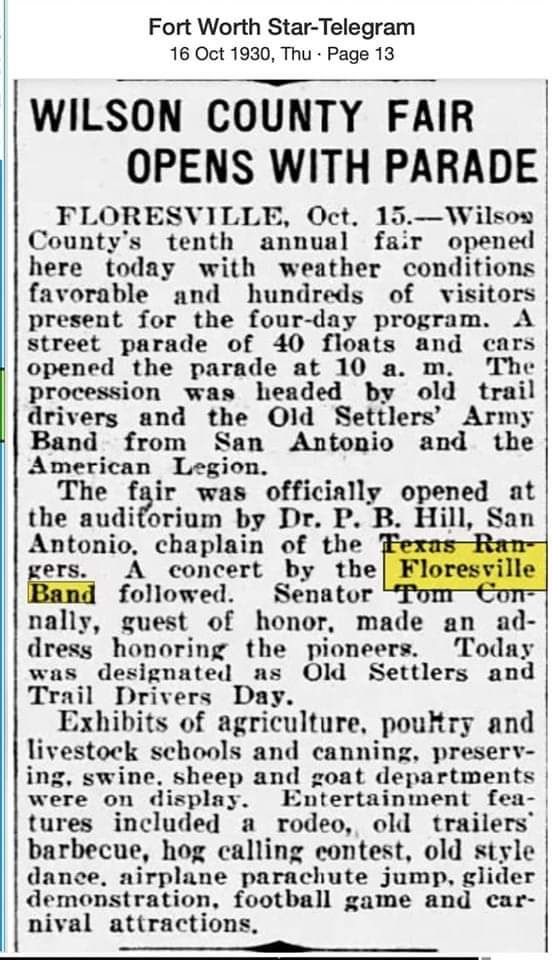 Wilson County Fair, 1930
WILSON COUNTY FAIR ..... 1930 newspaper article courtesy of  Allen Kosub. Tambria Read adds, "The Fair Grounds, Leroy Sellers told me, were apparently where the FHS 800/900 building, the football field, and N toward the Basketball field, & Tennis courts are. Then the WPA dormitories were in approximately the same area."
What is Wilson County Texas history of music?
Historian Allen Kosub shares that some years ago, at a Wilson County Historical Society meeting Viola Henke passed around a sign-up sheet for a trip to Branson Missouri, a celebrated music venue.  I was amazed at the response and the aftermath.  From my best memory, it may have been the beginning of the Floresville Opry (Viola would know best).
The response made me wonder, "What is Wilson County's history of music?" The information discovered showed that music has been an important part of Wilson County from its earliest days.
Before Floresville was established, Clemente Delgado, celebrated Mexican ox-cart organizer, held parties with live music at his rancho.  It would be hard to imagine a party by the German, Czech and Polish settlers without lively music.   The settlers at Sutherland Springs held grand balls at Bailey's Hall with music provided by "Professor" Dosiedo (a freed slave).
After Floresville was established, numerous mentions may be found of an opera hall, city band, concert band, brass band, and string band.  Floresville's Concert Band was a serious undertaking with a band director, Fritz Teltchik, who was inducted into Texas Bandmasters Hall of Fame. According to newspaper accounts, his band became the Floresville Tiger Band in 1932.
[Mr. Kosub shared several newspaper clippings from past research mentioning music venues]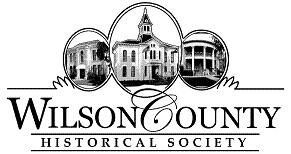 Opry helps fund historical markers
( July 2015) The Wilson County Historical Society has received permission to use funds raised by the Floresville Opry to replace damaged or missing Texas State Historical Markers in Wilson County.
Viola Henke told the Wilson County News that some of the proceeds from the quarterly musical event will help replace historical markers that have been stolen, damaged, or vandalized. Funds also will assist with obtaining future historical markers the society is pursuing.
The Wilson County Historical Society's popular Floresville Opry events feature classic country music, drawing young and old from far and wide. The next Opry will be Thursday, Aug. 6.
Wilson County historians uncover, document, and preserve the rich history of Wilson County and the area along the Alamo-La Bahia Corridor. The land beside the San Antonio River and along the Cibolo Creek has seen human occupation for many centuries.
Wilson County was created in 1860, with Sutherland Springs as the first county seat. Spanish-era mission ranchos existed in what is now Wilson County, including the Rancho de las Cabras near Floresville, part of the area's rich ranching and farming heritage.
Major trade routes, such as the Alamo-La Bahia Road, the San Antonio and Gonzales Road, the Seguin Trace, Corpus Christi Road, and San Patricio Trail, traverse Wilson County.
Texas State Historical Markers identify sites in the county, such as the Wilson County Courthouse in Floresville, the Polley Mansion near Sutherland Springs, the King Lorenz house in Stockdale, and the White House Café in Floresville, among others. Historical markers tell us today and our children tomorrow of this rich history.
***********
COURTESY/ Wilson County News 2015
WILSON COUNTY AREA UNDER THE RULE OF MEXICO AND TEXAS
Wilson County did not exist in the time period of 1821 -1837. The majority of the area of the county as it exists today was, at that time, a part of Bexar County. Almost all of the area 
land was devoted to ranching controlled and owned by persons of Spanish heritage, many of whom were descendants of the original 16 Canary Island families who came from Spain and established Villa de Bexar. 
One ranch which was very important to the Texas War of Independence in this time period was owned by Erasmo Seguin, father of Juan Seguin. Juan Seguin played an important role in the war. He was one of the last persons to leave the Alamo before its fall and then assisted Sam Houston in capturing Santa Anna at the Battle of San Jacinto. During this period of conflict, his father's ranch site was used as a supply point for horses, cattle, food, and other necessities to aide the Texas army. The ranch headquarters, called Casa Blanca, was also used as a meeting place to discuss strategy related to the war effort. Today, there 
is an historical marker located near the site of Casa Blanca. All that remains of the ranch site today, is the house foundation of Juan Seguin's home and a nearby, hand dug, water 
well.
An important transportation route traversed Wilson County during this period called the San Antonio - La Bahia Road. This road is designated as part of the national trail, El Camino 
Real de las Tejas. The road passed near Erasmo Seguin's home, Casa Blanca. This hacienda served as a refuge from Indians along the roadway or as a place for travelers to rest. 
The San Antonio - La Bahia Road served as the main route of travel between the missions and presidios of San Antonio and of La Bahia, which was renamed Goliad. It also served as an 
alternate route to the East Texas Missions. Many of the men involved in the Texas Revolution, both Texian and Mexican traveled this road between San Antonio and Goliad during the revolutionary period. Parts of this road still exist today in Wilson County as thoroughfares.
Some of the ranching families and their herdsmen, or vaqueros began to form communitiesin the Wilson County area. Americans from the United States and citizens from other countries migrated to the area. As time moved on, the communities grew and acquired the names we recognize today. 
One of these communities was Sutherland Springs. At that time it was an area of more than 100 springs feeding into the Cibolo Creek. These springs were known to Indians for years 
and they often camped near them to drink the sulphur water and to bathe in warm springs in hope of being cured of the maladies affecting them. This community was named for Dr. 
John Sutherland, who was with the defenders of the Alamo performing the duties of a medical doctor. He sustained a knee injury and could not stand. However, he was able to
ride a horse, and Colonel Travis used him as a messenger to deliver the message addressed to the "inhabitants of Texas", which he delivered to the Texas forces at Gonzales and Goliad. His knee injury saved him from martyrdom at the Alamo and after the revolution he returned to Sutherland Springs to establish a medical practice. His practice included using the water of the different springs for their curative aids. Sutherland Springs had a post office in 1851. It was Wilson County's first county seat.
Graytown was established by James Gray, an immigrant from Scotland. It was settled by Spanish families who all claimed direct ancestry from Spain. Graytown was a center of 
activity in trade and the social life for the surrounding ranches. St. James, a Catholic church named for James Gray, was completed in Graytown in 1854. It was later renamed, Our Lady of Guadalupe Church. It became the religious center for all Catholics within a thirty-mile radius.
Lodi, located near Floresville, was the second county seat in Wilson County. It was situated on the San Antonio - La Bahia Road next to the San Antonio River. It was south of the 
Seguin ranch and the Francisco Flores ranch, called Los Chayopines. A post office was located in Cook's store in Lodi in 1858. Lodi was a community of families whose livelihood 
was linked to working on the area ranches as herdsmen and vaqueros, but Lodi was also a community with an international flavor. People of different nationalities lived and worked in Lodi as craftsmen and tradesmen. 
*****************
Compiled by Gene Maeckel and Maurine Liles from the archives of the Wilson County Historical Society, 
6/8/2007
Marker Photos COURTESY/ The Historical Marker Database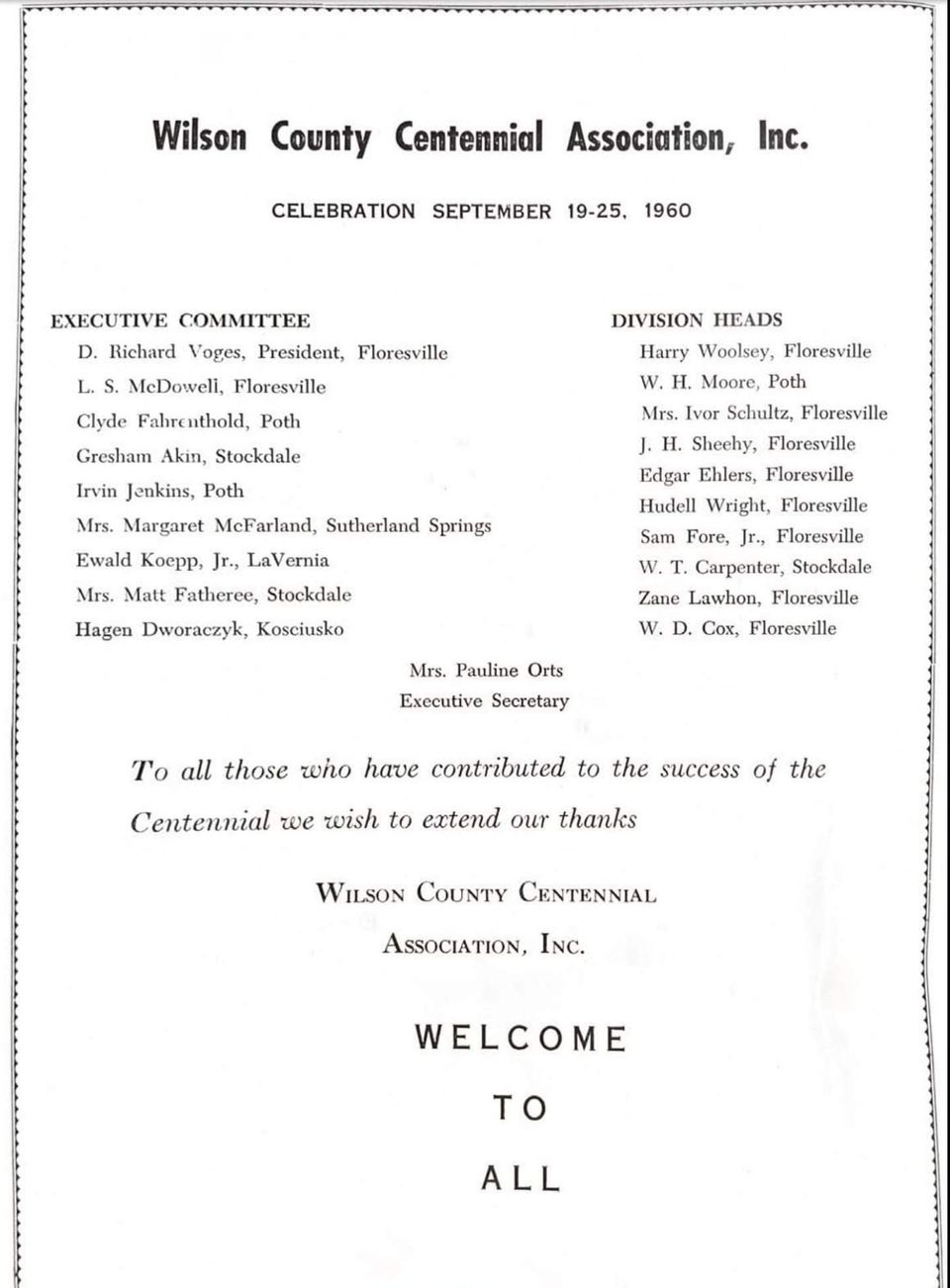 Wilson County Centennial Association, Inc.
Sixty-two years ago this coming September...... these folks planned a great celebration for Wilson County Texas 100th year!  Are you a descendant of one of these fine folks? Are there old photos lying around in a drawer, in a box, album commemorating those days?  "Talk of Wilson County Tx Historic Towns" plans a pictorial collection .... please send identified old photo scans to:

 
talkofwctowns@gmail.com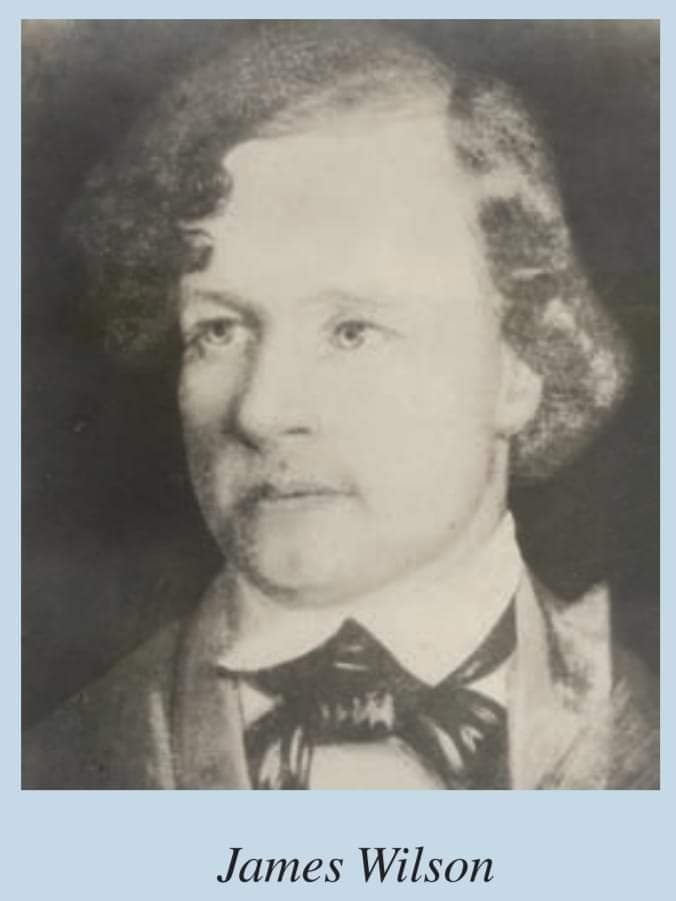 Who is Wilson County Texas named after? 
James Charles Wilson was a Methodist minister and senator of Texas. Born in Yorkshire, England on August 24, 1818, he was the oldest son of John Kenilworth and Elizabeth Sterling Wilson. He was educated at Eaton and Oxford College and graduated with full honors at the age of 16 years. He worked as a public surveyor for the commons of England and had 
membership with the Queen's Guards. Spring 1836, his father 
informed James he arranged a marriage with their neighbor's 
daughter. When James explained he could not marrysomeone he had no affection for, his dad became enraged and struck James on the head with his cane. James left and went to London. 
James Wilson first arrived in New York with his brotherOscar. 
They traveled to Galveston, Texas in 1837, shortly after the battle of San Jacinto. His brother became ill and passed away. James found himself penniless and alone in a strange land. Working to load and unload cargo in Galveston, he was able to raise enough money to carry himself into the interior, where he arrived in Bailey's Prairie in Brazoria County. James taught school in the community for two sessions and studied law. Recognizing his ability to think and write, he was employed to edit a newspaper in Columbia. In 1842, Mr. Wilson joined Charles K. Reese's company for the Somervell Expedition. He became a private in Company E on the Mier Expedition under William S. Fisher. He was captured in Mier, Mexico, on December 26, 1842, and imprisoned in Castle Perote near the City of Mexico. As a prisoner of war, he was chained to a comrade and forced to break stone. He refused to claim British protection even to secure his release from prison. Mr. Wilson claimed he owed allegiance only to the Republic of Texas. Imprisoned for about a year, Mr. Wilson and several other prisoners escaped and headed for Texas. At Matamoros he boarded a ship for Galveston and went back to work at the paper in Columbia. 
Mr. Wilson was a gifted orator and gave a speech in favor of 
Texas annexation. In 1844 he was elected to the office of Clerk of the District Court of Brazoria County which held for one term and was reelected for the second term but did not fulfill the entire term. He was licensed to practice law some time in 1845 by the District Court of Brazoria County. He married Miss Amelia Weakley on February 4th 1846. They had nine children; six preceded him in death. He moved to Wharton to practice law with his partner, Judge George Quinan. He was elected to the Third Legislature of Texas 
and was a member of the Fourth Legislature. In 1856, he was appointed by the governor to the Office of Commissioner of the Court of Claims to adjust and quiet old claims for grants to land under the colonization laws of Spain and Mexico. 
James Wilson lived and worked in Austin until spring of 
1857 when he was compelled to resign from his duties due to an illness. The climate in Austin not agreeing with his health, he moved to Gonzales about five miles southwest from the town. In 1858 he entered the ministry of the Methodist Episcopal Church South and preached until his death on February 7th, 1861. Wilson County was established 
in 1860 and named after James Charles Wilson himself.
Researched by Melissa Koepp Beck . Credit should also be given to "James Charles Wilson A Sketch of His life".
****************
COURTESY/ Wilson County Sesquicentennial 1860-2010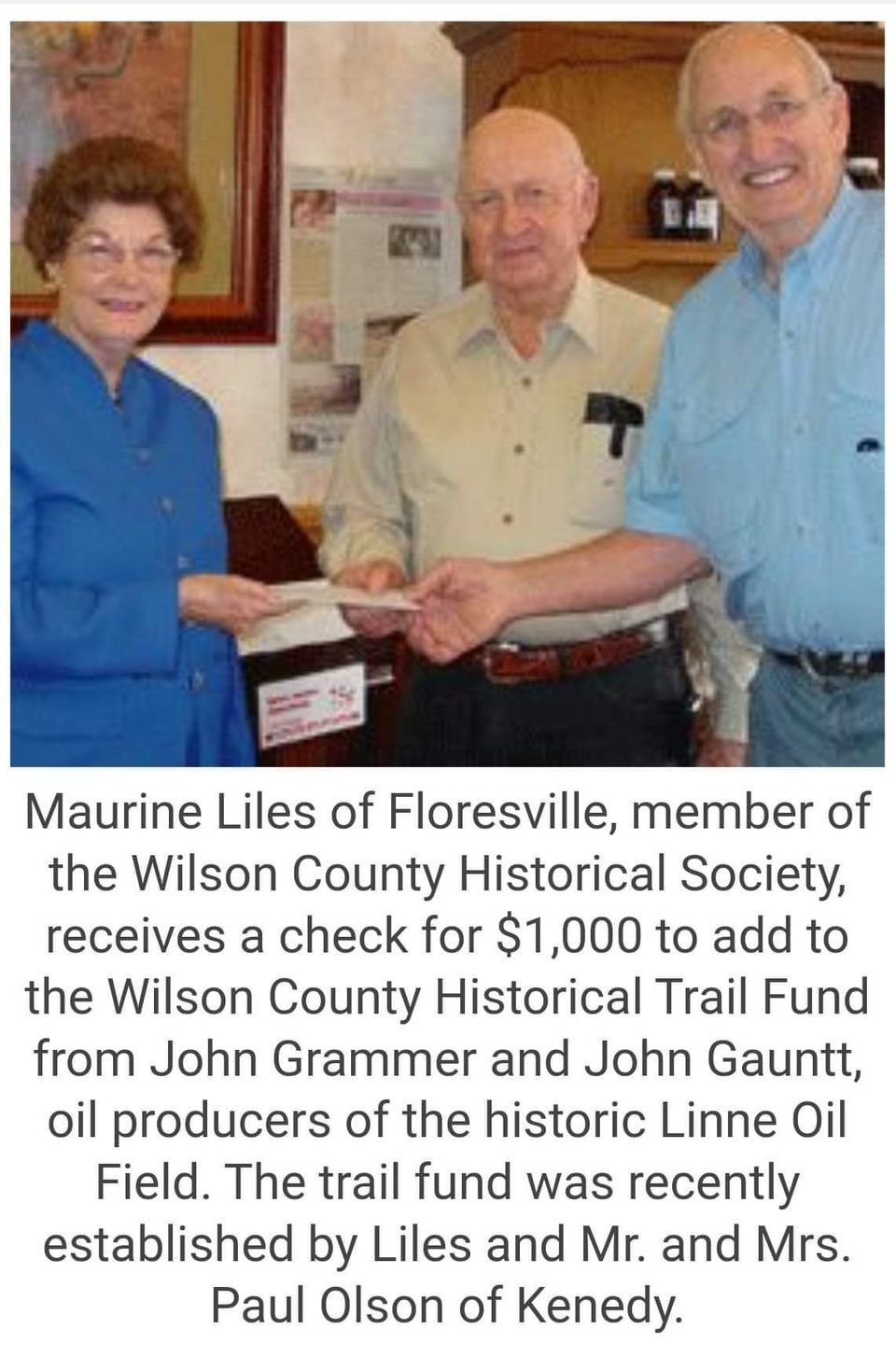 Researchers take steps to found Wilson County Historical Trail 2007
...  The proposed Wilson County Historical Trail combines the efforts of John and Shirley Grammer, Maurine Liles, Gene Maeckel, Jesse Perez and others to mark historic sites along a section of F.M. 539 and the Sutherland Springs-Lodi Road. The trail will begin at the Guadalupe-Wilson County line and end in the historic community of Lodi. The Grammers have been researching and marking sites on the north end of the trail. Liles, Maeckel, and Perez are researching and marking historic sites in the community of Lodi.
When the Shiloh Cemetery was discovered, located about halfway between Lodi and Sutherland Springs, the group came up with the slogan, "We shall meet at Shiloh."
At the trail's beginning is the proposed marker site for the old historic "San Antonio-Gonzales Road" being researched by Allen and Regina Kosub. A marker was erected for the historic Mueller Bridge in 2005. The Grammers and Milton Hild are researching Pleasant Hill School site No. 1. An application for historic designation on the Barker-Huebinger Rock Home is being prepared by the Grammers and Mr. and Mrs. Mike Huebinger. The Polley Cemetery received a marker in 2006 and the Linne Oil Field in 2007.
The Grammers are also collecting information on "Potash Hills," and Susan Richter is researching Pleasant Hill School site No. 2. Polley descendants would like to see a historical marker, containing the history of the Polley Mansion, erected on state property near the home. This would give tourists a more in-depth history of this early antebellum home, which received Recorded Texas Historic Landmark designation in 1965.
Tambria Read is researching several sites in "New Town" Sutherland Springs, including the Pat Higgins Buffel Grass Farm, the famous "Springs," the bank, and picture show. The Williams sisters are researching the Sutherland Springs Hotel.
The town of Sutherland Springs received a marker in 1966. There are a number of historical sites in Sutherland Springs, including the first county courthouse, the John Sutherland Home site, and the Tiner-Hendricks home.
Sharon Hays has begun research on the beautiful Sutherland Springs Cemetery. Application for historic designation of the Shiloh Cemetery was filed with the Texas Historical Commission this month.
There is a lot of history surrounding the "Grassy Pond," which is also on the list for a marker. Liles and Maeckel have done extensive research on the historic Sutherland Springs-Lodi Road and prospects are good for a historical marker.
The Canary Islander Cemetery in Floresville, also on this route, was designated as a historic site in 1967.
As the trail crosses U.S. 181 to follow the Sutherland Springs-Lodi Road to Business U.S. 181, the road is closed to traffic. In previous years, this dirt road led to a path that connected with present-day First Street. There, it turned left until it reached present-day Plum Street, turning right on Plum and approaching Goliad Road. This is the historic district of Lodi, which was the county seat of Wilson County in 1867, where a historical marker for the Lodi Ferry is situated. The De La Zerda Cemetery has been approved and is awaiting a marker.
Other sites on Goliad Road being researched are the former site of Gray's Blacksmith shop, the Lopez-Lepori cellar, the site of Pedro de la Zerda's house — once used as a courthouse when Lodi was the county seat, Cook's Store, and several other important sites.
**********************
Courtesy /  Wilson County News August 01, 2007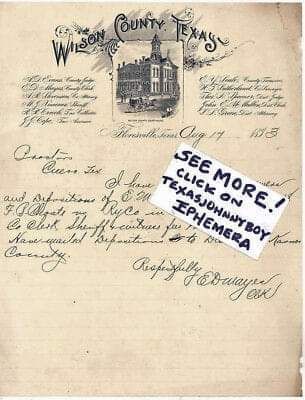 Wilson County letterhead, 1893
This is a LETTERHEAD from Wilson County in Floresville, Texas in the year 1893. The vignette at the top was done by the printers Clarke and Courts of Galveston, Texas.   In those days, they were the largest printing company in Texas.  
This letter is hand written and signed by E. D. Mayes, the county clerk.
Names listed at top right and top left:
A. D. Evans as County Judge
E. D. Meyers as County Clerk
A. R. Stevenson as County Attorney
M. J. Ximenes as Sheriff
R. R. Creech as tax collector
J. J. Cope as tax assessor
E. Y. Seale as county treasurer
W.T. Southerland as county surveyor
Thomas H. Spooner as district judge
John E. McMullen as district clerk
S.L. Green as district attorney
(Ebay)