WILSON COUNTY HISTORIANS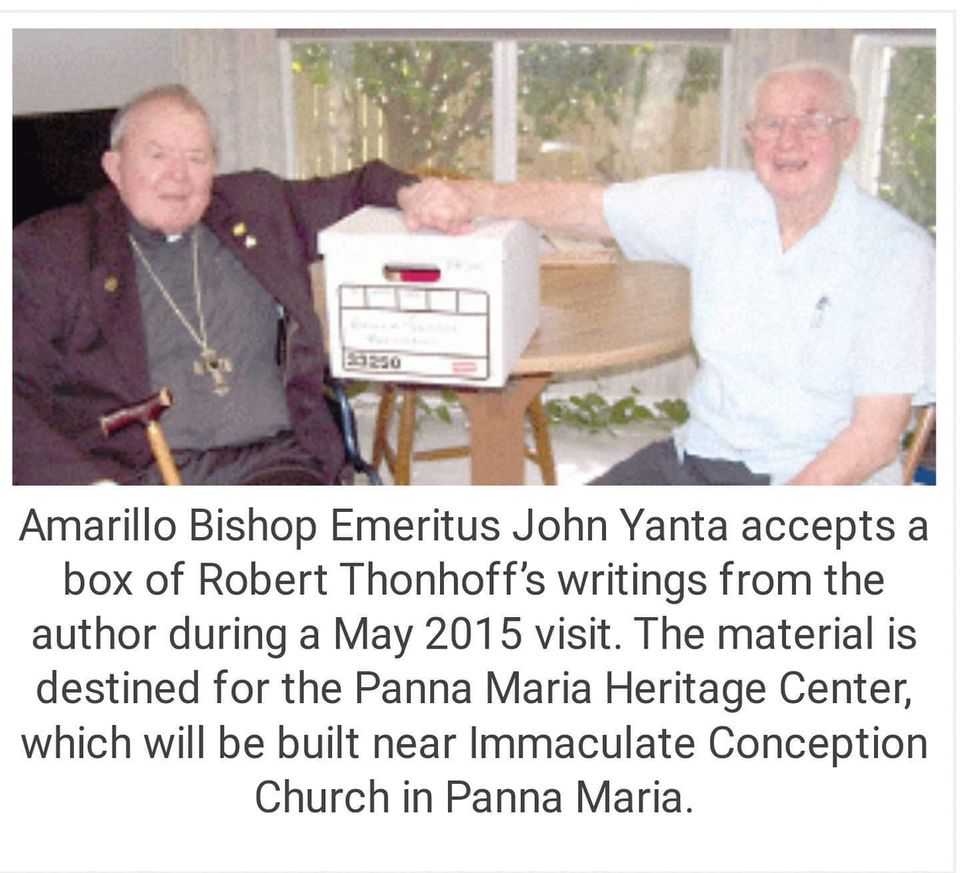 Robert Thonoff
Historian Robert Thonoff's Archives .... secures the past for the future. Gregory Ripps wrote the following article for the Wilson County News about a valuable Wilson County historian, Robert Thonoff.
When historian Robert Thonhoff moved from Karnes City to northwest San Antonio in 2012, he found himself faced with a problem: what to do with the plethora of documentation he had accumulated in six decades of research.
Thonhoff, now 86, has focused on South Texas history and written books, articles, and essays. They've covered such subjects as the role of Spanish Texas in the American Revolution, the commonly overlooked Battle of Medina — one of the largest battles ever fought on Texas soil — and the early histories of several communities.
He also was active in a number of organizations, among them the Texas State Historical Association and the Alamo-La Bahia Corridor Committee, and kept notes and publications related to them.
The boxes containing these papers and publications quickly overflowed his new garage and attic. He simply didn't have room, and yet, "I didn't want to confine all my historic stuff into the trash bin," he said.
Luckily for him — and for others interested in South Texas history — he had a friend at Texas A&M University-San Antonio who said the new university library could take most of his collection.
"The task of unpacking, separating, reorganizing, and repacking took four months," Thonhoff said.
Ultimately, about 50 cubic feet of documents, photographs, maps, and books, to be known as the Robert H. Thonhoff Collection, ended up in the library's Archives and Special Collections Unit.
When the university's Special Collections Reading Room opened in February 2015, Thonhoff and his wife, Victoria, whom he calls Vicie, were special guests.
"It was one of the biggest events of my life," he said. "My donation was termed as a cornerstone collection."
Among other special guests was Amarillo Bishop Emeritus John Yanta, who expressed an interest in any books or publications that Thonhoff had about Polish settlers in South Texas.
"I was very honored by his interest in my writings," Thonhoff said. "I was very pleased to donate them to the Panna Maria Heritage Center ... a very noble cause."
Yanta, who established the Polish American Heritage Foundation in 2011, has led efforts to develop a Polish heritage center in Panna Maria, which Thonhoff said is a "veritable Polish Plymouth Rock." When the building is constructed, it will house Thonhoff's contributions, along with numerous other acquisitions related to the Polish history and culture in the area.
Thonhoff's relationship with the local Polish-American community goes back at least to 1966, when he served as master of ceremonies for a Polish millennial celebration and introduced then-Gov. John Connally to the gathering.
Over the years, Thonhoff has been in frequent demand as a speaker. No more. He said he gave his last speech — he called it his valedictory — in 2014. It was about Spanish families and ranches in South Texas.
Thonhoff said a study of old Spanish land grants revealed that there were three historical ranches in what became Wilson County. In addition to the Rancho de las Cabras near Floresville, there was the Rancho de Petaquilla on the Lodi Branch and the Rancho de Paistle in the La Vernia-Sutherland Springs area.
Thonhoff said he developed an interest in Spanish colonial history while attending St. Mary's University during a hitch in the Air Force. Later he received his master's degree in history at Southwest Texas State Teachers College. Along the way, he developed a love for the communities south of San Antonio. He taught school in Jourdanton and Fashing before moving to Karnes City in 1988. He even served as the county judge of Karnes County.
He was president of the Texas State Historical Association when the organization published its multi-volume The New Handbook of Texas, which includes more than 80 articles he wrote.
Thonhoff's favorite subject is the Texas connection to the American Revolution. In addition to his own writings, he has helped three different authors write their own books on aspects of the subject.
The "Texas connection" and the 1813 Battle of Medina, fought between Spanish royalist and republican forces, are "two things other historians miss," he said.
Although no longer engaged in any writing projects, he still helps others interested in South Texas history with their projects.
We really don't know who we are unless we know where we came from and how we got here," Thonhoff said. "History helps to answer these questions."
Morning light fills the small office he maintains in the front of his home. "I call this my window on the world," he said. "We're homebound now, but we're in the midst of many friends."
Select bibliography
A sampling of books authored by Robert Thonhoff illustrate the range of his historical interests:
•Ox Cart Days in Old Helena [Old Helena Foundation, Helena, 1968]
•Drama & Conflict: The Texas Saga of 1776, coauthored with Robert S. Weddle [Madrona Press, Austin, 1976]
•The Texas Connection with the American Revolution [Eakin Press, Austin, 1981]
•Forgotten Battlefield of the First Texas Revolution: The Battle of Medina, August 18, 1813 [Eakin Press, Austin, 1985]
•El Fuerte del Cibolo: Sentinel of the Texas-La Bahia Ranches [Eakin Press, Austin, 1992]
•Growing Up Together: Karnes County and Panna Maria [Panna Maria Sesquicentennial Association, 2004]
The author said all his books are out of print, but serious collectors can still find copies.
Shirley Grammer
Shirley Grammer ..... another notable Wilson County Historian received the Women in American History Award. 
The National Society Daughters of the American Revolution has awarded Shirley Grammer of La Vernia with the Women in American History award.
This recognition took place March 8, 2015,  during the organization's Texas State Convention in San Antonio.
Shirley has been instrumental in obtaining 17 Texas State Historical Markers to designate many cemeteries, historical sites, and homes. She has authored several historical reference books and catalogued and restored several cemeteries, posting tombstone photos for researchers. Her work has included the Concrete Polley Family, Immanuel Lutheran, and Rector Chapel cemeteries, along with the Sutherland Springs Cemetery, among others. Her talents assisted in the Wilson County Sesquicentennial celebration in 2010, photographing county historical markers. Additional research and work culminated in La Vernia's Mueller Bridge being placed on the National Register of Historic Places. Her love of the community started with work on the Applewhite Homestead in La Vernia; her latest work obtained a $125,000 grant from the Davy Crockett Forest Service for repairs to a road by the Historic Hill Cemetery in Hilltown, Texas. The Susanna Dickinson Chapter, National Society Daughters of the American Revolution is the proud sponsor for Shirley's award.
The Women in American History award emphasizes the role of women, past and present, in American history, who have made a contribution or a difference in their communities.
Shirley was taken by surprise to be nominated and named as the award recipient. In her speech March 8, she recognized her husband, John, whose help and support have been invaluable.
"My husband has developed back problems in the last few years and he blames me!" she said. "John says that he has followed me around for the past 26 years carrying post hole diggers, rakes, hoes, crowbars, cleaning supplies, concrete; he has leveled tombstones and dug holes to erect historical markers and this is what's wrong with my back."
She said John waved his walking cane at this point, eliciting laughter from the audience.
Last year, the San Antonio de Bexar Chapter in San Antonio nominated Peggy Huddleston Caravantes — a classroom teacher, speech and debate coach, and administrator; after she retired, she operated FTG Educational Associates, writing curriculum materials and conducting student and teacher workshops.
*************************
COURTESY/ Wilson County News