SUTHERLAND SPRINGS COMMUNITY
Memories of Sutherland Springs Texas by Mildred Phillips
Memories by Mildred Phillips about Sutherland Springs and her Grandmother Mollie Sutherland are fascinating. 
"As a child I remember going down to Sutherland Springs to visit my Grandmother, Artie Odom Sutherland's brothers, Uncle Ed, Uncle MT, and Uncle Garvie and his wife Aunt Bess Odom. 
We would often camp down on the Cibolo Creek, which was called "Sea Willow" River by all of the old timers.  We think that name was derived from the Spanish pronunciation of Cibolo "See Bowe Lowe" which sounds a bit like Sea Willow.  There are also many willow trees all along the creek that could have contributed to the name. 
I learned to swim in that creek along with the catfish and alligator gar!  One time Uncle Ed took us in his rowboat as far as the creek would allow to show us where the old swimming pool was located.
 By this time in the 1960s there was nothing much to see.  However you could clearly smell the sulphur from the springs.  You could also taste it in the water from the local wells.
We would often camp in a little park not far from where Hwy 87 crosses the creek.  My brothers and I learned to swim in the Sea Willow River along with the catfish, the gar, and the muddy bottom.
I was always fascinated with stories about the springs and the swimming pools.  One time, Uncle MT took us upstream in an old row boat as far as we could get to see if we could reach the pools.   Unfortunately I never did get to see the area.
 However, I did however see everything through the eyes of my Grandmother Ethel Jane Pruett Grant who lived and went to school in Sutherland Springs.  She told stories about going to the springs in a wagon and camping on the banks for about a week to swim in the waters and visit with kin folks who also came.  
This was a family reunion of sorts for the Pruetts, the Bundicks, the Glovers, and the Grants.   She was there to see the grand swimming pools and bath houses as well as the dancing pavilion and Hotel Sutherland.   All we have today are the few pictures that remain and those memories."
[In the blog "Sutherland Family History" , Sharon Sutherland has written some stories involving Sutherland Springs. It is appreciated that Sharon has given her permission to post some on the "Talk of Wilson County TX Historic Towns
Sutherland Springs Cemetery
Sutherland Springs Cemetery .... Sutherland Springs, Wilson County, Texas .... by Shirley Grammer     3/12/2012
The community of Sutherland Springs was established ca. 1849   and named for Dr. John Sutherland (1792-1867).  Dr. Sutherland came to Texas in 1835 and is well known in the annals of Texas history as one of the survivors of the Alamo in 1836.   Dr. Sutherland would have been among the many casualties at the Alamo had he not been crippled when his horse fell on him. Not being able to fight, Col.  William Travis sent him to Gonzales to seek help.  While Dr. Sutherland was on this mission the Alamo fell to the Mexican forces. 3    Dr. Sutherland's nephew, William DePriest Sutherland, born 8/10/1818 died March 6, 1836 at the Alamo. He was the son of George Sutherland. 4  
     Dr. John Sutherland was born near Danville, Pittsylvania Co., Virginia May 11, 1792. 5  His parents were Capt. John Sutherland, Sr. and Agnes Shelton Sutherland.   Capt. Sutherland was an officer in the Revolutionary War. He was of sturdy Highland Scotch descent; his father, John Sutherland (or Sutherlin as it was originally spelled) having emigrated to America. 6    Capt. Sutherland moved from Virginia to Tennessee in 1805  and settled on Clinch River where he kept a ferry known as Sutherland's Ferry. 7                                                             
     Dr. John Sutherland became a merchant at Knoxville, Tennessee. 8   There he met and married his first wife. Afterwards he went to Decatur, Alabama where he served as president of a bank.  9  After a while he moved to Tuscumbia, Alabama and entered into the mercantile business with his brother George.  In 1825 George and John opened their store in a "new brick building" on the corner of Sixth and Main on "Mechanics Row." 10    It was here in Tuscumbia that Dr. Sutherland selected his second wife.  In 1829 Dr. Sutherland and George Sutherland closed their business.   In December 1835, Dr. Sutherland, Captain William Patton and several others visited Texas with a view to settling on lands which the Mexican government offered as an inducement to settlers to make homes in Texas. 11    Arriving at San Felipe they took the oath of allegiance to the new government.   Then they proceeded to San Antonio arriving there on the 18th of January, 1836. 12   After the fall of the Alamo Dr. Sutherland returned to his family in Tuscumbia, Alabama.  In the fall of 1837, having closed his business in Tuscumbia he brought his family to Texas, reaching the settlement known as Egypt, (Wharton County, Texas) in December of that year. 13     He built a home on the West side of the Colorado River, located 4 miles from Egypt where he lived until  the fall of 1849 when he moved to present day Wilson County , settling near the Sulphur Springs on the Cibolo River, present day Sutherland Springs, Texas. 14 
      Dr. Sutherland was married three times; first to Diana Kennedy in Knoxville, Knox County, Tennessee, December 31, 1816. 15  There were 3 children born to this union: David (1820-1852), Sarah Agnes (1822-1870) and John James Sutherland (1824-1845).  Diana died February 17, 1827 in Tuscumbia, Alabama.  Dr. Sutherland's  second marriage was to Ann Bryan Lane on November 17, 1827 in Alabama.  There were five children born to this union: George Quinn (1829-1869), Levin L. (b. 1832 - died in South America) 16  and Jack Sutherland (1838-1922) 17   Two daughters: Margaret Ann, (1834-1834) and Margaret Ann, II born 1/10/ 1840 - died 11/1840). 18   Ann died  January 10, 1840 in Egypt, Wharton County, Texas. 19   His third and final marriage was to Ann Margaret Lucas Dickson 1/21/1841 in Colorado County, Texas. 20   Ann Margaret Dickson was the widow of Abishai Dickson who was killed with Fannin at Goliad. 21  Margaret and Abishai Dickson had several children.  Dr. Sutherland and Ann Margaret had 3 children: Mary Elizabeth (1843-1901), 22 William T. (1845-1924) 23  &  Rev. Alexander Hamilton Sutherland (1848-1917). 24   Dr. Sutherland and Ann Margaret were separated in later years but remained friends.  They never divorced.  
 In 1849  Dr. Sutherland purchased the Trevino grant on Cibolo Creek, located some twenty miles east of San Antonio. 25     Dr. Sutherland boarded patients who came to the Sulphur Springs seeking cures for various ailments.  He gained a reputation for curing cholera and other maladies.  His house was soon a regular stop, known as Sutherland Springs, on the road to Port Lavaca from San Antonio.   January 27, 1851 Sutherland Springs obtained a post office.  Dr. Sutherland was the first postmaster.  He had the town platted and sold lots, sponsored the construction of a school and Methodist church and served as a justice of the peace and a member of the school board.  His town became the provisional seat of Wilson County in 1860. 
The Cemetery at Sutherland Springs was established October 31, 1860 when Dr. Sutherland granted approximately 5 acres to the town of "Sutherland" for a graveyard. 26    The first burial was that of his wife, Ann Margaret Sutherland, who died May 5, 1862.  Ann Margaret Sutherland was born in Savannah, Georgia August 5, 1809. 27   She ran a boarding house and became acquainted with many travelers traversing the old road from San Antonio to Port Lavaca & Indianola. 
On May 22, 1911, Jacob Hyder sold 2.09 acres for $75 to Margaret Curry, Mamie Sutherland and Jennie Wiseman, trustees of the Oak Hill Cemetery Association, 28  present day Sutherland Springs Cemetery Association, bringing the total acreage to 7.09 acres.  On May 1, 1956, Jennie Wiseman and Mamie Sutherland submitted their resignations as trustees of the Oak Hill Cemetery Association. Margaret Curry was deceased.   The cemetery became known as the Sutherland Springs Cemetery Association, with Basil Hoke, Claude Cowan, and Melvin Deagen elected as new trustees.  Mrs. Basil (Pearl) Hoke was the president. 29
On September 19, 1997, the Billy Deagen family of Sutherland Springs deeded 0.59 acre to the Sutherland Springs Cemetery Association, bringing its total acreage to approximately 7.69 acres. 30.   A plat of the cemetery is found in a General Warranty Deed  dated 11/21/1995 PP.895-367, Bill Deagen and sons, LTD to John J. Sturm & wife, Jo Ann Sturm, 51.47 acres of land out of the A. Trevino Grant.  The Sturm's own the surrounding  land around the cemetery.
Interred in this cemetery are  four Texas Rangers, a county judge,  a sheriff, doctors, veterans, Masons, members of Eastern Star,  descendants of the historic Polley and Sutherland families who were early pioneer settlers to the area. 31. 
There are many interesting characters interred in this cemetery.  To mention a few:                                    
     Mrs. Susan Walker Pickett, born ca. 1825 in Fredericksburg, Virginia.  She wrote letters to Andrew J. Hamilton 32  a noted Unionist and Texas Congressman in 1865. 33  Hamilton assumed the office of provisional governor (6/17/1865 - 8/9/1866) under an appointment  from President Andrew Johnson during the turmoil of reconstruction.  Susan expressed her differences with William Longworth, the local agent for the Freedmen's Bureau.  She was also recognized as a poet. 34  Susan was married to County Judge, Andrew Greer Pickett.  Susan died October 26, 1873 and is buried in the Sutherland Springs Cemetery.  Judge Pickett remarried Eleanor Adelia Polley in 1877. They are buried in the Floresville City Cemetery.
     Mary Augusta Polley-Polley Baylor (1827-1915) was born under the Republic of Texas flag at San Felipe de Austin.  Her father,  Joseph Henry Polley, was a veteran of the War of 1812.  He came to Texas with Stephen F. Austin and was a member of Austin's "Old 300".  Mary Augusta was married twice; first to her (1st) cousin, Joseph Egbert Polley in 1842.  After the death of her husband Mary Augusta came to the Cibolo in 1847 with her family and settled near Sutherland Springs.  She married Walker K. Baylor in 1852.  At one time Mary Augusta Baylor was believed to be the oldest native Texas woman and had the distinction of living under four flags. She has a "Citizen of the Republic of Texas" medallion on her gravestone that was placed in 2008.  Walker K. Baylor (1821-1891) was connected to the well-known Baylor family of Texas.  He served as a postmaster of Sutherland Springs in 1866 and county judge of Wilson County in 1867.  W.K. Baylor and Mary Augusta Polley-Polley Baylor are buried in the Sutherland Springs Cemetery. 
     Jonathan James Polley (1848-1925) was the son of pioneer settlers Joseph Henry Polley and Mary Bailey Polley.  He was born on the Cibolo near Sutherland Springs.  He was a brother to Mary Augusta Polley-Polley Baylor.  Jonathan never married.  He is buried in the Sutherland Springs Cemetery.
     Susan Rebecca Polley Henderson-Brooks (1835-1906) was the daughter of Joseph Henry Polley and Mary Bailey Polley.  She first married Connally F. Henderson in 1858. Connally was killed in the Civil War at the Battle of Gaines Mill. 35   Susan married (2nd) Josiah D. Brooks in 1876.  Susan and Josiah are buried in the Sutherland Springs Cemetery.
     John W. Lilly (1818-1883) appears to have arrived in Texas by 1838.  He conducted business in Matagorda and Wharton Counties, including a partnership under the name Wadsworth and Lilly.  He received a third class head right grant from the Republic of Texas in 1845, which was later patented in Maverick County.  Sometime prior to 1861, Lilly relocated to Sutherland Springs in Wilson County, where he entered into a partnership with W. K. Baylor in a mercantile business.  He had a daughter, Rowena, by his first wife, Mary Lilly, and another daughter, Alice Viola, from his (2nd) marriage to Eliza Temperance  Craighead 6/17/1873.  Eliza (1843-1877) was the daughter of James Patterson Craighead (1812-1854) and Sarah Agnes Sutherland Craighead (1822-1870).  Eliza was a granddaughter of Dr. John Sutherland.  John W. Lilley, Mary Lilly (1829-1866), Eliza T. Craighead Lilly, Rowena Lilly Killough (1865-1932) and Sarah Agnes Sutherland Craighead  are all buried in the Sutherland Springs Cemetery. 36 
     Mary Ann Cotton Mayes (1821-1875) was the wife of early settler, William D. Mayes.  W. D. Mayes came to present day Wilson County as early as 1847, purchasing land along the Cibolo south of Sutherland Springs.  His wife, Mary Ann Cotton Mayes, was born in Halifax, N.C. to Joseph Cotton and Eliza H. Harris Cotton.  Mary Ann married William D. Mayes (12/14/1837) in Memphis, Shelby Co., Tennessee.  William and Mary Ann became wealthy land owners in Wilson County.  Mary Ann was buried in the Sutherland Springs Cemetery. The burial place of W. D. Mayes is unknown. 37 
     John D. Murray (1836-1916) served in the Civil War as 1st Sgt. Co F 4th TX Inf.  He was a member of Hood's Texas Brigade and attended the Forty-fourth Hood's Texas Brigade Reunion in Floresville, Texas on October 14th & 15th, 1915. 38  He was born in North Carolina. His family came to the Cibolo  ca. 1858 and settled near La Vernia.  He was the son of  William Owen Murray and Sarah Ormsby Murray who are buried in the Historic Rector Chapel Cemetery in La Vernia.   John married Arabell May Stevenson (1849-1933) in 1869 and they were the parents of eleven children.  John and Arabell are buried in the Sutherland Springs Cemetery.
     John Frederick Perchard (1873-1920) was born on the Island of Jersey, England according to his obituary.  He was the son of a highly honored English family.  He came to America in 1892. He married Miss Edna Murray in 1903, daughter of John D. Murray and Arabell Stevenson Murray.  He ranched for awhile and then went to work for Waters-Pierce Oil Company.  John and Edna Perchard are buried in the Sutherland Springs Cemetery. 39  
     Sanford Brown (1830-1916), Texas Ranger, was born in Maury County, Tennessee and came to Texas when he was about 13 years old.  He married Miss Mary Reynolds (1840-1905).  They had eight children.  Sanford Brown often spoke of his Indian fighting days at Fort Davis.  Among his papers was a brief report stating: "Under the command of Major John S. Simonson, in Capt. W.R. Henry's Company, while trailing Indians we saw where they had a war dance, saw many moccasin tracks and a dead Indian Chief and a squaw." According to the Texas State Archives Records, Sanford Brown drew two pensions; one as an Indian fighter for the U.S. Government and another as a Confederate Veteran of the Civil War.  The government classified these men as Texas Rangers attached to the 8th US Infantry.  A Texas Ranger Cross was placed at his grave site in 2008 by the FTRA.  Sanford and Mary are buried in the Sutherland Springs Cemetery. 40  
     John Sutherland Craighead (1847-1935) Confederate Soldier, former Sheriff of Wilson County (1894-1899) and pioneer settler.  He died at the Confederate Home in Austin, Texas September 22, 1935.  John Craighead was born in Knoxville, Tennessee .  He came to Sutherland Springs in 1857.  He married Miss Mary Isabella McAlister (1846-1910), daughter of John M. McAlister and Isabella McClain McAlister, early pioneer settlers of La Vernia.  John was the son of James Patterson Nelson Craighead and Sarah Agnes Sutherland Craighead.  He was a grandson of Dr. John Sutherland.  John and Mary I. Craighead are buried in the Sutherland Springs Cemetery. 41  
   J. P. N. "Pat" Craighead (1875-1921) Texas Ranger, was born in Sutherland Springs.  Pat Craighead joined the Texas Rangers in 1906 and served in Captain John R. Hughes Company at Ysleta, Texas and later was stationed in the lower border country.  He was badly wounded by Mexican bandits in the San Benito ambush in 1910 at which time his partner Quirl Carnes was killed.  Due to the seriousness of his wounds his left leg had to be amputated.  After serving as a Texas Ranger for five years Pat resigned to become Sheriff of Jim Hogg County.  He was elected to that office in 1912 and served in that capacity until his death in 1921.  Pat Craighead is the son of John S. and Mary Isabella McAlister Craighead.  He is a great-grandson of Dr. John Sutherland.  Pat is buried in the Sutherland Springs Cemetery. 42  
          Mary Frances Sutherland Johnson (1843-1901) was a daughter of Dr. John Sutherland and his third wife, Ann Margaret Dickson Sutherland. She married Robert Johnson.  She is buried in the Sutherland Springs Cemetery along with a young child.  The burial place of Robert Johnson is unknown. 
     Jack Sutherland (1838-1922) son of Dr. John Sutherland and his second wife, Ann Bryan Lane.  Jack married Mary Elizabeth Sutherland, daughter of the first Chief Justice of Wilson County, Dr. William Sutherland.  Judge Sutherland and his wife are buried in the Evergreen Cemetery, Victoria, Texas.  As far as I know, no kinship has ever been established between the two Sutherland families.   Jack and Mary Elizabeth Sutherland-Sutherland (1848-1897) remained in Sutherland Springs.  Eleven children were born to this union.  43  Jack served in the 4th Regt Texas Infantry,  Hood's Brigade CSA.  He engaged in the mercantile business in Sutherland Springs.  Jack and Mary Elizabeth Sutherland are buried in the Sutherland Springs Cemetery. 44 
     William Thomas Sutherland (1845-1924) was the son of Dr. John Sutherland and his 3rd wife, Ann Margaret Dickson Sutherland.  He was born at Egypt, Texas.   William married Miss Eunice Sophia Will (1849-1936), born in Canada. William entered the Confederate Army in 1864 and served in Texas and Louisiana until the end of the war.  He became a surveyor in Wilson County which he learned without ever taking a course in school.  He was elected county surveyor in 1876. His compass, tripod, chain and ax have gone to the corners of practically every foot of land in Wilson County and his word was law in the field of surveying.  William and Eunice are buried in the Sutherland Springs Cemetery. 45 
     Sarah Agnes Sutherland Craighead (1822-1870), daughter of Dr. John Sutherland and his first wife, Diana Kennedy Sutherland.  Sarah married James Patterson Craighead (1812-1854) 1/5/1843 in Tennessee.  Her daughter, Eliza Temperance Craighead, was the second wife of John Lilly.  Sarah Agnes Craighead is buried in the Sutherland Springs Cemetery.  The burial place of James Patterson Craighead is unknown.
     Charles  P. Warren (1858-1924) Texas Ranger, (Private, Company F of the Frontier Battalion, mustered into state service June 1st, 1882 46 and honorably discharged August 1, 1882).   was one of the founders of the Methodist Church at Sutherland Springs.  He served as steward and trustee for many years.  He was revered and loved by the entire membership.  He was Postmaster in Sutherland Springs for twenty-four years, having been appointed March 16, 1886 and serving until the appointment of George B. Everts March 7, 1910. 47  He married Miss Zora Wright (1866-1897) of Yorktown 10/8/1885.  They are buried in the Sutherland Springs Cemetery. 48
     Dr. John McQuincy Weston (1833-1918) Born in Columbia, S. C..  He graduated from Charleston Medical College in the class of 1852.  He came to Texas and located at Richmond, Ft. Bend County as a practicing physician.  He married Miss Marie Louise Chambers (1840-1935) in 1856 who became his life companion.  Eight children were born to this union.  He enlisted in Terry's Rangers, 8th Texas Cavalry and was commissioned a surgeon.  He served four years .  He was badly wounded at the Battle of Shiloh.  He returned to Ft. Bend after the war but was forced to give up  the practice of medicine for a while  due to a heart problem.  He was elected County Judge of Ft. Bend County.  After retiring from this office he moved to West Texas.  In 1892 he moved to Marcelina in Wilson County where he resumed the practice of medicine, later moving to Sutherland Springs.  He retired in 1914.  Dr. and Mrs. John Weston are buried in the Sutherland Springs Cemetery. 49   
     Parker M. Weston (1882-1936) Texas Ranger.  He was known as one of the best fox hunters in the Sour Lake, Hardin County, Texas area where he lived at the time of his death.  He owned a pack of fox hounds which were the envy of hunters for miles around.  He married (1st) Zillah Short (d. 1916) & (2nd) Kate Standley.  Parker joined the Texas Rangers in 1906 and served under Captain John H. Rogers in Company "C".  He retired from the Rangers in 1917.  He went to work as a security guard for the then-fledgling Texas Oil Company, which later became Texaco.  He later worked as a pumper at Sour Lake, Texas.  Parker and his first wife are buried in the Sutherland Springs Cemetery. 50 
     Georgia Walker (1888-1950) is buried in the African-American section of the Sutherland Springs Cemetery.  Her obit states she was a well known colored woman of Floresville and wife of I. S. Walker, resident of Floresville for many years.  The body was taken to Sutherland Springs for burial .  Many friends attended the burial rites.  Services were held by the colored Methodist pastor from Seguin.    Her husband who survived her was a highly respected colored citizen of the community for years.  She left no children. 51 
     Jose Angel "Joe" Cardenas (1911-2001) was born in Mexico.  He came to Fredericksburg, Texas with his parents when he was seven years old.  The family came to Stockdale, Texas ca. 1926.  Joe married Refugia Guerra of New Berlin, Texas October 29, 1929.  They moved to Sutherland Springs .   Joe was a farmer and worked for Pat Higgins on the "Higgins Buffel Grass Farm" until he retired at the age of 87 years.  Pat Higgins was the son of Patillo Higgins of Spindletop fame.  Joe and Refugia had five children; three boys and two girls. 52 
     Dr. John Sutherland died on April 11, 1867.  Eulogized by Susan J. Pickett, he was buried in the "village cemetery" he had donated.  He left little to his heirs except the home in which he had lived and  188 town lots in Sutherland Springs, most of which his son Jack sold. 53  
      Charles B. Stevenson, County Judge of Wilson County (1925-1936) born 1854, described Dr. Sutherland as a courteous, portly gentleman, much interested in the development and progress of the community and welfare of its people. 54 
     Sutherland Springs Cemetery is probably the only cemetery in Wilson County that has African-American, Hispanic and Caucasian burials in the same cemetery.  The Sutherland Springs African-American Community had their own private cemetery adjacent to the Sutherland Springs Cemetery prior to 1977.  It was separated by a barbed wire fence and terribly overgrown.  Billy Deagen was elected commissioner in 1977.  Richard Cardenas, Commissioner Billy Deagen and others removed the fence, cleaned the cemetery and incorporated both cemeteries.  Old metal markers were removed.  There are approximately 60 graves in that section of the cemetery; many of these are unmarked.  It is kept clean by the Sutherland Springs Cemetery Association. 55 
 There are over 90 veterans interred in the Sutherland Springs Cemetery.  An annual Veterans Day Memorial Service is held in the cemetery every year on Memorial Day.  All local living veterans are invited.   A local minister is in charge of the service.  Nice Refreshments are always served.  The community looks forward to this event.
 The Sutherland Springs Cemetery Association holds annual meetings.  They elect officers every year.  The present officers are: 55 Bertha Cardenas Lomas, President; Chuck Allen, 1st Vice President; John Ferguson, 2nd Vice President and Sharon Hays, Secretary-Treasurer. They send an annual newsletter with notification of the meeting date. They have paid maintenance of the cemetery and a volunteer work day the third Saturday of October.   Gravestones have been placed on unmarked graves with the inscription "Unknown".  If an unmarked grave can be identified, a stone is placed by the cemetery association with the appropriate name and dates.  The cemetery has one wrought iron fence surrounding the Charles Hines family plot and one concrete enclosure around the John Lilly plot.  A number of graves are surrounded by cradles.  Crape Myrtles were planted in the cemetery; some by the association and others donated in memory of Jason Puryear.  Roberta Chesley donated Crape Myrtles in memory of Dr. John Weston.
 The entire cemetery is fenced. They have a flagpole.  They have two entrances that connect to FM 539; one entrance has an arched iron sign above the gate.  The road into the cemetery makes a huge circle and connects with both entrances.
Sutherland Springs own "Rosie the Riveter"
Sutherland Springs own "Rosie the Riveter" .... Some of us might only know about the cultural icon Rosie the Riveter from our U.S. history classes. Many have probably seen the poster often called by that name, which depicts a woman dressed in a blue uniform and a red bandana, flexing her bicep while declaring, "We can do it!"
Unfortunately, this poster, painted in 1942 by J. Howard Miller for the Westinghouse War Production Coordinating Committee, is often mistakenly called "Rosie the Riveter." Actually, Norman Rockwell gave the name taken from the 1942 song by Redd Evans to a different painting the following year. Rockwell's painting was for the cover of the May 29, 1943, issue of the Saturday Evening Post.
While both fictional characters came to embody the American women who answered the call to enter the work force during World War II, Sutherland Springs Wilson County Texas native Martha Kasprzyk, 83, was one of many real life "Rosies."
Martha, who now resides in Corsicana, is known by some as "Wilson County's Rosie the Riveter." She talked of this experience when she visited American Legion Post 38 in Floresville May 25, 2008, in honor of Memorial Day.
"What you see is what you get," Martha said with a smile. "I'm not a speechmaker. I'm just an old woman who likes to talk."
Martha is the only child born to Carrie and John Dawson. Like millions of women who remained at home while the men in their lives were fighting in World War II, Martha went to work. Shortly after she graduated from high school at age 17 in 1942, Martha received training as a sheet-metal worker through the National Youth Administration (NYA).
"We didn't go to work as Rosie the Riveter, we went to work as sheet-metal workers," Martha said.
While her NYA training was geared primarily toward shipbuilding, Martha eventually joined her mother in working at Duncan Field (which later became part of Kelly Air Force Base in San Antonio). There, she helped build and repair military airplanes.
"We patched bullet holes, and sometimes we had to weld some pieces on [the planes]," Martha said. "I could rivet. But I was often the one holding this small piece called a dolly on the backside of the rivet."
She added, "And we didn't have earplugs back then."
Working in the factory was grueling and dangerous. Martha and other females working there had to wear mesh snoods over their hair, in addition to their safety caps.
"One reason we started wearing [the snoods] was after this girl with really long hair who leaned over a drill and got a big section of her hair pulled out by the roots," Martha said.
But Martha said she actually liked the uniform, because of the freedom of wearing pants instead of dresses or skirts.
"I seldom wear dresses anymore," she said. "I haven't worn a dress in almost eight years. The last time was when my husband passed away."
The days were long, with the work shift running from 3:15 p.m. to 11:45 p.m. and her commute home not ending until 1:30 a.m.
"We rode a van with seats on either side, 28 miles from the edge of San Antonio to Sutherland Springs," Martha said.
Because no one in the family owned a car — nor could drive one — they wound up moving to San Antonio to be closer to work.
Regardless, the pay still seemed great at the time.
"I made $90 per month," Martha said. "That was good money in those days."
Factory work was short-lived for Martha, once superiors found out she could type. She went to work as a secretary in the woodworking department and eventually worked selling war bonds.
In August 1944, Martha settled into the role of a homemaker when she married her husband, Ernest. The couple were married 56 years, raising five children.
"I wanted to work but he told me, 'No, I didn't marry you for you to work,'" Martha said.
Ernest served in World War II as a first lieutenant in the U.S. Coast Guard, where he was stationed in the Panama Canal Zone.
"He didn't bomb anything and he didn't fight anybody, except maybe the mosquitoes," Martha chuckled.
*******************
Martha Lenora Dawson Kasprzyk left her earthly home to receive her eternal reward with her Heavenly Father on Sunday evening, Feb. 14, 2016. 
*******************
COURTESY/ Wilson County News
Mexican gold buried in Sutherland Springs
Beloved historian, Gene Maeckel, writes.......  In the month of August 1891, a young farmer named Edwards was plowing his field near Sutherland Springs Wilson County Texas. As he was going along, his plow hit a large solid object buried in the earth. On inspection of this object, it was found to be a large metal iron pot with its top protruding about one-half inch above the surrounding surface. On removal of the lid, it first appeared the pot was filled with dirt. However, when the object was lifted it weighed much more than just an earthen-filled vessel. On further investigation and after the removal of about an inch of the surface dirt, a large cache of gold coins was discovered. These coins were doubloons, a former gold coin of Spain and Spanish America. They were wrapped in leather which had rotted away, leaving a greenish mold on the coins, but had no effect on their condition.
There had long been rumors and speculation in this Sutherland Springs location that some Mexican gold was buried in the area. The story was that Santa Anna's army on retreat from their loss at the Battle of San Jacinto, which had ended the Texas Revolution, buried this treasure here on their return to Mexico. For years, a number of searchers had hunted unsuccessfully for its location. Originally, this pot was probably buried much deeper in the ground, but rains in the subsequent years after the revolution had slowly eroded the dirt covering and exposed the pot's metal lid.
Edwards loaded his newly found treasure into a wagon and in the dark of night, drove his findings to San Antonio and early the next morning deposited the coins in a bank. The appraised value of the gold coins was $17,000. He made no mention of his findings until after his return to Sutherland Springs.
......................
Composed from three newspaper articles submitted to the Wilson County Historical Society Archives by Sara Reveley and Shirley Grammer. It was compiled by Gene Maeckel.
******************
Gene Ernest Maeckel, of Poth Texas, passed away peacefully at home surrounded by family on November 18, 2021.
********************
COURTESY/ Wilson County News 
COURTESY/ Austin Daily Statement that sent the newspaper copy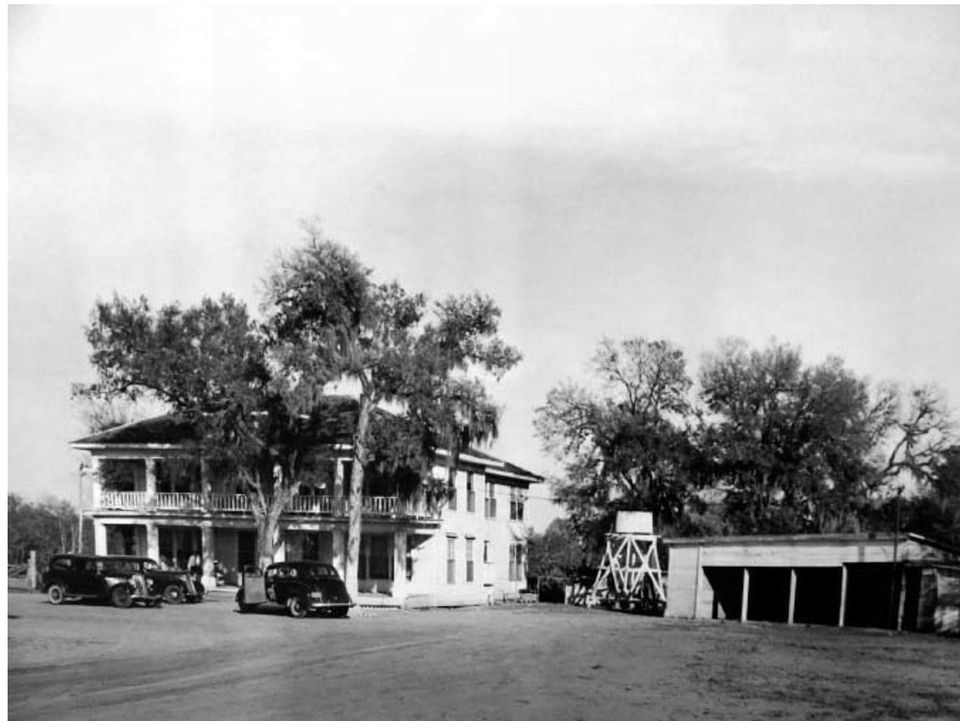 SUTHERLAND SPRINGS TEXAS
SUTHERLAND SPRINGS TEXAS ...  in December 1907 talks were on about plans for development of a new town. Within weeks a grand scheme was announced that included the development of a new town site across the Cibolo from John Sutherland's original community as well as the construction of a 6,000-square-foot natatorium, 5,400-square-foot pavilion, and 2,800-square-foot dining hall.
Millikan would serve as the general manager for the ambitious project, while his company would provide all of the necessary engineering services.
By the time the Sutherland Springs Development Corporation received its charter in March 1908, plans had already expanded for the proposed resort and town. The new company, which had $70,000 in capital, listed Magill as its president, Kerr as vice president, and Russ as secretary and treasurer. Morton, Ruguley, Speer, and Worthington served with these three men on the board of directors, as well as a new face: Harry Redan, a well-known Houston magician who was a partner with Vann in a novelty company.
Millikan remained as onsite manager of the project. The members took care to make it clear that their "movement" was "not associated with the recent oil operations," and they declared that their "pleasure resort" would include multiple pavilions and improved streets.
An anonymous doctor from Mineral Wells, the location of yet another successful Texas resort, had submitted a bid for land on which to build a sanitarium as part of their development, and tests were underway to ascertain whether the natural gas found locally could be used for lighting. (Courtesy of Richard B. McClasin, author of Sutherland Springs Texas: Saratoga on the Cibolo)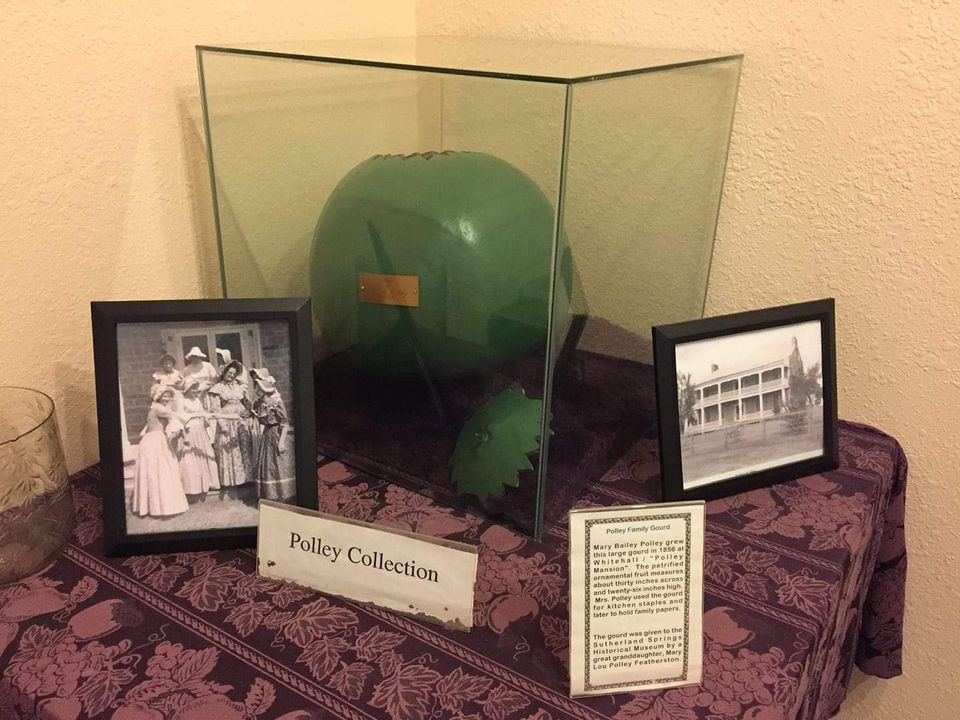 The Gourd
THE  GOURD ...   "The gourd was a very handy vegetable that grew on the frontier of Texas. Early settlers used them for various purposes, and to good advantage. When cut in the proper way they served as dippers, water jugs, spoons and dishes. 
My mother used a large gourd in which to keep sugar, another in which to keep lard, and still another in which to keep her coffee. The long-necked gourd made an ideal dipper. Ask any old timer how he would like to have a gourd full of cold spring water, and he'll tell you it is the most refreshing drink in the world.  The early Texas Rangers and Minute Men, while out on their scouts after Indians, carried water gourds, a dumbbell shaped affair, tied to the horn of their saddles.
 The method of cleaning out these gourds in preparing them for use, was to fill them with water, and put in a lot of sugar, letting them soak overnight, and then the next morning pour the water out. After drying for a few hours the gourd would be placed on a red ant hill, and the ants would soon remove all of the fibrous growth inside for the sugar that remained. It would then be ready for use, the "gourd taste" having entirely disappeared."  
 ----- J. Marvin Hunter, Frontier Times, August 1935
THE POLLEY FAMILY GOURD ...  Is on display at the Sutherland Springs Historical Museum"
1910 postcard
A vintage post card mailed in Sutherland Springs Wilson County Texas on October 18, 1910, at 6:00 p.m. The card was addressed to a member of the Corp of Cadets at Texas Agricultural  and Mechanical  College, Mr. George Huth. The scene on front of the card is Hotel Sutherland in New Town Sutherland Springs. Tambria Read, Sutherland  Springs  Historical Museum adds, " The SSHM thanks long time SS resident  Mary Hilbig Salazar for donating this vintage post card, that her sister purchased in a San Antonio antique shop. This gift is on display in the Post Office area of the museum. Come see it for yourself and others".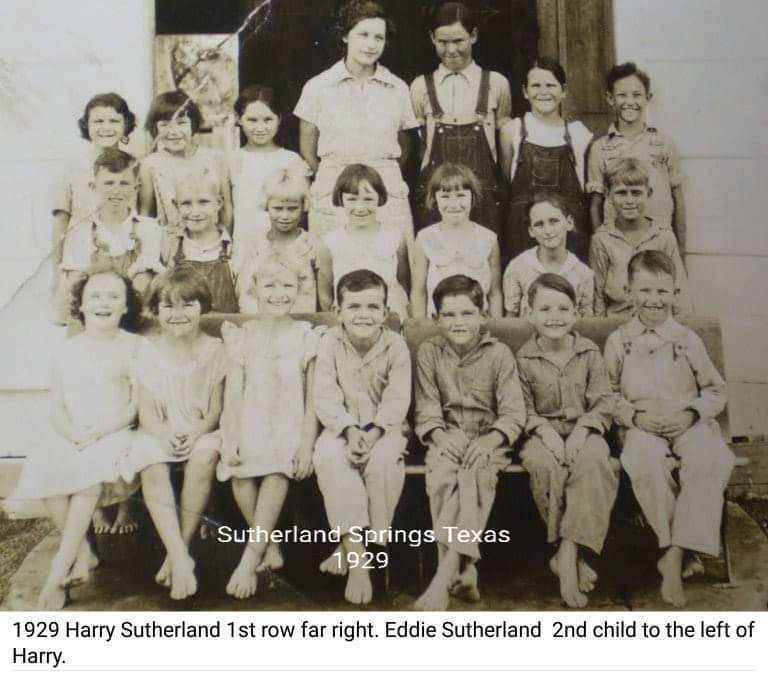 Happy Sutherland Springs School group
Sutherland Springs Wilson County Texas..... A photo shows precious little girls in flour sack dresses and bobbed hair-dos while the straight standing young men wear overalls but most all students are barefoot. This was a happy Sutherland Springs School (Wilson County Texas) group and makes one wonder what the photographer said to get such grins. Sadly, though except for the Sutherland boys,  another group of unidentified individuals go down in history.
HISTORY TIDBITS OF OLD TOWN......
Dr. John Sutherland's house was located near the intersection of Camino del Cibolo and the Road to Chihuahua (today's 5th street and CR 539 seems about right).  The well in the picture is last remaining historic relic of his home.The slab of cement on top is from the old Sutherland Hotel sidewalk .
Robert E. Lee stopped at the Sutherland Springs boarding house kept by Dr. John Sutherland's wife Ann on his way to the Texas coast from San Antonio in February 1861. There he wrote a poignant letter to an associate, declaring that he was "unable to see a single good that will result" from the secession of Texas and the other southern states.
Ironically, by 1862 many men from Sutherland Springs served in Lee's Army of Northern Virginia. They were members of the Mustang Grays, which became Company F of the Fourth Texas Infantry, initially led by and forever associated with John Bell Hood, its first colonel and a West Point graduate who served under Lee in the Second United States Cavalry in Texas before the Civil War.
Joseph B. Polley graduated from Florence Wesleyan College in the spring of 1861 and joined a military company organized at Sutherland Springs, along with Sutherland's son Jack. The new unit called itself the Mustang Grays, probably in honor of a legendary Texas Ranger leader who was the subject of a popular song and at least one published biography before the Civil War. An older Sutherland sibling, George Quinn, allegedly also served in the Texas Brigade in Virginia, at least for a short time. Regardless, then, of when or if they supported the Confederacy, the families of Sutherland Springs sent their young men to fight for the South. 
*******************************
Courtesy /Rick MacCaslin & Allen Kosub
Dr. John Sutherland and Old Town
Dr. JOHN SUTHERLAND & OLD TOWN..... Dr. Sutherland had moved to the Cibolo both to enhance his business opportunities and to provide a better quality of life for Ann, his third wife. He spent little to improve his house, much to her disgust. She complained to her stepdaughter Sarah that her grown children were building nice homes while nothing was being done to improve hers. She resented being left alone while her husband traveled on business, and she was appalled at the crude life of the Texas frontier.

Her mood did not improve when her stepson Levin stabbed and killed George Galbraith after a quarrel, even though Levin was tried and acquitted.

Sutherland's solution was to have Thomas Pooley, an English schoolteacher, plat a town site on his land in 1854 and offer the lots for sale, trying to develop a more settled community for his wife and, of course, make money. It worked.

Joseph B. Polley, Joseph H. Polley's son, later recalled that Sutherland Springs (OLD TOWN) by the mid-1850s boasted "half a dozen residences, one hotel, and two or three stores." The 1860 census listed about four dozen heads of households in the community. More than half were farmers or stock raisers, but there were four merchants, three carpenters, two brothers who were wagon drivers, a blacksmith, and a gunsmith.

Sutherland shared the medical business with R. Stevenson, from New York, and Thomas M. Batte, a Mississippian who actually settled on the Cibolo east of Sutherland Springs.

More important for Sutherland, thirteen people paid taxes on town lots they had purchased, while Columbus M. Reese was assessed for part of the Treviño grant, which he had apparently bought from Sutherland as well.

The springs on the Cibolo may have initially attracted Dr. Sutherland's attention in 1836, when he led reinforcements from Gonzales that failed to reach the Alamo, but he apparently was not financially able at that time to capitalize on his find.

He was also greatly concerned about the chance of Mexican raiders; after the attacks on San Antonio in 1842 he wrote to a friend that he was very concerned about the vulnerability of the "western settlements" and thought that it was "altogether probable" that Mexico would invade Texas in the spring of 1843. When that did not happen, Texas was annexed by the United States, and epidemics persisted in the new state, Sutherland decided to move.

He reported to his daughter Sarah in May 1849, just eight weeks after he settled on the Cibolo, that his new home site was "handsome," "healthy," and a "place of great resort." He added, "We have quite a variety of waters close at hand to wit—white & black sulphur, calibrate [sic], magnesia & alum springs within one hundred yards of my dwelling."

Dr. Sutherland located his home at the intersection of two important roads. The Chihuahua Road ran from the Gulf of Mexico at Indianola west to San Antonio. This was one of only a handful of principal roads in antebellum Texas, and two stages each week already traveled from San Antonio to the coast. The Goliad Road ran south through Sutherland's land, then east along the San Antonio River to Goliad before angling north to intersect the Chihuahua Road again at Victoria. Traffic moved regularly along both roads, so their intersection by the Cibolo was a great location for the ambitious Sutherland.

Sutherland tried to grow cotton like Polley, but wrote to his daughter Sarah, who had gone to Tennessee for school and there married James P. N. Craighead, that his crop in 1842 was "almost an entire failure" after a long drought was followed by fifty days of rain and then an infestation of pests.

Friends and relatives moved away, but he returned to land speculation, apparently focusing on planters moving into his region to plant sugar cane but also spending time marketing his western lands.

Dr. Sutherland did not become as prosperous as Polley, but in 1850, soon after moving to the Cibolo, he paid taxes on 4,500 acres, eight slaves, six horses, and 110 cattle, for a net worth of $10,000.
**********************

COURTESY/ Richard McCaslin, "SUTHERLAND SPRINGS TEXAS, SARATOGA  ON THE CIBOLO"
New Town Sutherland Springs
Sometimes, one simple picture can tell you more about history than any story you might read. These vintage photos of New Town Sutherland Springs  Wilson  County Texas tell stories about the historical years of 1912 to 1915. Enjoy!

(PHOTOS COURTESY OF RICHARD B. MCCLASLIN )
Springs, Spas, Fountains of Youth
SUTHERLAND SPRINGS TEXAS ... " Taking in the Waters in Texas: Springs, Spas, and Fountains of Youth" by Janet Mace Valenza.
Sutherland Springs/La Vernia roadway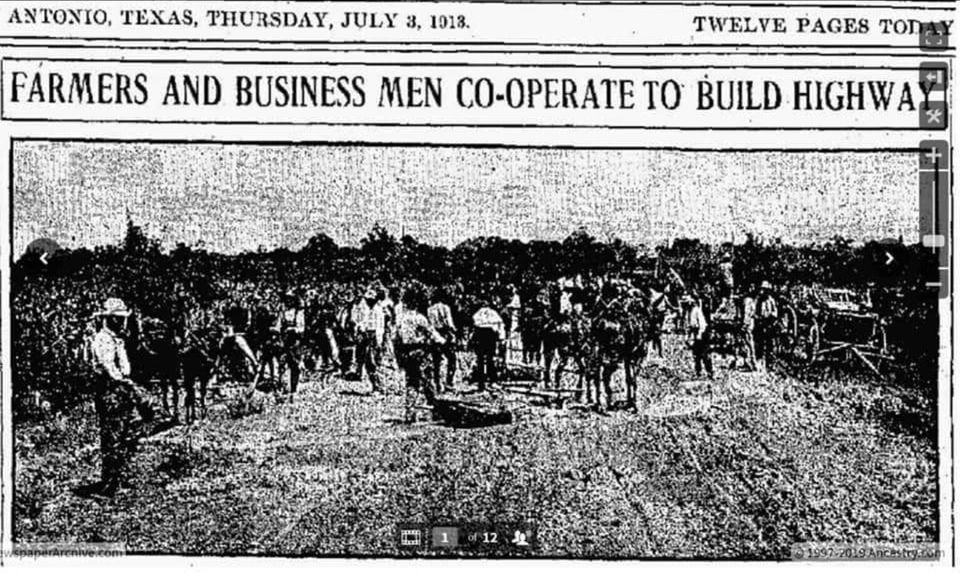 SUTHERLAND SPRINGS/La VERNIA ... As early as 1907, plans had been laid for a roadway that could be more easily traversed by cars. In 1911, when "sandy stretches" on the unpaved road between Sutherland Springs and San Antonio still made it "almost impassible," local supporters of the national "Good Roads" movement gathered for a rally at the Hotel Sutherland.

When the legislature continued to leave the matter of improvements in the hands of county officials, another meeting was held at the Sutherland Springs Opera House in April 1912 to demand the sale of local bonds. These would fund a paved road to link the town to highways that would be built from San Antonio to the coast.

Ford called the meeting to order, and Thomas C. Richardson was elected as chair. A week later, Ford and Richardson became vice president and secretary, respectively, of the new Wilson County Good Roads League.

Another year passed without results, so in 1913 volunteers from Sutherland Springs and La Vernia, a total of 168 men, shoveled sand, clay, and gravel to resurface the 8.8-mile roadway between their towns.

Richardson chaired a local committee organized in April 1914 to ask state, not county, officials to pay for road improvements. That initiative must have failed because in December 1914 voters in Sutherland Springs returned a margin of more than three to one in favor of a bond issue to upgrade the road from San Antonio to Sutherland Springs by way of La Vernia.

Years of discussion and hard work finally bore fruit in 1916. Residents of Sutherland Springs welcomed a delegation from the Texas Good Roads Association during their tour of the state in September 1915. Women from the Civic League, led by Perdie Busby, hosted a banquet inside the Hotel Sutherland and then a meeting on the lawn after all of the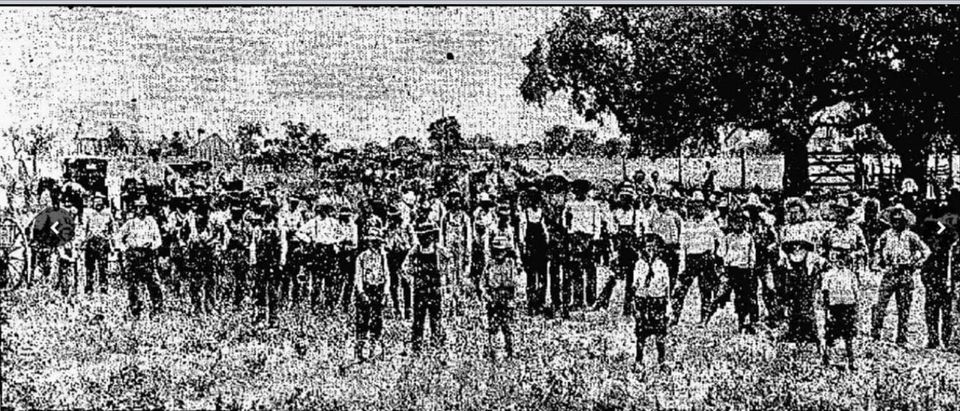 travelers inspected the local roads and enjoyed a brief swim. A writer for the San Antonio Express reported that the "meeting was snappy and filled with enthusiasm and applause." He added that the locals had a motto, "If energy counts, we've got it," and were interested in having a highway built to their town.
Specifically, they wanted a "southern route" to be chosen for a proposed San Antonio to Houston highway.

The residents of Sutherland Springs did not get a highway, but they held a big celebration in May 1916 for the opening of an improved road for automobiles from their community to San Antonio. Invitations were sent to many local motoring clubs, and a special train was scheduled to bring more visitors for barbecue, speeches, baseball games, footraces, swimming contests, horse races, music, and dancing (including a Maypole dance).

Everything was arranged by Williams, who also had the entire affair filmed. Anticipating a huge crowd, Williams proudly told a newspaper reporter that his "home" was at San Antonio, his "business" was in Houston, and his "playground" was in "Sutherland Springs, of whose franchise he [was] the owner."

(Courtesy of Richard B. McClasin, author of Sutherland Springs Texas: Saratoga on the Cibolo)

"The first picture shows volunteers from Sutherland Springs in action along the road between Sutherland Springs and LaVernia. The area was improved yesterday by citizens of both towns  and farmers along the way to give their time. The eight-mile stretch was put in first-class condition before the day was over."


"The second picture shows La Vernia workers taken at noon just after they had finished eating a big barbecue.  A force of 125 men and 78 teams represented La Vernia in the road building experiment." [Barbara Wood]
The Cemetery with No Name
THE CEMETERY WITH NO NAME ... In Wilson County one of the unnamed graveyards is located below Sutherland Springs Texas. Near the intersection of Highway 97 & Highway 87 there is a big brick house.  The graves are under the big oak tree to the west of the brick house.  They are on PRIVATE PROPERTY... STAY AWAY!

 Wilson County Historian, Mark Cameron, says, "The cemetery has no name. It is not known even who these people were. There is a white house there with a large Oak tree in the front yard. The graves are under the oak tree on the east side. Several years ago a Dowsing expert came in and dowsed around the tree and found 10 graves. 8 men and 2 women. Don't ask me how she could tell the difference but she was an expert. "

     Wilson County Historian, Shirley Grammer posts, "I only have about 8 pictures taken at the "Y" below Sutherland Springs underneath the big oak trees near the white brick house.  The people in the photos are Marjorie Burnett with the dowsing rods and Leon and Joyce Gorden looking on.  We visited this site in 2012.  Such a beautiful place under those trees.  If I remember correctly, Marjorie found at least 10 people buried here, 8 men and 2 women.  This grave dowsing is quite interesting.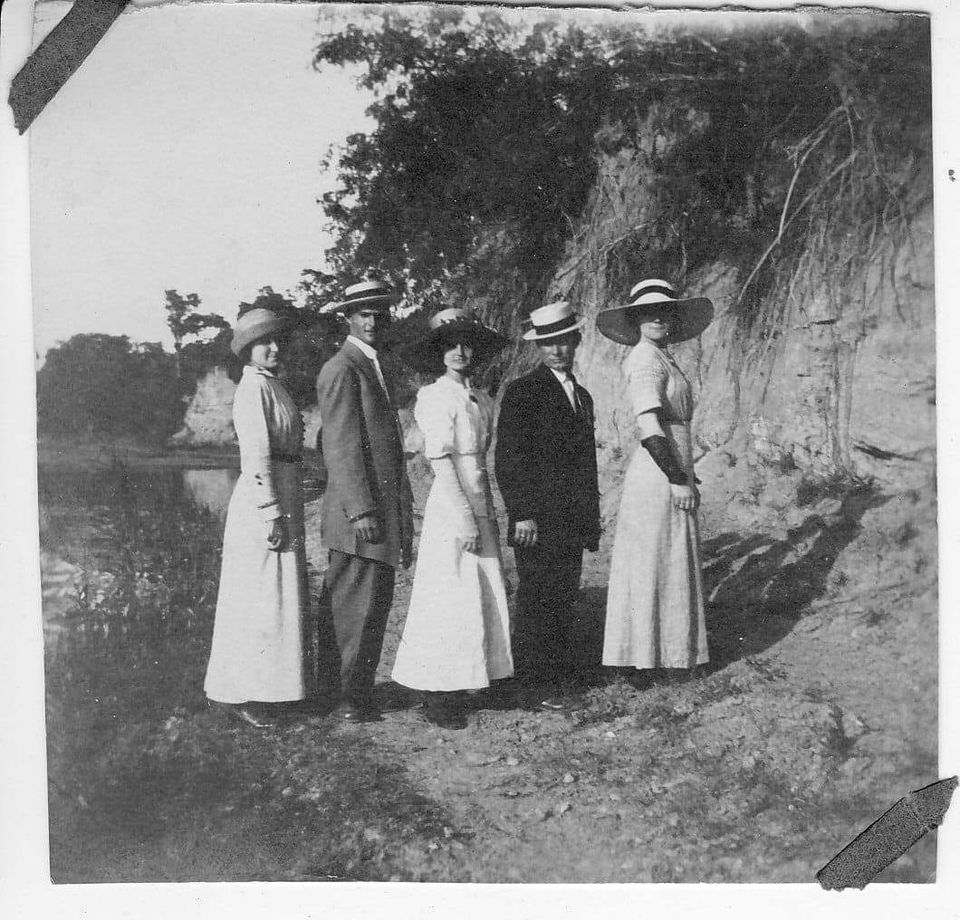 White Cliffs
Sutherland  Springs  Wilson County Texas ... This group is posing in front of the white cliffs across from the former New Town Sutherland Springs Park  (Photo Courtesy of Liz Lester) No details .
COURTESY / Wilson County Historical Society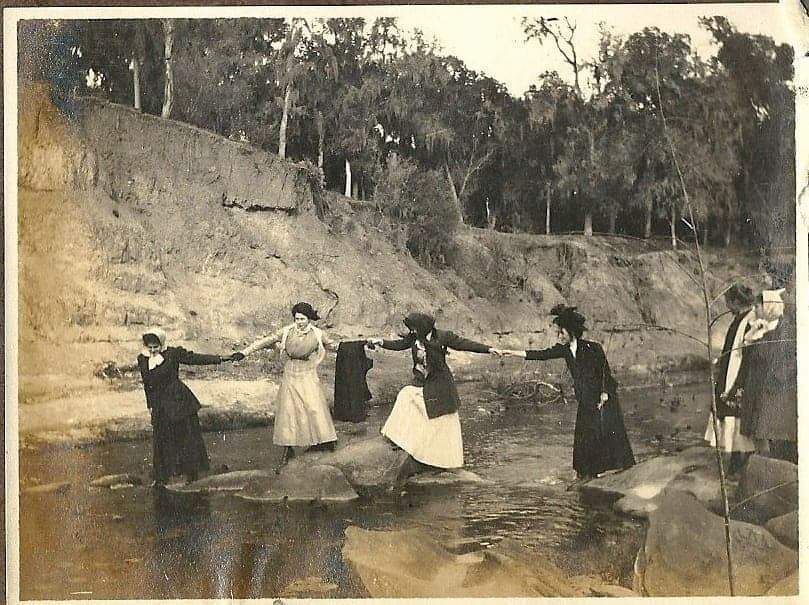 Cibolo Creek
Sutherland  Springs  Wilson County Texas ... This group of ladies are having fun posing on the Sheehy Rocks at Cibolo Creek  (Photo Courtesy of Liz Lester) No details. Notice the long strands of Spanish Moss hanging from the trees.
COURTESY / Wilson County Historical Society