SUNNYSIDE COMMUNITY
The Notorious Meddler: Mahala Reed Keenan: The Revivalist.
  ...   Mahala Reed Keenan was born on May 30, 1844 in Shelby County, Indiana, the daughter of John Overpeck and Elizabeth Ann Rouse Reed. She died on Jan. 26, 1900 and is buried at Keenan Cemetery near Floresville, Texas. Where Mahala is buried contains only one grave marker, a very tall marble stone, that signifies the graves of Mahala and her son, Elva. A biblical inscription on the front of the stone reads: "Whatsoever ye shall ask in my name, that will I do. John 14, 13." Mahala, Elva and a few others had undertaken a wagon journey from Kentucky to Texas in 1899 as Mahala sought a healthier place to live and breathe as she was suffering from tuberculosis at the time. But, shortly after her arrival there in 1900, she succumbed to tuberculosis. Elva, who also died from tuberculosis, was buried in the same grave as was his mother.
Mahala was known as a "revivalist" minister. Until she had a church, she preached anywhere that a group could be assembled, mostly to share croppers or poor whites. She was known to ride a white donkey side saddle through the hills of Kentucky singing as she traveled. Her mother died when she was three years old. She traveled to Clay County, Illinois with her father where she eventually met and married Patrick Keenan (1822-1896). They returned to his home near Falls of Rough, Kentucky where, in 1887, they and others built and founded Keenan Chapel at Hickory Lick in Breckinridge County. Patrick died in 1896, and later that year, Mahala moved to the Highway community in Clinton County, Kentucky. Mahala was extremely devoted to Methodism and at Highway, Methodist minister John Samson Keen had organized Bible Mission School and Orphanage, a Methodist academy for young boys that had begun in 1891, and Mahala wanted her sons to be educated there. But, Mahala's health had been poor for several years and she needed warmth to assist her in her recovery. So, in 1899, Mahala, her son and the others headed to Floresville, Texas, which was known to have a number of well respected Methodist ministers living there.
The story goes that when Highway was to be formally organized as a township, the place had no name assigned to it. The preacher at the ceremony said that he would open his Bible and point to a verse and the landing point of his finger would become the name of the community, thus Highway became the name. Which verse was it that the preacher pointed to? That wasn't mentioned in the account of Mahala Keenan, but there are several verses in the bible that mention "highway" or "highways," including Luke 14:23, which says "And the lord said unto the servant, Go out into the highways and hedges, and compel them to come in, that my house may be filled" and Isaiah 35:8, which says, "And an highway shall be there, and a way, and it shall be called The way of holiness; the unclean shall not pass over it; but it shall be for those: the wayfaring men, though fools, shall not err therein."
MAHALA KEENAN
Mahala Keenan left the community of Highway, Clinton County, Kentucky, by covered wagon headed for Texas early in 1899.  Even though the railroad was available for travel westward, she had no support, meager funds, but enormous faith.
Born in Shelby County, Indiana, to John O. and Anne Reed in 1844, she had gone with her family to Clay County, Illinois. In 1862, she married Patrick B. Keenan, Sr., there and they had five children while living near Xenia.  The children were: Henrietta (1863); Charles Sherman (1864); Clara Mae (1867); Joel Talbert (1871); and Vernella Myrtle (1875). 
This Keenan family then migrated to Breckinridge County, Kentucky, where Patrick had been born and where his family resided.  Here, near Falls of Rough, two more children were born to Patrick and Mahala: Wilbur Elvis (1878), and Elva L. 
(1882). Mahala began to preach the gospel during this period as a Methodist preacher and her husband built the Keenan Chapel for her near Hickory Lick in Breckinridge County.  She was known to ride a white jackass through the rugged woods and hills of the county, ministering to the poor, blacks, share croppers, hired hands, farmers and their families. 
Mahala's husband Patrick died in 1896 and is buried in the cemetery next to the site of the Keenan Chapel at old Hickory Lick.  Mahala then found refuge near Highway, Kentucky, so named because when the community post office was dedicated, no name had been selected. A local minister randomly opened his Bible to Isaiah (53:8). These verses 
are about 'the highway to heaven.'  So, the ministerv declared......'the name of this community shall be Highway.' It was while living near Highway that Mahala learned that 
she was suffering with tuberculosis.  It was determined that the warmer climate of Texas would benefit her declining health. Then began the long and arduous wagon trip.  
Accompanying Mahala was her youngest son Elva and her daughter Myrtle and Myrtle's husband, Joseph F. Curtis.
Shortly after this troupe arrived in Sunnyside, Texas, Mahala died.  She is buried in the Keenan Cemetery near Sunnyside in Wilson County, Texas.   There is only one grave in this cemetery and it is located in the fork of the "Y" formed by the inter-section of Farm to Market Roads....FM 427 and FM 537.  The tall marble stone  is engraved on the front:
             Mahala Keenan                           Elva L. Keenan
              30 April 1844                          17 April 1882
               25 Jan  1900                           17  May 1900
             Wife of Patrick                         Son of Patrick and Mahala
And so, Mahala's young  18 year old son lived only four months after his mother's death.  Both are buried in the same grave and the rear of the stone has the single word 
"Grandson" engraved upon it.  Thus, there may be three members of this family buried beneath this single marker in the Keenan Cemetery.  The grandson could only be a son of 
Joseph and Myrtle Curtis.  
Two of Mahala's sons, Joel Talbert and Wilbur Elvis, were ordained ministers of the Methodist Episcopal Church. Mahala's obituary stated that she was buried in "new ground" 
near Sunnyside, Texas.  And so, this woman of inestimable strength and towering love for fellow humans left Highway, Kentucky and came to rest near two highways in Wilson County, Texas.
(Researched and written by Francis W. Keenan, Ph.D. Emeritus Professor SUNY at Brockport Brockport, New York)
Keenan grave site
SUNNYSIDE TEXAS .... How many people can you bury in one single grave? Well, the Keenan grave site from the late 1800's has three people recorded to buried in this one burial site. Located at the intersection of FM 427 and FM 537 in Sunnyside, TX. This is a Wilson County Historical grave site. The history of this family is impressive and if you care to explore when and why this is a piece of Wilson County history, you should research it......very impressive.

Mahala Reed Keenan
BIRTH 30 May 1844
Shelby County, Indiana, USA
DEATH 26 Jan 1900 (aged 55)
Floresville, Wilson County, Texas, USA
BURIAL
Keenan
Floresville, Wilson County, Texas, USA
----------
She was the daughter of John O. Reed and Elizabeth Ann Rouse. For a more complete biography of Mahala, please refer to the text portion of this book.

The Keenan Cemetery near Floresville, Sunnyside, Texas, where Mahala was buried contains only one grave marker; it is a very tall marble stone. The names, birth and death dates of Elva L. Keenan, her son, and Mahala (Reed) Keenan were engraved upon the front of the stone. Also on the stone's front at ground level was this biblical inscription: "Whatsoever ye shall ask in my name, that will I do. John 14, 13." On the back of the stone is engraved _____Grandson ____; one of her Curtis grandsons, Keene Spruce Curtis, is also buried there. Keene was a son of Myrtle (Keenan) Curtis and Myrtle was Mahala's daughter and the Curtis's accompanied Mahala and Elva on a wagon journey from Kentucky to Texas in 1899.

This Keenan Cemetery was located at the junction of Farm to Market Road 427 (FM 427) and its junction with Farm to Market Road 537, in Wilson County, Texas. There was only one stone in this cemetery. The county was using this site as a dump for gravel and the grave stone has a nick on one side likely the result of having been struck by a backhoe. The grave marker was located on the northeast corner of the intersection. It faced an iron gate, red in color, which provided access to a large pasture. The metal gate guarding the pasture had the name, D. P. REED, in iron letters attached to the gate. Reed was Mahala's maiden surname. This gate, raised a question concerning whether Mahala may have had a Reed relative in Texas at the time of her travel to that state. She had traveled to Texas, a warmer climate, in pursuit of a healthier place to live and breathe as she was suffering from tuberculosis at the time.

Mahala was known as a "revivalist" minister. Until she had a church, she preached anywhere that a group could be assembled, mostly to share croppers or poor whites. She was known to ride a white donkey side saddle through the hills of Kentucky singing as she traveled. (Source: Letter from Mary M. Keenan to son Francis, postmarked in Champaign, Illinois February 10, 1997.)

Mahala's mother died when she was three years old. She traveled to Clay County, Illinois, with her father where she eventually met and married Patrick B. Keenan. They returned to his home near Falls of Rough, Kentucky, and in 1887, with the help of others, built and founded the Keenan Chapel at Hickory Lick in western Breckinridge County. Patrick died in 1896, and later that year, Mahala went to Highway, Clinton County, Kentucky, to school her boys. Her health had been poor for several years and she next moved in 1899, by covered wagon, to Texas hoping the warmth would assist in the recovery of her health. Shortly after her arrival there in 1900, she succumbed to tuberculosis. Her son, Elva, also died from tuberculosis while a teen and was buried in the same grave as was his mother.

While in Kentucky and at the time of Mahala's husband's death, she had him buried next to the Keenan Chapel. This site is in the back woods and in a very remote location in the hills of western Kentucky. The old wagon roads which led to the chapel site can yet be recognized although they are now overgrown by vegetation. The chapel no longer exists but the sandstone cornerstones are yet extant on the site.

An interesting side note was that Mahala was extremely devoted to Methodism. When her husband died, she removed to a location in southern Kentucky near to the Tennessee line where there was a Methodist preacher who had a school for young boys. She wanted her sons to be educated there. When this community was to be formally organized as a township, the place had no name assigned to it. The preacher at the ceremony said that he would open his Bible and point to a verse and the landing point of his finger would become the name of the community. The place was named Highway in Clinton County, Kentucky. I do not know where the term "Highway" is in the Bible.

When Mahala went to Floresville, Texas, that spot was known to have a number of well respected Methodist ministers in residence there. That, no doubt, was the reason that Mahala selected that place as her destination when leaving Kentucky.

(Courtesy of Francis W. Keenan, Ph.D. Emeritus Professor SUNY at Brockport, New York)  (Courtesy "Find a Grave")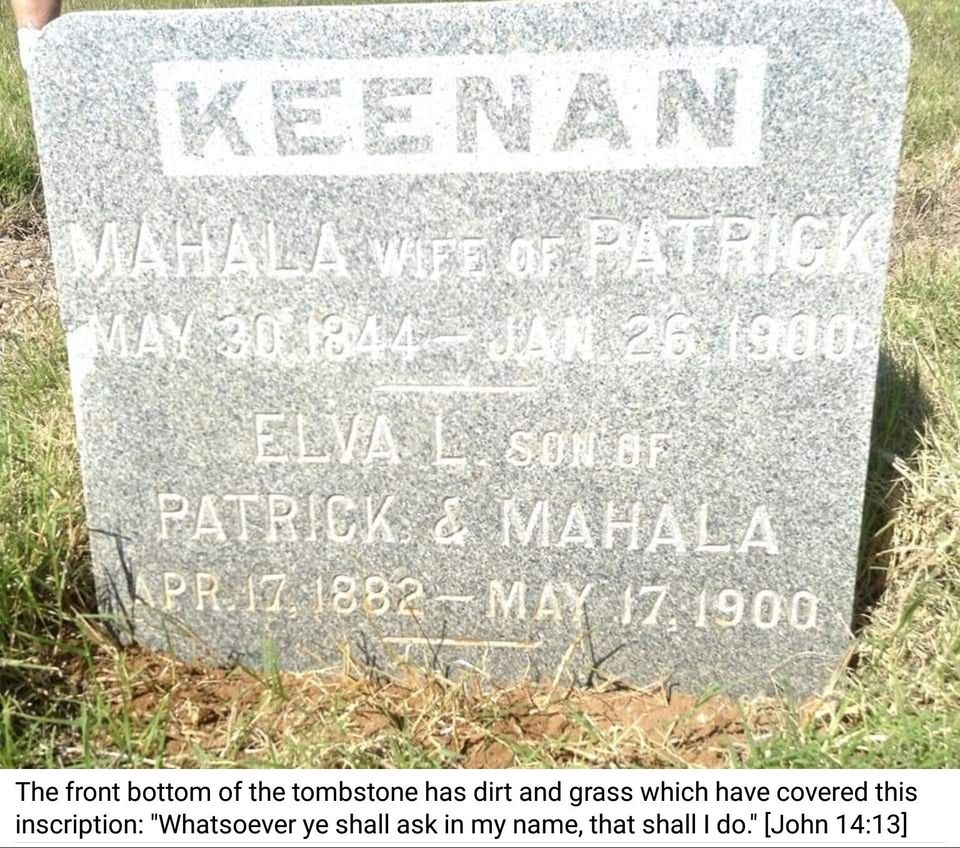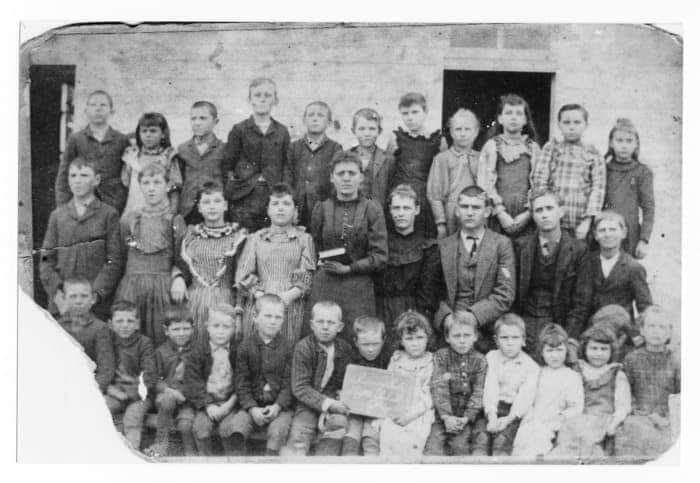 SUNNYSIDE SCHOOL
This photograph of a group of students of the Sunnyside School posing in front of a building in Wilson County, Texas on FM 537. Undated Unidentified (Courtesy of " The Portal to Texas History")