SPORTS
Sunday afternoons meant...
Sunday afternoons meant softball, swimming for the Henry & Julia Castro family in Floresville Texas.  In Julia's "Apple Pie and Salsa" 2010 column she writes about the "Falstaff Falcons".
Sunday afternoons meant softball, swimming
Wilson County News, August 25, 2010
BY Julia Castro
Apple Pie and Salsa
Not long ago, I wrote about how my family got together almost every Sunday at my parents' home. Of course, I was talking about a span of many years. Naturally, there were Sundays when the kids were growing up that we attended other functions.
Sometime during the years that Henry ran Castro Falstaff, he sponsored a men's softball team in the summer. We would go to the games on Sunday afternoons. Sometimes they played on a field on the Fred Juarez property. Sometimes the games were out of town.
The name of the team was the Falstaff Falcons. Recently I found a shirt that I had tucked away in a drawer, and I remembered those Sunday afternoon games. Mostly I enjoyed watching the fans, more than the game itself. There was one woman who could out-talk anybody there — man or woman. Her name was Belén. There wasn't any remark thrown at her that she wouldn't come back with a smarter quip. "No la dejaban callada."
Henry remembers a couple of the players. One of them was Belén's son. We wonder how many of those players are still around. Henry and I would love to hear from them.
Another Sunday afternoon activity was taking the kids to Starcke Park in Seguin to go swimming. There was no pool around here, except for the one at the exclusive country club. I have never seen it myself, but some of our boys got chased away from there once. They never went back.
With so many kids, it was hard to keep an eye on all of them at the same time. I never learned to swim, so sometimes I would just watch them from the side of the pool.
Once, I couldn't see Sara, and I started to panic. I started yelling at the other kids, "Sara! Where's Sara?" Then I felt her tugging at my hand. She had been standing next to me the whole time. Oh, the sustos that a mother goes through.
 
**************
The significance of a trophy
Wilson County News, July 04, 2012




Apple Pie and Salsa


By Julia Castro
I had thought it had only been about a year since I wrote about the Falstaff Falcons, but after going through my binder, I found that it was actually August of 2010. After the article was published, my sons asked me why I had not mentioned all the trophies the Falcons had won. Of course! How could I have forgotten all the trophies that filled the shelves on two walls of Henry's little office at the warehouse? Henry says that they were all either first- or second-place trophies. Since the team existed for several years, there were different players through the years.
Some time after my story came out, there was a knock at our front door. It was my friend, María Barrera (not to be mistaken for Mary Barrera from Head Start), holding an 8-by-10 picture in a frame. It was one of the teams. She wanted to share it with us. Her husband Robert "Boy" also played with the Falcons, but is not in this group. I told her I would do a follow-up on the story. It has taken me almost two years.
After Henry turned over the warehouse to his brother, Reynaldo, he stored the trophies at the Flieller warehouse on B Street, at Sonny's invitation.
Eventually, the better trophies were donated to the Little League organization. They would clean them up and replace the inscriptions before awarding them. Henry took some home and put them in the casita that we had out back. Leonard remembers that once when a group of Boy Scouts from San Antonio came to camp out at the pasture that Henry was leasing on the Blake property, our boys and their cousins formed a team and played a game of baseball against the Scouts. Our boys' team won, but Henry still gave a trophy to the other team. Leonard says they didn't think it was fair. But it was a nice gesture on Henry's part. He was trying to instill good sportsmanship in the Castro boys.
**************
COURTESY/ Wilson County News 2010 & 2012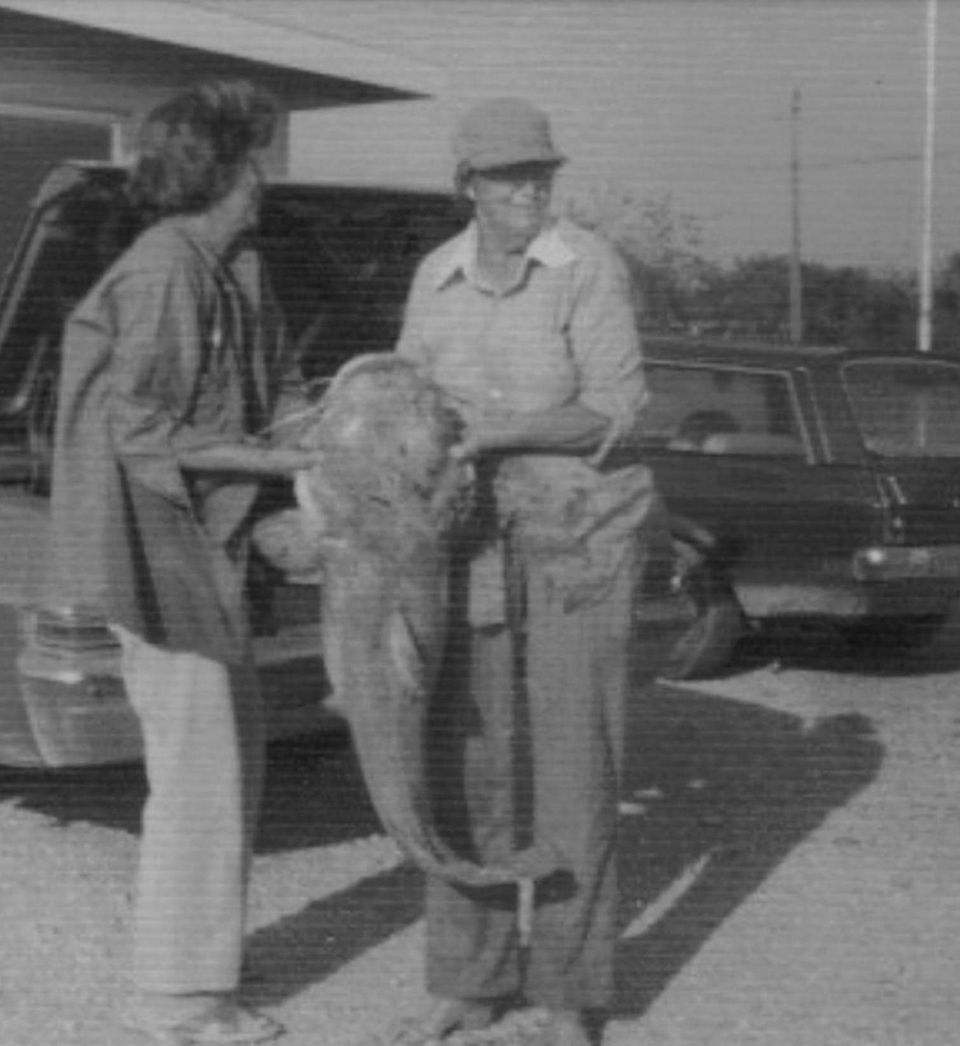 Big Catch
*These two ladies caught a big one! Well, actually the lady wearing the cap caught the fish while the other lady helps her hold it for the picture.  It was caught in the Cibolo! Who are they? Joy Wiley guessed Henrietta King & her daughter Bessie correctly!  Mrs. King was the "Annie Oakley" of fishing in Sutherland Springs.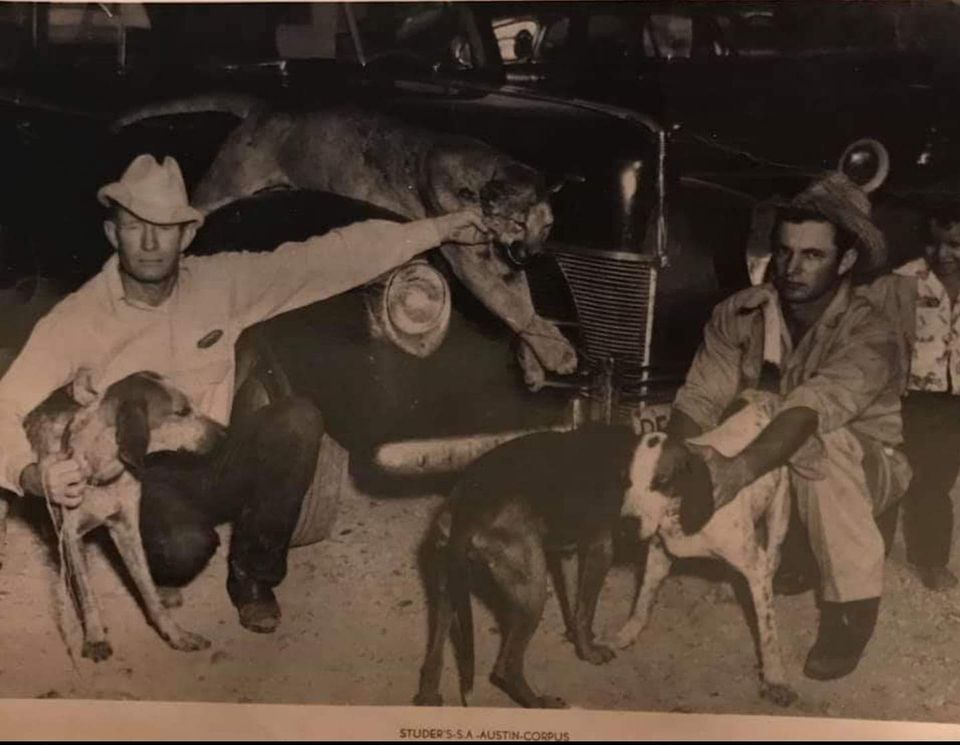 Hunting time in Wilson County, Texas
Do you know these two gentlemen & the young child (far right)? Joy Wiley guessed correctly first as, "I think it may be Herbert Dixon and Hugh McGuffin. The little boy maybe Nub Wiley."
Sandra McGuffin Bird adds, "My Dad on the left, and Herbert Dixon on the right.  The boy is Nub.  They killed the lion close to the Wilson/Guadalupe county line."
Helen Lambeck says, "I remember, and I think it's the same cat, it was big talk when we were young about this big cat roaming the Sandhills: as I remember a lot of our wolf hunters were hunting the cat . It was very exciting. It was a big relief when we heard the lion had been killed. I always thought it had been killed near Cave hill on 123. I don't know the exact place but hearing the stories, that's where I pictured it. It was an exciting time listening to the old timers talk ."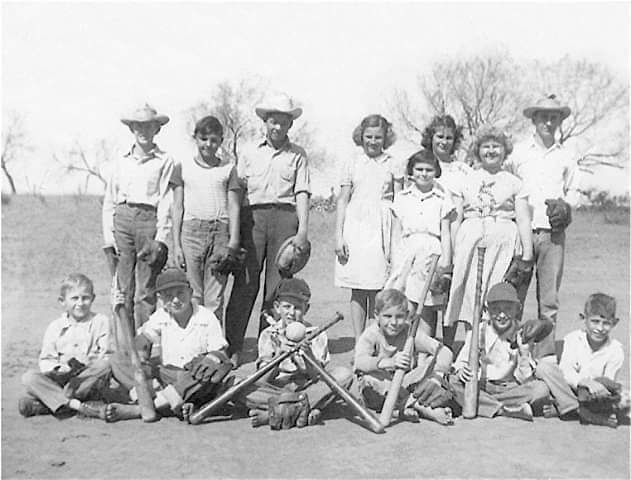 Softball at Kasper School
By Lois Wauson
 
I was talking to my brother Bob Zook the other day, about playing softball at Kasper School. I remember those days when we played, thisp was before I went to Poth High School, which was in 1947. It was right after the war.  Bob has an even better memory that I do. He remembered how Floyd Raabe was such a good hitter and would hit homeruns at Kasper School, when the ball went over the outhouses by the fence and way out into the pasture and sometimes they couldn't even find the ball. But we had to look for it till we found it, because we only had one softball.
He said, "Do you remember when we had to go to McCoy 
School and play them, and the whole team piled in the back of the Raabe's truck to go there?"
He said I was there, but I sure don't remember that!
He went on to talk about the McCoy School. He said the ball field was a combination of stickers and prickly pears with a peanut field behind it. Bob said the field was mostly in deep sand too. You could hardly run the bases. Especially if you were barefoot! And my brother Bob was always barefoot! I don't think he even liked shoes.
After the war ended Three Oaks got a new player. He was a Hosek. Bob couldn't remember his full name. He had been in the army. He came back to school.  He was probably 19 or 20. He played on their softball team. He was a good player. Three Oaks was hard for Kasper to beat, or any other school for that matter! People sure were mad, saying it was unfair, because he was older than any kids on the other school. But I guess Three Oaks didn't budge. Bob didn't know who won that argument or the game when Kasper played them. 
Kasper School had a legacy of softball teams through the years. Those were good times for all the children who went to Kasper School. Anyone from Kasper who I have talked to, remembers those softball games and playing the other schools in southwestern Wilson County. I know I have good memories too. (read the chapter in my book, Rainy Days and Starry Nights called "Sports and Softball Dreams")
Henrietta Pundt and I were the only girls on the team. She played left field and I played catcher. Billy Haese was the picture. We played fast pitch. I didn't have a glove. Most of us couldn't afford gloves. I hated playing catcher. One time I almost broke my thumb.  Sometimes it still hurts after 70 years. But those were good times and makes for such good memories.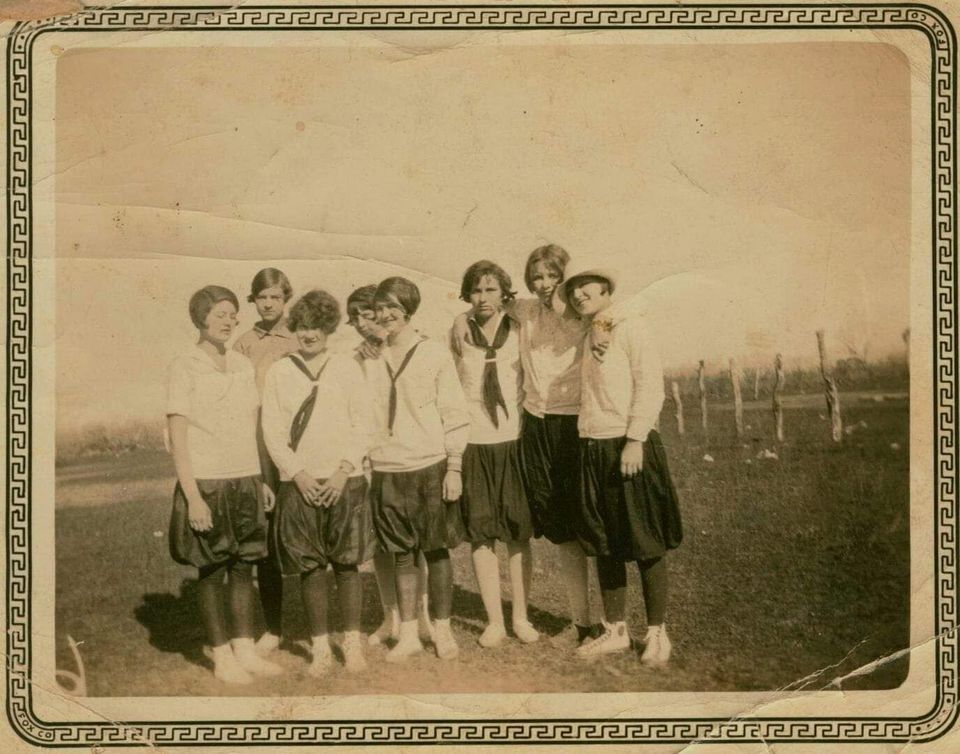 Pandora Girls Basketball Team
Pandora Wilson County Texas .... Pandora Girls Basketball Team (Photo courtesy Pat Lorenz)  COURTESY/ Wilson County Historical Society