SASPAMCO
San Antonio Sewer Pipe Manufacturing Company
SASPAMCO TEXAS ... Three photographs of the San Antonio Sewer Pipe Manufacturing Company factory in Saspamco, Texas. At the top, two men wearing suits and hats are standing on a brick wall, in front of two additional brick-wall tiers; the ground below them appears to be graveled. The photograph on the bottom-left appears to be the front of the factory; the building has checkered brick-patterns and a series of windows. The third photo, on the right side shows a dirt path outside the factory. Pipe pieces are stacked to the right of the path and, on the left, various other items are stacked around curved fencing; several tall pillars are visible in the background. Text below the photographs says: "Saspamco -- Sewer Pipe Factory, Around 1914 or 1915." (Courtesy of The Portal to Texas History)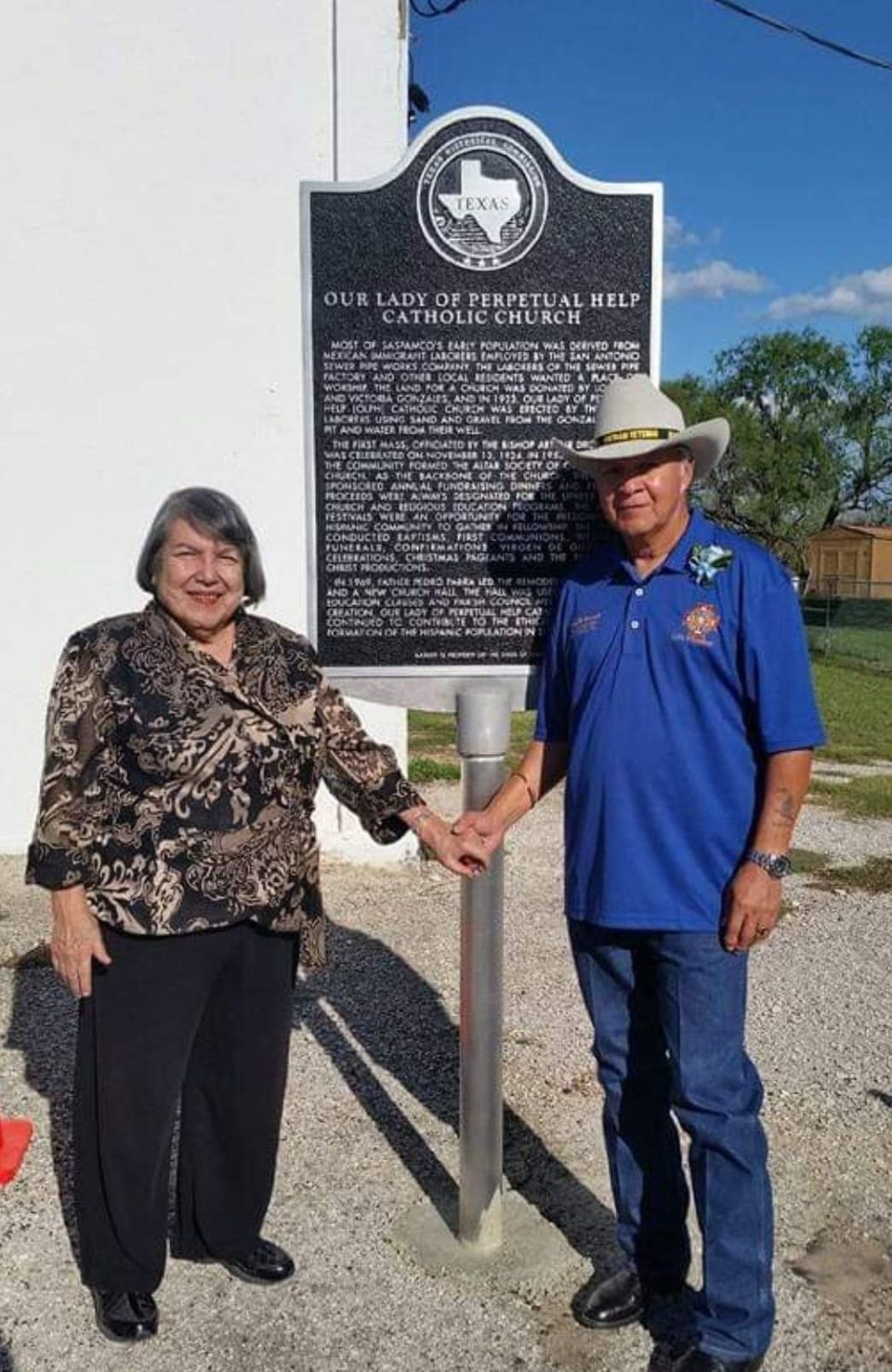 Saspamco, Texas
"Most of Saspamco's early population was derived from Mexican immigrant laborers employed by the San Antonio Sewer Pipe Works Company. The laborers of the sewer pipe factory and other local residents wanted a place of worship. 
The land for a church was donated by Lorenzo and Victoria Gonzales, and in 1923, Our Lady of Perpetual Help (OLPH) Catholic Church was erected by the local laborers using sand and gravel from the Gonzales sand pit and water from their well. 
The first mass, officiated by the Bishop Arthur Drossaerts, was celebrated on November 13, 1924. In 1955, the ladies of the community formed the altar society of OLPH Catholic Church. 
As the backbone of the church, the society sponsored annual fundraising dinners and festivals. Proceeds were always designated for the upkeep of the church and religious education programs. The annual festivals were an opportunity for the predominantly Hispanic community to gather in fellowship. 
The church conducted baptisms, first communions, weddings, funerals, confirmations, Virgen de Guadalupe celebrations, Christmas pageants and the Passion of Christ productions. 
In 1969, Father Pedro Parra led the remodel of the church and a new church hall. The hall was used for religious education classes and parish council meetings. 
Since its creation, Our Lady of Perpetual Help Catholic Church has continued to contribute to the ethical and religious formation of the Hispanic population in the area."  2015
(Photo from Saspamco Facebook page)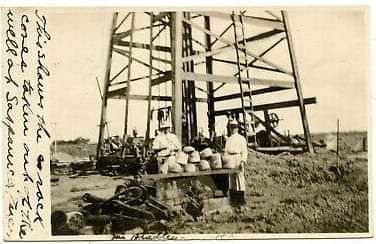 Drilling for oil
SASPAMCO TEXAS ... This Ebay 1910 real photo postcard shows the rock cones taken out while drilling for an oil well at Saspamco, Texas.