RAILROADS
First Excursion to Floresville
On this day in 1886, the San Antonio and Aransas Pass Railway had its first excursion from San Antonio fo Floresville. Photographer E. K. Sturdevant of San Antonio captured this image of SA&AP Loco #3, an 1885 Baldwin 2-4-4T (attached tender) with 49" driving wheels named for Augustus Belknap, the first president of the board of directors.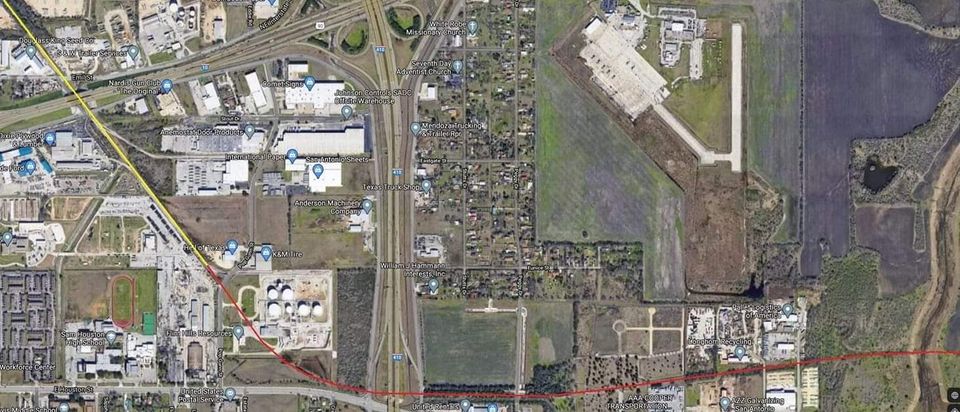 The Texas & New Orleans Railroad Company
....  filed with the Interstate Commerce Commission to abandon its Cuero Subdivision between Salado Jct. (San Antonio) and River Jct. (near Cuero) on May 6, 1955. After protests by online shippers, T&NO amended their filing to include only the territory between Salado Jct. and Nixon. In December, 1956 the ICC approved the abandonment of the territory between Salado Jct. and Stockdale. In July, 1957 after opposition from protestants reversed itself and denied the abandonment in its entirety. 
T&NO filed a new petition for abandonment in 1958 for the abandonment of the track near Salado Jct. and Stockdale Wilson County Texas which was approved on October 14, 1959. The railroad decided to retain a few miles of track between Salado Jct. and southeast San Antonio to serve local industries. This portion of track remains in service today. (Stuart L. Schroeder )
One thing alluded to was the difficulty shippers had in obtaining cars for their products.  This is what my father said killed local business traffic; that all the SP was interested in was thru traffic.  When I clerked during the summer of '66, the peanut coop in Stockdale complained of not getting enough boxcars to ship their product; hence, much moved by truck. (George Lufkin)
The line connecting the Sutherland Springs line to the main line is a little east of the Splash Town Waterpark in San Antonio. There is a dead-end road off of the I 35 northbound frtg. road to the south that actually takes you close to Salado Jct. Before that was built there really was no access unless one walked along the right of way. The remains are an industrial spur about 2 miles long. (Stuart L. Schroeder )
In case this helps a little, the yellow line is all that's left of the old line in San Antonio, the red line is where it used to run on its way to La Vernia, Stockdale, Sutherland Springs etc. It originates off the Sunset Route main halfway between East Yard and Kirby, behind 3922 N PanAm Expressway (IH 35) (Noe Gutierrez )
*******************
COURTESY/ Stuart L. Schroeder  Moderator of Texas Railroad History