POTH
Poth Pride: 1949ers still champions
Wilson County News | 2006
By Fred Owens
POTH WILSON COUNTY TEXAS— "I played all positions, and both ways," Glenn Hellums said, referring to the 1949 Poth football team, which won the bidistrict six-man team championship that year.
Hellums still looks a defensive tackle after all these years: He is a big, beefy man.
He was sharing memories with Richard Krawietz, a fellow Pirate of that season.
The occasion was the presentation of a framed photograph to the Poth City Council at its meeting March 20.
Unbeknownst to these three gentlemen, the council meeting had been canceled because of the lack of a quorum.
But not to be denied their moment of glory, the Poth '49ers were glad to tell the story of their glory days.
"I was kind of big for my age that year. I was actually in the eighth grade, but the coach came up to me and asked did I want to play football," Krawietz said. "I answered yes, so they put me into the ninth grade and I got on the team."
Krawietz is still big for his age, being a tall and rangy fellow, although now he has silver hair and grandchildren.
Gene Maeckel joined the conversation but quickly disqualified himself, "I was in the class of '48," he said. But as a lifelong Poth resident, he remembers the 1949 team as one of the all-time bests.
Maeckel and Hellums still live in Poth. Krawietz came from his home in north San Antonio.
Hellums has kept newspaper clippings from the San Antonio Light and the San Antonio Express from 1949, giving details of the season.
The starting lineup for Poth that year included:
•Glenn Hellums — left end
•Benedict Wiatrek — center
•John Yosko — right end
•Marvin Seifert — left halfback
•Paul Winkler — quarterback
•Eugene Kosarek — right halfback
The Poth bench contained:
•Gervase Moczygemba — left end
•Albert Moczygemba — left end
•Raymond Ramirez — center
•Lawrence Zook — center
•Alvin Pruski — right end
•Richard Krawietz — right end
•Leroy Bienek — back
•Henry Fisbeck — back
•Armin Alberts — back
One newspaper clipping does not list Benjamin Kotara, but both Hellums and Krawietz asserted that Kotara was on the team that year.
Gilbert "Sully" Reinhard was the Poth coach. "He was a big barrel of a man. You either loved him or hated him," Gervase Moczygemba said.
The Pirates were undefeated that year, winning five conference games, two non-conference games, and the final bi-district playoff.
Here is the schedule according to Hellums' clippings.
•Sept. 9 Smiley 12 0
•Oct. 1 Pawnee 12 0
•Oct. 7 Smiley 12 7
•Oct. 15 Skidmore 26 0
•Oct. 21 Pawnee 55 6
•Oct. 28 La Vernia 39 6
•Nov. 5 Nordheim 34 20
The '49ers recall playing and defeating Falls City that year, but the schedule does not show this — a historical anomaly.
The big game for the bidistrict championship was played against San Perlita in Floresville before a crowd of over 1,200 people.
Left halfback Marvin Seifert was the star of the game, scoring three touchdowns. Poth won it 25-12.
The game statistics were:
San Perlita Poth
First downs 3 5
Passes tried 16 9
Passes completed 8 5
Fumbles 8 3
The last number says it all — eight fumbles by San Perlita, indicating a smashing Pirate defense.
Six-man football teams did not go on to a state tournament in those years, so the bidistrict game was the last one.
Moczygemba played left end that year. His brother, Albert, was on the team as well. "Albert has passed away," Moczygemba said, but the other players are alive and well.
Even from a distance, the '49ers stay in touch. Raymond Ramirez lives in Florida, although he has come to several reunions, while Leroy Bienek lives in New Mexico, and Henry Fisbeck is out-of-state somewhere, according to Moczygemba.
The rest of the team lives in Wilson County or in San Antonio.
After graduation, the '49ers found jobs, married and had children, bought houses and built their lives. Moczygemba tells a story that applies to many people who came of age in the early 1950s. "Those drought years changed everything. I couldn't make a living burning pears on our farm, so I got a job in San Antonio," Moczygemba said. "It used to be a lot more agricultural around here."
In earlier years, the team had reunions over a keg of beer at Commanche Park in San Antonio. Now they meet for a sit-down dinner at Shorty's Place in Falls City.
The undefeated '49ers may have been the best Pirate team ever. Of course, that depends on whom you ask.
**************
Photos from Poth 1949 yearbook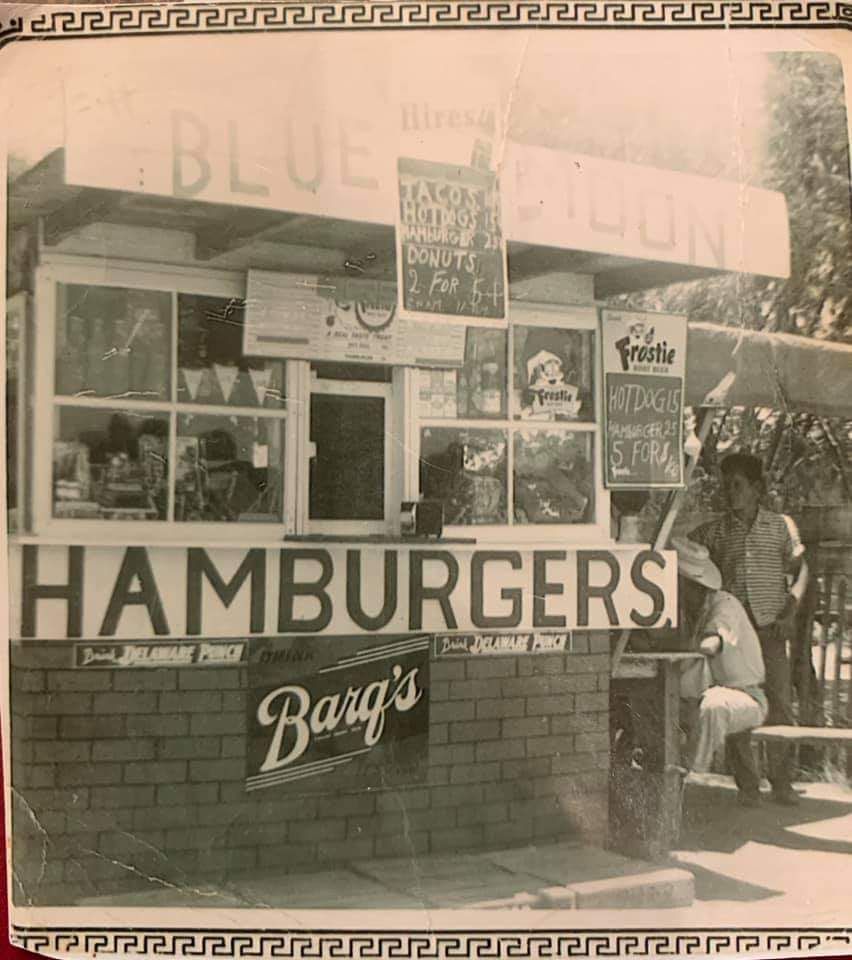 The Blue Moon
Mark Salas posted a photo on Remember Floresville When ...  the photo of "Blue Moon" in Poth, Wilson County Texas was undated. "The Blue Moon" was located somewhere somewhere around CR 541 East of Highway 181 and said to have the most flavorful snow cones. Owners Lydia & Pablo Reyes also had tacos, hot dogs, & hamburgers. ( One of those grape-flavored snow cones would sure taste good tight now!)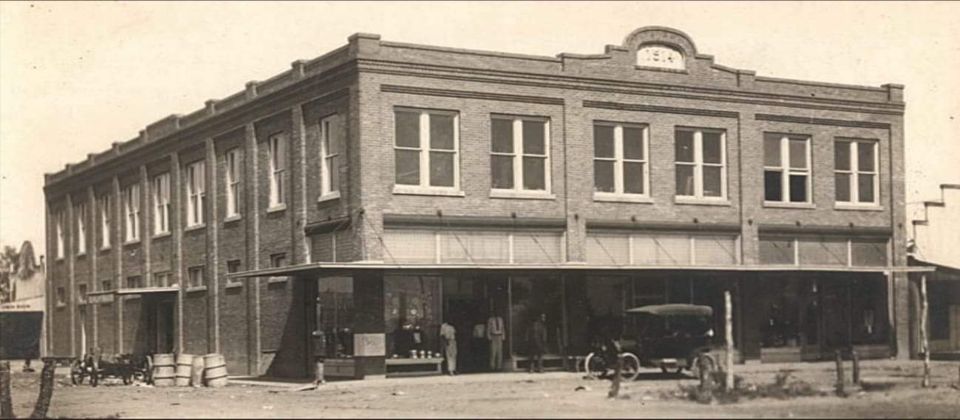 Poth Mercantile Company
*The first person to identify the building below was John Bayer .
In 1914, A. H. Poth constructed a large two-story brick structure adjacent to the central plaza. This building was a real credit to the town and the largest brick structure at that time in the entire county. The building was occupied by the 
Poth Mercantile Company. The owners of the enterprise were A. H. Poth and his brothers, E. B. Poth and Charlie Poth. The building had a freight elevator to the second floor which was the storeroom and warehouse for the merchandise. In 
addition, the building had its own electric power plant and water system. The general manager of the operation was E. B. Poth.
**********
COURTESY/Wilson County Sesquicentennial 1860-2010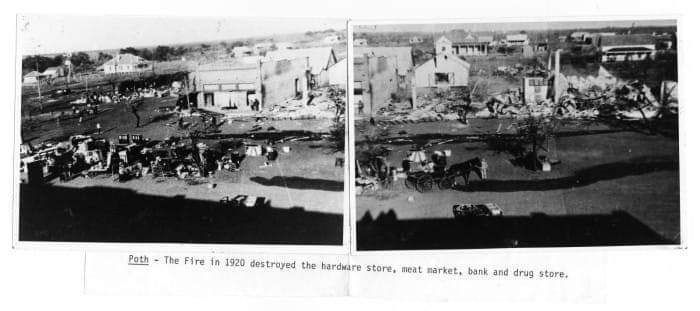 Fire of 1920
Two photographs of Poth Wilson County Texas showing the destruction of the fire in 1920 that destroyed the hardware store, meat market, bank, and drug store. 
The photo created by A. F. Manak is part of the collection entitled: Rescuing Texas History, 2010 and was provided by the Wilson County Historical Society to The Portal to Texas History, a digital repository.