POLLEY
The Polley Pianos
One of the first purchases of the Sutherland Springs Historical Museum was a Beatty Rosewood Square Grand Piano, which now stands in the Polley Room at the museum. The piano had stood in the Polley Whitehall Mansion while Oscar and Esther Linne owned the building. They had purchased many antiques to display in the historic home, hoping that it would continue to serve as a record of nineteenth-century Texas history. They had heard about the Polley's piano, and bought a similar one to grace the house. 
The piano was the highlight of many of the tours and parties that were given by the Linne's, who owned the Polley Mansion from 1946-1990. 
However, when Oscar and Esther died the land, the house, and the contents of the house were divided between nieces and nephews, since the Linnes themselves had no children. The furnishings of the house were to be sold quickly, with the remainder being shipped to Michigan, where the Linne's niece had an antique store. Some folks already interested in beginning a museum in Sutherland Springs acted quickly to raise the funds to purchase the piano, along with a "Ta-Bed," a unique piece of furniture that combined a table and a bed.
Because the Sutherland Springs Historical Museum had not already established itself as a non-profit organization, the purchase was made through the Sutherland Springs Civic Club Volunteer Fire Department. The money was raised and the piano was purchased for $1474.00 in August of 1990.
Joseph and Mary Polley purchased their piano, a Rosewood Piano Forte, made by Smith Atheron & Co. on May 5, 1859 for $275.00.
The piano came with a two year guarantee —which was a good thing. The Polleys lived on the wild frontier of Texas in 1859. They bought the piano from New York City, with Joseph Polley's brother, Jonathan acting, as a go-between. Jonathan reported his success to his brother on 7 May 1859—"I was 2 or 3 days looking around examining furniture I was in a number of different piano warehouse with Adolphus to assist me and this was much the best bargain I could get it is a $400 Piano but there is considerable competition and you will see I bought at a great reduction."
The piano had to be shipped from New York to Lavaca, Texas, where it was received on 25 July 1859 by the Forbes & McGee Shipping Company. The piano and its shipping container weighed 789 pounds. This massive package then had to be carted by a team of oxen from the coast to the Polley's house on the Cibolo. The receipt lists the names of the haulers, written in their own hand—Fredrich Manz, Gustavo Ziller, and G. Shulz. In a letter to her daughters, who are in boarding school in Seguin, on 23 May, Mrs. Polley assures them that the piano would be there by July—
"I expect you would like to hear something about the Music box. It's on the way by this time and the rest of the things, sofa, chairs, carpet, two rocking chairs will all be on by July. "
The beautiful Rosewood Square Grand Piano is one of the few pieces of the Polley's furniture that survives. 
Zoe Carrington Polley, daughter of Walter Webster and Ada Amanda Wyatt Polley, inherited the piano from her grandmother, Mary Polley, wife of Joseph Polley. Zoe passed away in 1986 at the of ninety-nine. She bequeathed the piano to her granddaughter, Diane Perry, who lives in California, where the piano now resides.
COURTESY/Dr. Melinda Creech, Curator SSHM
Baileys and Polleys Among Earliest Texans
FRONTIER TIMES VOLUME 13--NO.5 FEBRUARY, 1936
Baileys and Polleys Among Earliest Texans Edward M. Golson, in San Antonio Express.
With the Centennial celebration now an assured fact, it is of
interest to dig up old papers and find some records of those who were the pioneers and first helped to make our state such a great commonwealth.
Joseph H. Polley, a native of New York State, one of the original 300 colonists who came with Stephen F. Austin to Texas. However, he joined first Moses Austin, coming to Texas in 1818 and returning with him to Missouri, after which he joined, in 1821, Stephen F. Austin's colony. Joseph H. Polley's wife was one of those who made candles for the sitting of the first Texas Congress, which assembled at San Felipe de Austin. The mould used is now in the section of the Conservation Society Exhibits of the Witte Museum. San Felipe de Austin was famous as the richest townsite per capita in Texas. It was founded in 1824 and passed through boom periods with their disastrous aftermaths. Once a teaming center of river commerce all its importance died out while its founders negotiated with the Mexican Government but revived to unprecedented prosperity, only to be burned to the ground by its citizens to escape capture by Santa Anna and his marauders in 1836. Joseph H. Polley and Mary Bailey were married by an Alcalde in 1823, but in accordance with an edict issued by the Mexican government, to be landowners they had to be married by a priest. The enactment of this ceremony entitled each of the children of Joseph H. Polley to a headright of a section of land consisting of 640 acres. At the time of the re-marriage 30 couples went through the same ceremony which was performed by a priest. The marriage certificate of 1831, printed in Latin, is in the possession of Mrs. Josephine Polley Golson of San Antonio, Texas, and reads: "Ego infrascriptus Pastor Parochialis Colone de Austin:
nee non ominums advenarum Vicarius Generalis Papalis et Episcopali authoritate in regionibus Texarum respectu dispensatioms praemunitus; omnibus quibus interest certioro:  omnibus quibus interest certioro: Joseph H. Polley et Mariam Bailey rite et recte in matrimonium conjectus esse; qui quidem duous liberos in nexibus politicie habitos deckaravere et declarant hoe sacramento ominimodo legitomos esse, eorum que Haeredes. Datum haece duedecimod dies mensis Julii anno vero nostra Salutis 1831. Michael Muldoon." After the marriage Joseph Polley received the headrights for his children. After Texas became independent, a growing family and increasing herds of cattle determined him to move farther west, where he could find larger pasturage. He purchased a large tract in the 40's on the Cibolo and erected about two miles from Sutherland Springs a substantial rock building which passing through the century mark stands today in
excellent state of preservation. It is probably one of the best preserved mansions of slavery days in this part of Texas. Not only the two-story, 10 room house with its wide open fireplace, stone partition walls 18 inches thick, the woodwork made of cypress hauled from distant sawmills, but also the log cabin kitchen made out of postoak logs. Joseph H. Polley was a close personal friend of Gen. Robert E. Lee, who visited the Polley home many times and joined in the festivities and social functions for which the Polley home was renown. During the depredations committed by Mexicans over 16,000 head of cattle were killed and stolen from the herds of Polley.
Among the affidavits attached to the claims for loss of more than 16,000 head of cattle which are now under consideration by the United States and Mexican claims commission there are several sworn to by eye-witnesses, among them two of Polley's former slaves and still living who testified that Polley owned over 150,000 head of cattle and was next to King, the largest cattle owner in the State. Among the heirs interested in this claim and living are Mrs. Jesse Tiner, Mrs. Hubbard Polley, Mrs. S. G. Garrett, Mrs. Wright and Mrs. Edward M. Golson. It is interesting to observe, in the union of the
Bailey and Polley families that James B. Bailey was the first captain of the militia organized by Austin's colony while Joseph H.Polley was the first sheriff appointed by Stephen F. Austin.
****************
Courtesy/Farm and Ranch Texas& Handbook of Texas Online
SUTHERLAND SPRINGS Wilson County Texas
By Nell Sutherland
WCN Correspondent
Wilson County News, May 2006
It is a tiny little resting place — less than one half acre. Only 10 gravesites are within its enclosure. Yet on Saturday, May 6, 2006,  kith and kin from across the states will gather at the Polley Cemetery to renew family ties.
Recently designated as a Historic Texas Cemetery, a Texas State Historical Marker will be unveiled at the cemetery during a dedication ceremony on May 6, 2006,  at 10:45 a.m. The cemetery is on C.R. 539, north of Sutherland Springs. In case of rain, the dedication ceremony will be held in the Immanuel Lutheran Church.
THE HISTORY
Joseph Polley was born in New York, and came to Texas as one of the first colonists, arriving with Stephen F. Austin in Brazoria County. He married Mary Bailey in 1826 in a Protestant ceremony, and again in a Catholic ceremony in 1831 in accordance with an edict of the Mexican government. In fact, family tradition has it that they were actually married three times.
All their 11 children were born in Brazoria County, where Polley served as the first sheriff. He was appointed to escort the women and children retreating during the "Runaway Scrape" in 1836 during the battle for Texas Independence. Mary played a role in Texas history as well. She helped to mold the candles used by the first Texas Congress assembled at San Felipe de Austin in 1832.
The Polleys settled in what was then Guadalupe County in early 1847, selecting a site overlooking the Cibolo Creek near Sutherland Springs. Daughters Emeline and Sarah Adel were attending school in San Antonio. Future son-in-law John James, an area surveyor, discovered the Cibolo Valley. The Polleys first built a "stake house," of upended logs, where they lived for four years while a two-story mansion of locally quarried limestone was under construction.
Emeline and John James were married in August 1847. On Dec. 21, 1848, at the age of 17, Emeline died giving birth to a little girl. The infant, who was named after her mother, survived. The Polleys and the widower selected a site on which to establish a family cemetery on the opposite side of the road, and an enclosure was constructed from native stone to surround the grounds.
BURIALS
On July 28, 1850, little Emeline Elizabeth James, not quite 2 years old, was laid to rest beside her mother in the little cemetery. Four-year-old Mary Bailey Henderson, another grandchild, joined her aunt and cousin in 1865.
In March 1869, Joseph Polley was laid to rest at the age of 73, followed two months later by his daughter, Sarah Adel, who died of tuberculosis. Others interred in the cemetery during the 1870s included grandchildren Edith Houston, age 3; George Smith Houston, 4; Susan Fletcher Brooks, 1; and Joseph Henry Polley II, an infant great-grandchild. Survival was precarious for children in those frontier days of Texas.
The final burial in the little Polley Cemetery was that of Mary Augusta Polley, who died in 1888, at the age of 78. She was placed beside her husband. In her will, Mary requested that "one-half acre of land that would include the enclosed burying ground where my husband lies buried, shall not be sold, but shall remain forever as a burial place for members of my family."
Visitors are welcome to visit the little cemetery where Grandpa Joseph and Grandma Mary Polley rest in peace, watching over two daughters, five grandchildren, and one great-grandchild.  Please contact Robin Broughton Muschalek for permission.
***************
COURTESY/ Wilson County News   Article written by Columnist Nell Sutherland of the Wilson County News.
Digging into the past
By Jeff Valcher |Wilson County News | March 2018
As the historic Polley Mansion north of Sutherland Springs is gradually restored to its former glory, some experts have come out to take advantage of this opportunity to uncover a little more about Texas' history.
On the morning of March 10, archaeologists were busy hauling boxes and setting up equipment outside the mansion's back door.
Dr. Todd Ahlman, head of Texas State University's archeology department, issued commands and divvied up the workload among the 10 volunteers, and the group set to work uncovering any underground secrets held by this 167-year-old cultural landmark.
Ahlman's main focus for the past 30 years has been historic archaeology — as opposed to prehistoric archaeology — which is focused on artifacts from after the arrival of European settlers. Much of the colonization in this area was done by the Spanish, he said, so the Polley plantation — established by one of the first "Old 300" settlers in the region, Joe Polley — is a relatively unique site.
"There aren't a lot of plantations in Central Texas — especially cotton plantations like this," Ahlman said.
The main focus of this particular dig was the kitchen behind the main residence, where slaves had once prepared food for the Polley family. He hoped the search would cast light on how the family lived, what they were buying, and what they ate.
The group had marked off several 1-meter-square sections of land inside and around the structure with string and began to carefully scoop the dirt into their dustpans. The dirt was then passed through a screen to catch anything of value.
"A lot of these houses had exterior kitchens due to the heat in the summer," Ahlman said, as we continued around the back of the building.
He bent down near the rear wall and grabbed a handful of dirt. After sifting through it with his fingers, he produced a few tiny white pieces of ceramic, or "white ware," as he called it, that were likely from a plate or other serving dish. Another scoop of his hand produced a bit of rusted nail.
It's a wonder there's any metal left on the place.
On a cold winter day this past January, 52 amateur metal detectors and 12 archaeologists descended on the property with their equipment to search for metallic artifacts. The final tally: 300 specimens ready to be bagged and labeled.
Candlesticks, forks, horseshoes, assorted pieces of tack, shotgun shells, old farm equipment, toy soldiers, musket balls, and a British button estimated to have been worn in 1823 were among the finds that will be sent to Ahlman's department for dating and cataloging.
"With historic artifacts, we have books that tell us how old things are," he said, contrasting these items with prehistoric artifacts, such as arrowheads and stone tools.
Back inside the kitchen structure, a couple of volunteers were busy digging with their trowels in the center of the room. Ahlman crossed to the fireplace and picked up a few bones that had been uncovered by the property's owners, Keith and Robin Muschalek, while removing old flooring.
This is a bird ... Here's a fish vertebrae ... See how they were chopped?" he said, pointing to where a cook's knife had once been more than a century ago. "One of the main things about archaeology is we want to know where things come in context, rather than just finding stuff."
Walking through the halls of history
By Jeff Valcher |Wilson County News | August 31, 2016
Three miles up F.M. 539 from U.S. 87 in Sutherland Springs, an old, two-story residence looms up on the right, whose heyday appears to have long since come and gone. During the last decade, in particular, the historic house had fallen into a severely dilapidated state.
Almost a century after the construction of Floresville's Rancho de las Cabras in the 1750s, Joe Polley was breaking ground on his new residence, 2 miles north of old Sutherland Springs. Polley and his wife, Mary, had been part of Stephen F. Austin's "Old Three Hundred" — the first American colonists to settle in the newly independent Mexico's territory in 1821. Their home was a showplace in its day, and attracted visitors such as Robert E. Lee.
Now, more than a century and a half later, construction has begun once again at the Polley Mansion. The new owners, Keith and Robin Muschalek, purchased the estate last November and happily gave me a tour recently of this historic site. 
We walked past the Greek Revival columns on the front porch into a large hallway running the length of the house. "I don't know if Robert E. Lee danced, but he would have danced right here," Keith said.
The 1965 Texas Landmark plaque that adorns the front of the house states this was where Lee, who led the Army of the Confederacy during the Civil War, wrote his last letter from Texas during one of several visits.
The first room on the tour contained Joe Polley's whiskey locker set into the wall. Whiskey features in a popular legend about the fireplace in the room. It was said that the contractor who put in the Polleys' fireplaces had demanded a jug of whiskey every Saturday in addition to his weekly salary. Failure to receive his liquor stipend one week led him to plug up this chimney's flue. It wasn't until the 1940s that the mystery of the smoky fireplace was solved — and cleared.
In the next room, the floorboards were ripped up, exposing the hand-hewn joists running throughout the house. Keith is trying to retain as many original features as possible. We headed upstairs and out onto the front balcony.
"It is the prettiest view I've ever seen," Robin said as we looked out across F.M. 539. A vast expanse of tree-lined fields slopes downward past the Cibolo Creek to the roofs of La Vernia. Before the days of barbed-wire fences, Polley's cattle — around 150,000, it was said — roamed this landscape from San Antonio to Corpus Christi to the Rio Grande.
"The floods of '98," Keith said, pointing across the road, "that house probably had water in it. This house has never flooded in 170 years."
Ascending another flight of stairs, we entered the attic, where we were able to see the wooden pegs used in lieu of nails and screws to secure the ceiling joists and the 18-inch-thick stone walls. Even the mortar speaks to the history of the area.
This was a working plantation," Keith said. "[Joseph Polley] had about 20 to 21 slaves. When they were building this house, the slaves would go to the [Cibolo] creek and collect all the mussel shells, crush them, and make the mortar."
We carefully made our way across the ceiling joists to a trapdoor in the roof. This would have served two purposes, Keith said. Pails of water could be brought through to put out roof fires. It also allowed someone to climb up to serve as a lookout for hostile Indians in the area.
Every room seems to have a story attached to it, so it was no surprise that the house was placed on Preservation Texas' 2016 most endangered list last February.
Restoration of the mansion is set to pick up speed this September, with the Muschaleks moving into the area for good from their last home in Virginia, another state heavy with its own history.
Keith credits his father, Robert, in particular, for first instilling within him an appreciation of the past. A native of nearby Yorktown who wrote a book about the area, the elder Muschalek passed away two months ago, shortly after he and his wife, Estella, helped Keith and Robin purchase the Polley Mansion.
"He was totally positive about this place, the more he read about it," Keith said. "He was sick, but he would come out here and watch us fix it up."
The next incarnation of the Polley Mansion is starting to take shape in the minds of its new owners.
"I want it to be more like a community gathering place," Robin said. "Something where people could come use it, see it, enjoy it."
This was a working plantation," Keith said. "[Joseph Polley] had about 20 to 21 slaves. When they were building this house, the slaves would go to the [Cibolo] creek and collect all the mussel shells, crush them, and make the mortar."
We carefully made our way across the ceiling joists to a trapdoor in the roof. This would have served two purposes, Keith said. Pails of water could be brought through to put out roof fires. It also allowed someone to climb up to serve as a lookout for hostile Indians in the area.
Every room seems to have a story attached to it, so it was no surprise that the house was placed on Preservation Texas' 2016 most endangered list last February.
Restoration of the mansion is set to pick up speed this September, with the Muschaleks moving into the area for good from their last home in Virginia, another state heavy with its own history.
Keith credits his father, Robert, in particular, for first instilling within him an appreciation of the past. A native of nearby Yorktown who wrote a book about the area, the elder Muschalek passed away two months ago, shortly after he and his wife, Estella, helped Keith and Robin purchase the Polley Mansion.
"He was totally positive about this place, the more he read about it," Keith said. "He was sick, but he would come out here and watch us fix it up."
The next incarnation of the Polley Mansion is starting to take shape in the minds of its new owners.
"I want it to be more like a community gathering place," Robin said. "Something where people could come use it, see it, enjoy it."
More importantly, the house will also serve as a place where future generations of Texans can come and experience their history firsthand, according to the Muschaleks.
"This is where the kids will come for field trips," Keith said. "By coming here, we can talk about from 1821 through the Civil War and Reconstruction. This is where they get their Texas history."
Owners
The Polley Mansion, also known as Whitehall, has had a number of owners.
•1851: Completed by Joseph and Mary Polley
•1904: Joseph's sons sell the house to Lou Rinda Polley
•1907: The house is sold to Wilson County Commissioner E.W. Billings
•1917: Charles Moehrig buys the house
•1922: Judge C.A. Goeth buys the house; some renovations follow
•1946: Mr. and Mrs. Oscar Linne buy the mansion and restore it to grandeur, opening the home to the public for events
•1988-90: Oscar Linne dies in 1988, and his wife, in 1990. Their nephews sell the property to real estate professionals Buddy Hemby and Steve Keeland.
•1993: Mr. and Mrs. Mark Collins buy the mansion
•2015: Keith and Robin Muschalek purchase the mansion. Renovations are under way to restore it to its former glory.
Note: The Polley family cemetery across F.M. 539 from the mansion has remained in the family's ownership and is a registered historic site.
POLLEY TREASURES
..... When you work on a historic property, you never know what you'll find.  In July 2020, the Muschaleks found 'treasures' beneath Polley Mansion floors
JULY 2020
Last week, Keith and Robin Muschalek, who own the historic Polley Mansion — also known as Whitehall — on F.M. 539 near La Vernia, were repairing the floor of the main hallway of the house.
"As we pulled up original 1800s floorboards and crawled through the narrow space — OK, my retired Army colonel spouse did that part," Robin said, "treasures were found as if time stood still."
What had they discovered?
Piles of whittled sticks, stone chips, eating utensils, leather items, pieces of glassware, metal tools, and more!
"Could these all be from the builders of Whitehall in 1847-55?" Robin speculated, as she posted the finds to the Polley Mansion Facebook page.
Community members reading her post wondered and speculated right along with the Muschaleks.
Some of the whittled sticks have pointed ends and holes in them. They could be plumb bobs, or plummets, according to Amy Price. Plummets are weights, used with string or line as a vertical reference by builders.
ROBIN MUSCHALEK
Pieces of glassware also were revealed during the hallway floor repairs at the Polley Mansion on F.M. 539, including a bottleneck and stopper!
Some of the wooden items may be stick shuttles or bobbins, used for weaving.
Leonard Weyel suggests that some of the sticks resemble atlatls, bows, and other Native American tools.
Eating utensils and other metal objects also were recovered, along with wooden spools for thread, tools, and even some gaming pieces — a domino, a marble, and a checker!
Among the leather items are straps and belts, a child's shoe, and a long, thin "sleeve," that may be a scabbard or sheath for a cutting implement.
Also under the floorboards were several tree stumps and some glass pieces, including a bottleneck and its stopper — a rare find. The base of a green bottle has pontil marks, that can help the Muschaleks age the glassware. The pontil mark, or scar, reveals that the glass piece was blown, and not manufactured.
Next time you're doing some home repairs, pay attention. There might be treasures hiding under your floorboards, too!
*************
COURTESY/ La Vernia News  written by Nannette Kilbey-Smith  in JULY 2020
A letter to Joseph H. Polley 1835
A posted 1835 letter cover sent from White Hall, New York to Joseph H. Polley of Sutherland Springs Texas.   (Private collection)
In 1847 Polley moved from his home on the Brazos River in Brazoria County, which he had called "Whitehall" in honor of his birthplace. He selected a site for his new home on the small knoll overlooking Cibolo Creek about three miles north of old Sutherland Springs, in what was then Guadalupe County (established 1846) and is now Wilson County (established 1860). [The northeast section of Wilson County was previously a southeast section of Guadalupe County.]
(Historic Farm & Ranch Complexes)
The area we know today as Wilson County was a part of Bexar County and the county seat was in San Antonio, Texas. In 1855 Dr. John Sutherland of Sutherland Springs and a veteran of the Texas Revolution, sent petitions to the Texas Legislature asking this body to form a new county from portions of Bexar and Karnes counties. The act to create said county was approved by the Texas State Legislature on February 13, 1860. It was named Wilson County after James Wilson, an Englishman who came to Texas in the 1830s. He survived the ill-fated Mier Expedition and became a state senator. ( Wilson County Historical Society
Hall of honor inducts Wilson County pioneer
Wilson County Texas celebrated the anniversary of Texas statehood two days early by recognizing one of its early settlers.
During a brief Feb. 17, 2016 ceremony at the Wilson County Courthouse, Joseph Henry Polley was inducted into the First Pioneers and Leaders of the State of Texas Hall of Honor.
Polley, born in 1795, was a veteran of the War of 1812 and the Texas War for Independence. He moved to Wilson County in 1847 and built a home in Sutherland Springs, where he lived until he died in 1869. The house, which Polley named Whitehall, is undergoing restoration by its current owner, Keith Muschalek.
Six direct descendants of Polley attended the ceremony, which included a presentation by Dennis Kulvicki, president of the State of Texas Anniversary Remembrance Day Foundation.
Kulvicki said the foundation carries out the intent of state legislation passed in 1999 to celebrate Feb. 19, the anniversary of the date Texas became a state, with appropriate patriotic ceremonies.
"My job is to inspire our young people," Kulvicki said, explaining that the organization also serves "to motivate young people to explore and discover the state's founders."
Kulvicki, an El Paso resident, said some of his ancestors are buried in the Fairview Cemetery west of Floresville, and some of his wife's ancestors may have known Joseph Henry Polley.
According to Wilson County Historical Society member Shirley Grammer, Polley owned lands in an arc from Corpus Christi north to Llano County and west to Medina County, raising cattle and growing cotton.
Grammer noted that Polley sponsored schools in Seguin and Sutherland Springs. His home became a social center, and guests included Robert E. Lee and John B. Hood.
After Polley's death, he was buried in the family cemetery on F.M. 539.
"Polley played a distinctive role in the history of Texas," Kulvicki said.
*************
COURTESY /  Wilson County News  Article written by Gregory Ripps
Historical Reminiscences
Conducted By J. B. Polley, Floresville, Texas
On July 12, 1908 the San Antonio (TX) Daily Express published a letter from Dr. Sam Burroughs of Buffalo, Texas (formerly Private Burroughs) of the 1st Texas Infantry about his intense memories of the Battle of Gettysburg and the charge by Hood's Texas Brigade on the Devil's Den and Little Round Top and how a Federal Sniper was dealt with later that evening. 
I believe this letter (article) hasn't been seen by many since it was published almost 113 years ago.
Daily Express
July 12, 1908
Historical Reminiscences
Conducted By J. B. Polley, Floresville, Texas
  We listened to so many stories of the war that we have forgotten the half of them. Next time we go to a reunion we will carry along a recording phonograph and when the old boys get in a reminiscent mood have it in a fix to catch the stories. Two of these we remember well enough to repeat. They were related by Dr. Sam E. Burroughs of Buffalo. At the time the incidents occurred he was a 20-year-old boy, and as "wild and wooly" a chap as ever vegetated in the piney woods. Now he is a leading physician and surgeon in East Texas.
  The first incident occurred at the beginning of the second day's battle at Gettysburg. To the First Texas Regiment had been given by Mrs. Wigfall a beautiful Lone Star flag, made from her wedding dress. When St. Andrew's cross was adopted as the battle flag of the Confederacy the unfolding of State flags in action was prohibited. Nevertheless, the First Texas carried along with it the Lone Star flag. Its bearer was a young fellow, under 20, whose name has escaped our memory, but it was never unfolded in battle after the order mentioned was issued until the battle at Gettysburg. There, while the Texas Brigade was forming in line of battle, a Federal battery got its range and began to play upon it. One of the round shots fired wounded several men of the First Texas and when, passing on, swept the head off of Ham Lloyd of Company F of the Fourth Texas.
   "Just as this occurred," said Dr. Burroughs, "I saw the bearer of the Lone Star flag, begin to pull off the oil cloth case that protected it. Having completed the task he stuffed the case into his haversack and then commenced unrolling the flag."
  "What are you doing that for?" I asked, don't you know it's against orders to show but the one flag and that our battleflag?"
  "Yes, I know what the orders are as well as anybody" he replied; "but orders be d----d in a case like this; I am going to straddle the gun that fired that shot and wave the Lone Star flag over it or die a trying."
  "At that moment Hood came in front of the brigade and a dozen voices shouted: "Have that fence pulled down, General, and we'll take that infernal battery."
  Hood ordered a detail to level the fence and in less than ten minutes the battery was captured, and that little dare devil bearer of the Lone Star sat astride of the gun which had fired the shot mentioned, waving his flag and yelling loud enough to be heard above the roar of cannon.
  In another twenty minutes the First Texas was engaged in the fierce and sometimes hand-to-hand struggle that occurred in the Devil's Den. During the progress of the fight there about a dozen of us forged far to the front and finally secured a commanding position high up on the side of Little Round Top.
  Here we commenced shooting at everything Federal that came into view. It was not a one-sided performance though, for some of the Federals on the field had as much grit as the Confederates, and while we drove them as long as we moved forward, they came to a halt when we did and began firing at us. But we did not mind them as much as we did the determination and good aim of some far-off Yankee whose location for a long time we could not fix. The gun he used made a report like a small cannon, and the balls from it wounded two or three men.
  Long and close watching revealed the fact that he was concealed in the branches of a tall oak tree, fully half a mile distant, and standing in the open. The puffs of smoke from his rifle appeared to proceed from a limb on the south side of the trunk, and, thinking to put an end to his game, our little squad waited until he fired, and then poured a volley into the south side of the tree top. The return shot came immediately and demonstrated plainly that we had done no damage. A second time we took aim and pulled the trigger, only to be replied to by another puff of smoke out of the treetop and the whistle of a bullet dangerously close to our ears. Then an Alabamian, 20 yards or more off to our right, gave us the hint we needed. He cried out:
  "Say Texans, you'uns ar' lettin' that are plaguey sharpshooter fool yer. He don't stay on the limb whar he shoots from. The moment he pulls the trigger he jumps for the body of the tree. Eff yer'll all center on that yer'll shorely git him."
  And "shortly git him" we did. One of our boys shoved his hat well above the big rock sheltering his body. The sharpshooter fired at it, and just a second later we sent a volley of bullets into the treetop, this time, however, aiming so as to scalp the trunk of the tree in which our enemy was lodged, and had the satisfaction of seeing the fellow's body come tumbling to the ground.
  "You got him that time, Johnny," sang out a Yankee that was nearer by.
  "We shorely did, "answered one of our party. We saw him drop, and we heerd im' strike the ground, damn him."
  These little amenities exchanged with the enemy, we looked into our rear and saw, far down the hill below us, that our main force was making a change of position that would leave us entirely unsupported and subject to capture. That was the signal to us for an immediate retreat, and I don't mind acknowledging that it was precipitate. It couldn't have been otherwise, for not only was our flight downhill, but it was hastened by the bullets of the enemy. I know that I went with the velocity of a shell just out of the cannon's mouth – so fast, indeed, that I could distinctly hear the thunder of the air as it rushed together behind me to fill the vacuum my body left.
  "This is the first time I ever heard a Texas Brigade man admit he did any running," observed a veteran of the Trans-Mississippi Department who had been listening, open-mouthed, to the story.
  That is due to the modesty of the members of the brigade," said Dr. Burroughs. We never boast of our bravest deeds – we let others tell them. But just as a pointer to you, my friend, I would gently remark that it often requires more courage to get out of a hot place than to get into it. Facing and fighting an enemy, one is nerved and simulated by an excitement and the desire to kill and win that is entirely absent when one is running from him. To know when to stand or go forward and when to retreat is generalship of the highest order. The poet says:
  "In all the trade of war no feat, Is nobler than a brave retreat."
  When your enemy surrounds you, or get the drop on you, you'd be a fool not to surrender; but when, by taking no more risks than you encountered while moving forward, there is a chance for you to escape death and capture, if you are a true soldier you'll run every time. Many of the bravest men in the Federal and Confederate armies were shot in the back while endeavoring to escape capture. It was in this way that one-armed Gen. Phil Kearney of the Federal Army was killed at Chantilly a few days after the Battle of Second Manassas. He galloped up to a line of our skirmishers after nightfall, thinking they were his own men. Apprised of his mistake, and unwilling to surrender, he wheeled his horse around, and, bending his body forward, went off at full speed. But he had not gone 100 feet before a ball struck him squarely in the anus and killed him dead, without leaving a mark or a drop of blood on his exterior body. Falling from his horse, the remains lay there until General Lee came and reorganized it.
  "You have killed the bravest man in America, boys," he said. Then he gave directions to have the body guarded and returned under a flag of truce to the Federal Army.
**************
COURTESY / Civil War Texas ( Joe Owen Civil War Author)
J.B. Polley and Hood's Texas Brigade
J.B. Polley and Hood's Texas Brigade ... The enduring fame of General John Bell Hood's Texas brigade in Civil War history was due in large part to a soldier of the Fourth Texas Infantry Regiment, Quarter Master Sergeant Joseph Benjamin (J. B.) Polley. He was born near Bailey's Prairie, Brazoria County, Texas, on October 27, 1840, the sixth of eleven children of Joseph Henry and Mary (Bailey) Polley. His family had historical Texas roots. His father Joseph Henry Polley a native of New York, first came to Texas with pioneer Moses Austin in 1819 and returned with Stephen F. Austin in 1821 as one of the Old Three Hundred colonists. In 1847 the Polley family moved to a farm on Cibolo Creek about thirty miles east of San Antonio.

In 1861 Polley graduated from Florence Wesleyan University at Florence, Alabama, and returned to Texas to enlist in Company F of the Fourth Texas Infantry, one of the regiments of the famed Hood's Texas Brigade in the Army of Northern Virginia.   Sergeant Polley fought in many of the major battles the brigade was in. He received a head wound at the battle of Gaines Mills in 1862, and lost his right foot at the battle of Darbytown Road near Richmond on October 7, 1864.

After returning to Texas at the end of the war, he was admitted to the Texas bar in 1868 and established a law practice until 1876, when he moved to Floresville. In 1866 he married Mattie LeGette, and the couple had four children. Polley was elected commander of the Texas Division of the United Confederate Veterans. He was an active member and leader of Hood's Texas Brigade Association made up of the former soldiers of the brigade. For several years he wrote weekly articles for the San Antonio Express titled "Historical Reminiscences" about Hood's Texas Brigade and other Confederate brigades, leaders, soldiers and battles.

Polley's first Civil War book, A Soldier's Letters to Charming Nellie (1908), is controversial as it has been suspected over the years to be a largely fictional correspondence rather than the authentic Civil War letter cycle which he claimed to be. There is no authenticated woman named "Nellie" that he knew. He was commissioned by the Hood's Texas Brigade Association to write Hood's Texas Brigade: Its Marches, Its Battles, Its Achievements (1910), and is considered one of the classics of Civil War literature. Polley was also a frequent contributor to Confederate Veteran. He attended the yearly Hood's Texas Brigade Association reunions up until shortly before his death. He died on February 2, 1918 in Floresville, Texas and is buried in the city cemetery.

J. B. Polley kept the history and fame of Hood's Texas Brigade alive throughout the years. His desire to keep the brigade's achievements and history alive has been largely successful. He would be pleased and proud to know that the brigade's history is well known in American and Civil War History.
**********
COURTESY / Joe Owen, Civil War Author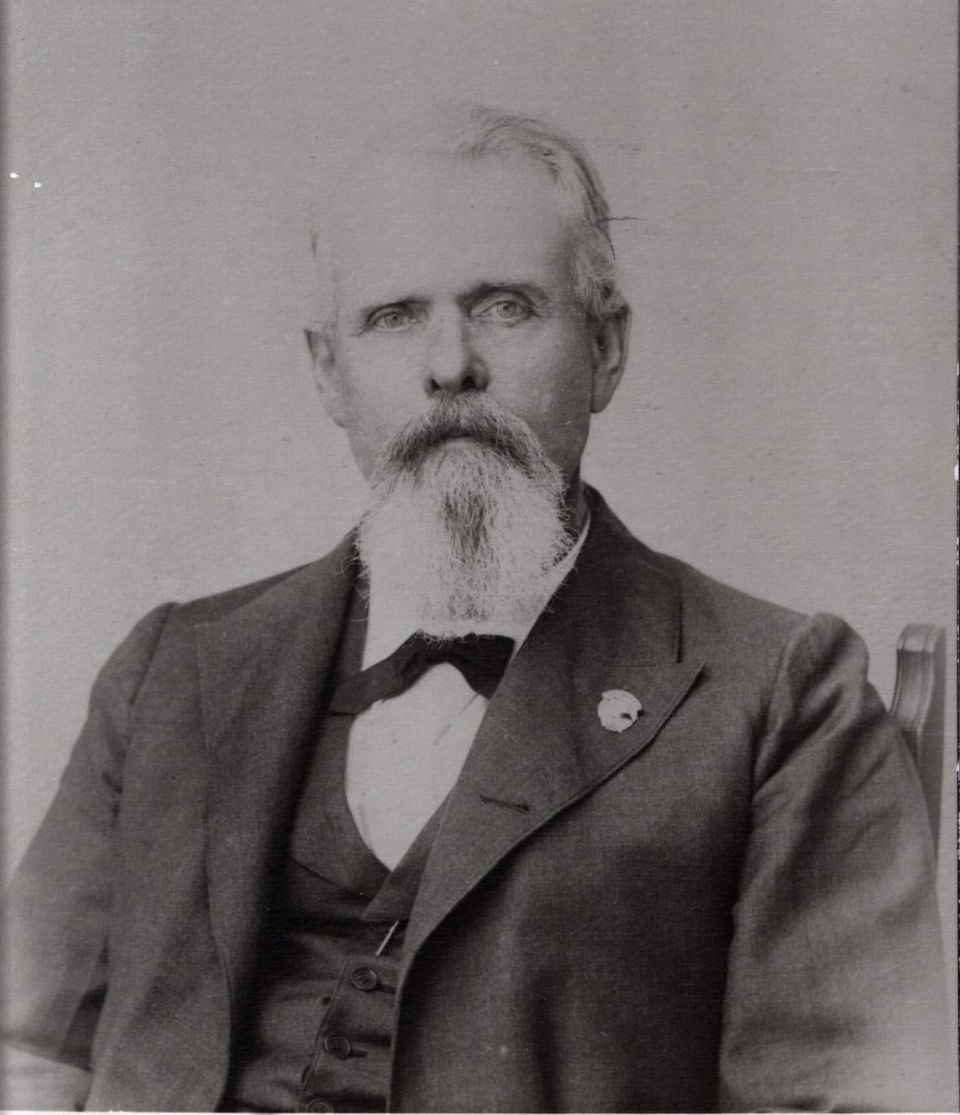 Joseph Benjamin "J. B." Polley
His family were Texas pioneers, Mom and Dad. He was a lawyer and a judge after the war and also was the historian of Hood's Texas Brigade he wrote two books, "Hood's Texas Brigade: Its Marches, Its Battles, Its Achievements," which was the first authorized history of the brigade. He also wrote, "Letters To Charming Nellie," his semi-fictional account of the war. He wrote to the San Antonio Daily Express for about 10 years in a weekly column of Hood's Brigade, Confederate Texas, Texas Republic and the Indian Wars. He and his wife lived in Floresville Wilson County Texas and are buried there.
***************
COURTESY / Civil War Texas
POLLEY MANSION UPDATE
By  Keith Muschalek  & Robin Broughton Muschalek

The front rails are complete! We removed the rotted rails six years ago and completed them today. They weren't on the house in 1855 but an 1889 photo shows the porch with the rails. (Reader Owen Lowak  asks who knows what the red things are sitting on the steps?)