PEOPLE
Wayne and Wade Rutland of Stockdale
Wayne and Wade Rutland of Stockdale Wilson county Texas......  beat the odds in life and at sea.
At almost 98 years of age, two World War II veterans from Stockdale have seen a thing or two — and cheated death on more than one occasion! What makes their story unique is that many of their adventures have been side by side throughout their lives.
Twins Wade and Wayne Rutland were born at home Sept. 14, 1920, in Bend, Texas, to Roy and Lena (Cate) Rutland. One weighed 3-1/2 pounds; the other only 3 pounds.
Although Lena didn't think the tiny twins would make it, her mother, Mollie Cate, recorded the boys' births in the family Bible. The twins were placed in shoeboxes in a dresser drawer near the stove, to keep the tiny babies warm. Each box was labeled with their names, so family members could tell them apart. Sadly, when they were only seven days old, their mother passed away from blood poisoning and complications.
Their father was beside himself with grief and didn't have any family who could take care of the babies and still allow him to work his job. Since Roy and Lena had been living with her parents, her mother insisted the twins stay with her while Roy continued working as a pecan buyer, which required a lot of travel. Roy just couldn't stay in the room where Lena had died, so he moved out. Grandmother Mollie's 14-year-old daughter, Lucile, was still at home; she helped bottle-feed the twins every two hours and walked the floor for hours when the babies had colic.
Wade and Wayne thrived, and were "two peas in a pod." As they grew older, they realized that people couldn't tell them apart. They even fooled their grandfather!
The family moved to El Paso in 1923, and Grandma Mollie passed away in 1924. Lucile fell in love, and got married in 1926. The twins' grandpa, John Calvin Cate, packed their bags and they moved again.
The boys were 8 years old by then, and started school in Llano. The twins were known for getting into mischief. On the first day of school, when the recess bell rang, the boys left school and walked home. When their grandpa asked them why, they said they thought school was over!
In 1932, Lucile and her husband moved to San Angelo, and the twins and their grandpa moved in with them. Then the family moved to Comanche. This is when their grandfather remarried. After that, Wayne and Wade no longer lived with their grandpa; they lived with a family named Speck. They were around 12 years old at the time.
Wade and Wayne lived with many different family members around Texas. They never knew where they were going to end up; with all the moving, they ultimately attended 17 different schools.
It was the height of the Depression, and the twins learned to work hard to help support the families with whom they lived. Occasionally, they got to keep their earnings and go see a movie.
By this time, Wade and Wayne were in high school; they settled into living in Stockdale with their aunt and uncle. Both played sports, and Wade competed at the District and Regional levels in track. Their uncle got transferred to San Antonio, where the boys enrolled at Harlandale High School.
The twins, now juniors in high school, didn't like the school and wanted to return to Stockdale. A gentleman named Audie Stadler and his wife, Dora, invited the young men to live with them in 1937. They worked hard for Mr. Audie, and saved up money to buy their first car, a Model A Ford, which cost $22.50. They boys only had $10 between them, and borrowed the rest from their uncle.
Wayne and Wade graduated from Stockdale High School in 1939. Both enrolled in vocational school when they were 19, learning the steel trade.
After America entered World War II, both twins enlisted in the military. Wade chose the U.S. Coast Guard, while Wayne enlisted in the Navy, serving in the "Seabees" — the construction battalion.
Wade was stationed in Louisiana and Philadelphia. He used to swim in the polluted Delaware River.
Both twins cheated death a few times. Wade was in a serious car accident where he almost bled to death; he sustained a head wound that caused amnesia. He also developed a bone infection while in the military, and his doctor did not release him back to active duty. The ship he was supposed to sail on sank, and all hands were lost.
Wayne was stationed in the South Pacific in the Marshall Islands when Pearl Harbor was attacked. The scariest thing he ever lived through, he said, was when the Japanese bombed the mess hall his battalion had just completed building.
"We had to hide in the water during the bombing," Wayne recalled. "That was the only safe place to go; there was nowhere to hide on the island. It was a terrifying 15 minutes. Amazingly, not one man was lost in the aerial bombing attack."
In 1944, Wayne brought home a couple of coconuts from the island. The family still has them; one is proudly displayed on the fireplace mantle.
One of Wayne's favorite moments during his service was when Admiral Chester Nimitz — from Fredericksburg — gathered the troops and asked for "all the boys from Texas" to step forward. They did, and Nimitz granted all of them liberty. Everyone else was sent back to work! Wayne smiled with a twinkle in his eye at the memory.
After his Navy service, Wayne worked at Goodfellow Air Force Base in San Angelo, servicing the BT13 planes used by Navy pilots during training. It was there he met his future wife, Imogene Foreman, a parachute-packing inspector. They were married for 53 years.
Eventually, he moved back to Stockdale "to punch cows," as he phrased it, returning to work for the Stadler family.
Wayne and Imogene had four children. "I had three boys and a girl, and Wade had three girls and a boy," he said with a grin. "That makes me the winner!"
Wayne became a deacon at the Stockdale Church of Christ, and spent 15 years preaching, teaching, and volunteering at the Connally Unit in Kenedy, part of the Texas prison system. After Imogene passed away, he remarried.
Wayne also delivered liquid feed in a bobtail truck to farmers until he retired at the age of 91.
An avid dominoes player, Wayne still loves to play at the Frank M. Tejeda Texas State Veterans Home, where he now lives.
Wade, like his brother, was in the civil service, ranched, and farmed. After retiring, he became a charter member of the Stockdale EMS, where he served for 15 years. He also was a member of the Stockdale Volunteer Fire Department. He's become less conversant over time; he currently lives at the Stockdale Residence and Rehabilitation Center.
His daughter, Babs McGuffin, wrote a book documenting Wade's life. He was quite a character, and had several adventures with his wife, Betti, and their four children.
From their precarious start in life, these brothers beat the odds to not only survive, but thrive — for nearly a century!
Thank you for your service, Wayne and Wade Rutland!
Advice for life
"Work hard and live straight! Stay out of trouble." That's Wayne Rutland's advice for young people.
His favorite president was Richard Nixon; his least favorite, Bill Clinton. His favorite TV show was "Bonanza."
************************
Wade H. Rutland of Stockdale, Texas, passed away Wednesday, May 23, 2018, in Stockdale at the age of 97. 
Wayne Rutland passed away on Wednesday, Aug. 8, 2018, at the age of 97.  
*************************
COURTESY / Wilson County News
HARRY SUTHERLAND
HARRY SUTHERLAND .... In about 1929, when Harry Sutherland was about 18 months old, his mother Artie suffered a total mental collapse. Family stories say that her husband,Fritz,  was exceedingly cruel to her and spent many hours away from home often gambling away what little money that the family had. 
Often Harry and Eddie, brothers,  were sent into town to find their father and bring him home from the gambling dens. It was said by Harry's descendants that his mother was very protective of him and would even take him into the fields with her.
Her mental condition may have been triggered by what we now call "post partum depression" following the birth of Sam. Regardless, one last incident was the one that resulted in her admission to the San Antonio Insane Asylum. Family stories say that her husband came home one night and found that Artie had placed Harry in a large roasting pan and was preparing to put him into a hot oven. 
While we cannot think that a mother doing anything like this to her baby, in her depressed mental state, she was obviously no longer thinking rationally. She had to receive medical and psychological assistance in the State Hospital.
I cannot imagine the fear and the sadness that my father and his siblings felt at losing their mother at such young ages. My father would have been about 9 years old, Hazel would have been about 7, and Eddie would have been only 5. Harry of course was still a baby. Fritz may have hoped that Artie would recover and eventually come home again so he did what he could in the interim. Hazel went to live with Artie's brother Garvie and his family. Harry, the baby went to live with his uncle Ancil "Jack" Sutherland and his family. Royal kept the boys at home with him for a while.
The boys continued to attend school in Sutherland Springs Wilson County Texas. The pictures that we found of Harry and Eddie along with their classmates in 1929 and 1930 show little barefoot boys with their hair slicked down and in 1930 Harry is sporting a hat in his lap. His younger brother Eddie was never far away. 
On the 1930 census, the four were living in Wilson County, Justice Precinct 3 in dwelling 112.   Fritz indicates that he still earns his living as a farmer.   
However, shortly thereafter, Fritz abandoned the boys and disappeared into places unknown. Family history says that one day when the boys, Harry and Eddie came home from school their father had packed up his things and was gone. 
The two were on their own at age 12 and 10. We think this happened about 1931 or 1932. This was the height of the depression and times were hard for everyone especially these two little homeless boys. 
We do not know for sure what happened to Harry for the next 10 years, but we know that Eddie was adopted by a man named James Wire Franks and was taken to California where his name was changed and he was totally separated from his family until after WWII. Legend says that Eddie was traded to Arthur Franks for a case of whiskey.
[In the blog "Sutherland Family History" , Sharon Sutherland has written some stories involving Sutherland Springs. ]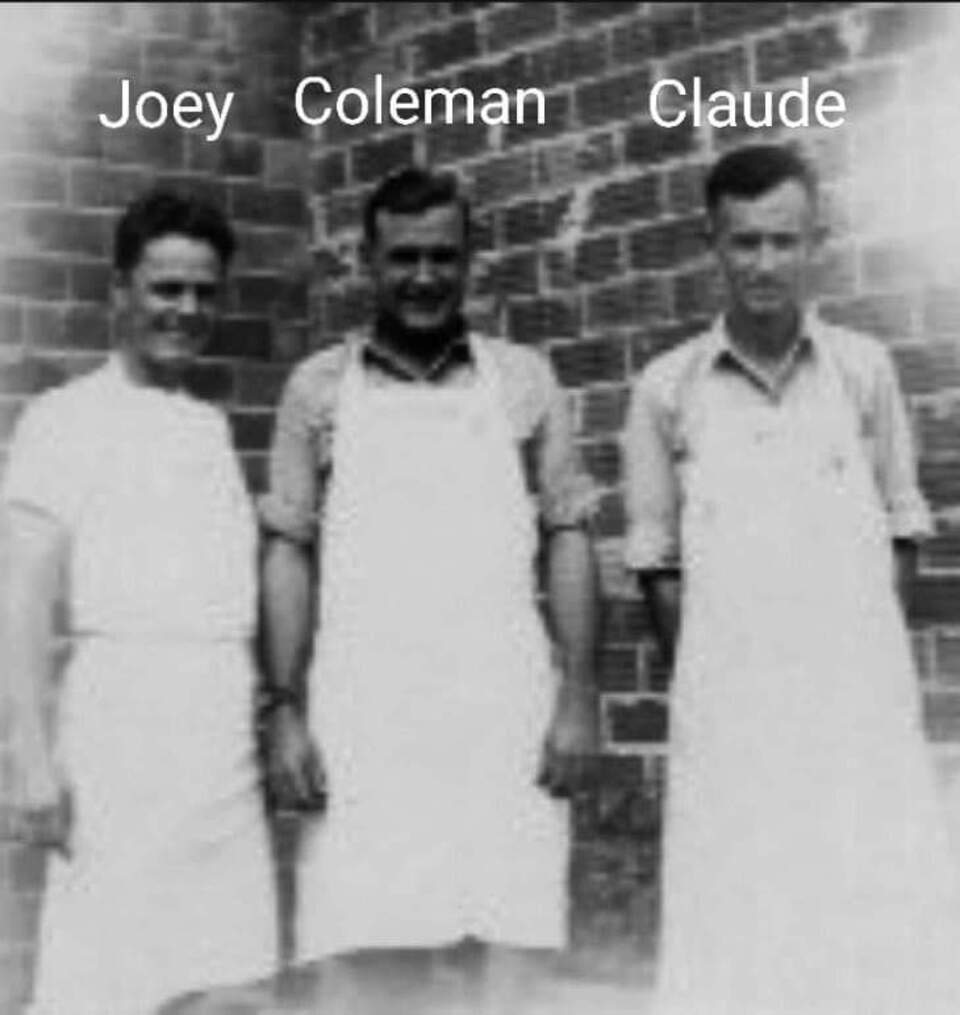 Joey Adcock, Coleman Talley, and Claude Cowan
Joey Adcock, Coleman Talley, and Claude Cowan ..... were upstanding active community members. Mr. Talley owned the grocery store and Mr. Cowan was the butcher while Mr. Adcock was a general employee.  They are standing in front of the old "Red and White" grocery store.The store used to stand at the corner of 14th & 4th street in Old Town Sutherland Springs Wilson County Texas before it burned down.
Kimberly Hineman 2nd birthday, circa 1970s
A FUN 50 YEAR OLD PHOTO.... Heres a group of Senior Citizens having fun at Kimberly Hineman  2nd birthday party  in Old Town Sutherland Springs Wilson County Texas!  Geesh, some of these little ones are grandparents. Birthday celebrations fifty years ago were not elaborate like today. Refreshments served was hand-churned homemade ice cream, birthday cake and Hawaiian  punch. The young ones played games such as "Pin the Tail on the Donkey" with the winning child the only one to receive the prize.  
The guests were left to right:
Back Row: Leslie Baker, Wesley Baker, Betty Sue Talley, Robbie Wood and Robyn Wilson
Front Row: James Risley, Cissy Wood, Holly Wilson,and Mary Joyce Tatum.
Leona Hosek Moczygemba
Growing up in Three Oaks 90 Yrs. Ago ....  Leona Hosek Moczygemba was born in Three Oaks, Wilson County Texas, in 1931. Her father, August Hosek, was born in Moravia in 1885. Her mother, Agnes Lamza, was born in 1896 in Texas. Her family came from the Czech Republic. They married in 1916.

Leona has spoken Czech all her life. When she started school she learned to speak English. But when she came home from school and was speaking English, her daddy reprimanded her and told her to speak Czech. To this day Leona speaks both Czech and English.

There were 12 children in the Hosek family. They lived by the Three Oaks Hall. Her daddy farmed 130 acres. He always farmed with horses or mules, walking behind the horses with the plows, cultivators, etc. When her brothers got old enough, they helped their daddy with the plowing. He bought a tractor in the late '40s.

Like almost all children during those years, when Leona was old enough she worked in the fields, chopping cotton, pulling corn, working in peanut fields, and then when they got home in the evening, they had more work to do — chores around the farm. Then there was homework. It was a hard life.

Sometimes her mother said that Leona should stay home and cook the noon meal while her mama went to pick cotton. Leona had to kill two chickens, heat boiling water to scald the chicken so she could pick the feathers off, then she had to clean them, fry them up, and cook the rest of the meal. Then she said when they all went back in the fields, she had the job of washing all those dishes by herself!

She described to me how her parents made sauerkraut, one of their main dishes in this family. Her mother would shred the cabbage — put the cabbage in a large crock with salt and dill. Then Leona said her mother would wash Leona's feet real good and carry her over and put her in the jar, so she could stomp on the cabbage for a long time. Leona thought that was fun. Then her mother covered it up with a cup towel and a heavy dinner plate and a heavy rock, until the sauerkraut was cured. Sauerkraut was always one of the main dishes in the Hosek family.

I asked her if she was glad when school started and she said, "Well I was glad, but we had to walk 4-1/2 miles to school every day and back, and when we got home there was still lots of work to be done. I had to miss a lot of school, because there was too much work to do."

Leona said, "We always wore straw hats to school except in the winter. We had no shoes and we had to walk to school barefoot. But there was this one time that my older brother outgrew his shoes and my mother told me I had to wear them to school. They were boys' shoes with these pointed toes, and I didn't like them. So I would put them on and walk about where the Three Oaks Store was and I would take them off and put them under a little bridge, and walk the rest of the way barefoot. Then in the afternoon I would come back, and put them on and walk home. My mama never found out."

At Christmas, her daddy went out to the pasture and cut a limb off of a tree. They would decorate it with strings of popcorn and colored paper chains. Christmas presents were a box of apples, oranges, nuts, and sticks of peppermint candy canes. When I asked if they ever got toys like dolls or trucks, she said they never got anything like that. She said probably because there were too many children. But she said they were so happy with the fruit, candy, and nuts.

That was during the Depression, and times were really hard for the Hosek family with all those children.

But Leona said one Christmas, they were all sitting in the house and Santa Claus came down the stairs with a bag over his shoulder with presents of apples, oranges, nuts, and candy. She was about 8 years old. The children were so excited. There really was a Santa.

But later on she went upstairs and found the Santa suit and the mask. Then she knew it had been her sister, Martha! Leona looked sort of crestfallen as she told this story. She said all the kids' dreams were shattered that day.

Leona went to school at Three Oaks until the 11th grade. Mary Ann Stavinoha, Emil Fisher, and Victor Hosek were in her graduating class. She continued to live on the farm and work in the fields for several years.
************************************

COURTESY / Wilson County News    Lois Wauson writer of the weekly column "Rainy Days and Starry Nights" December 19, 2012
Talamantez Brothers
Two Talamantez Brothers ...... from Floresville Wilson County Texas recalled their daddy during an interview with Fred Owens of the Wilson County News .

The Senior Talamantez, Pedro "Pepe" ,  was born in Graytown in 1913, finished school after the fifth grade, worked for 36 years as an ice man, worked many more years in other jobs, was married and raised six children, and died at the age of 87 in Floresville surrounded by his family.

Pete and Sam Talamantez, two of his four sons, remember their father as a very smart man. "He knew everything about every family in Wilson County. He knew where everybody came from and who everybody was related to," Pete said.

"I wish we had written it down," Sam said. "There were so many things he told us, but now it's gone."

When the boys were young, Pepe Talamantez worked for the Spruce family at their ranch outside of Floresville. When World War II started and all the eligible men were drafted, the Spruces held Pepe back from military service because he was an essential worker.

When Pete, the oldest boy, reached school age, the Spruces offered Pepe a job at their ice plant in Floresville.

"We were living out on the ranch at that time," Pete said. "It was more than a five-mile walk to school. There was no other way to get there. They offered my father a job in town so that we could live nearby and go to school."

The Talamantez family moved to a house with six acres on Sutherland Springs Road in Floresville.

"We had a big garden, potatoes, watermelons, onions, tomatoes, you name it," Sam said. "Dad was always away working, but one time a friend came to visit us, and he needed a place to stay. Dad let him stay in a cabin in the back. They never made a deal, but the man just started making the garden."

After moving to town, Pepe began his long service as an ice man, working from the ice plant at 4th and C streets in Floresville, where the offices of Floresville Electric Light & Power System (FELPS) are now located. The building still has thick, insulated walls and windowless rooms that were once used to store ice, although now they are filled with desks and computers.

"That's why Dad knew everything about everybody," Pete said. "It was because he delivered the ice door-to-door. He had a regular route in Floresville, delivering 12 to 25 blocks of ice." One block would last up to a week in the old ice boxes. In the 1940s and 1950s many people in Floresville did not have electric refrigerators.

"Dad started delivering ice with a horse and wagon, but later on he used a truck," Pete said.

The ice plant, the only one in Wilson County, made ice in 300-pound blocks in a process that took three days. When the blocks were frozen solid, the form was removed and the block was cut by an electric saw into 100-pound pieces. The 100-pound pieces were scored and then split into 50-, 25-, and 12.5-pound blocks.

"Dad delivered to all the restaurants in Floresville, too. They needed chipped ice to cover beer and soda in coolers and to serve in iced drinks," Pete said. Pepe chopped the ice blocks by hand for the restaurants. "Later they got smart. They got a machine to make chipped ice and Dad only had to deliver the bags."

Pete worked at the ice plants during summer vacation in the 1950s. Summer was the busiest time. "The farmers all came into the plant to get ice for their coolers. There were a lot of workers in the cotton and peanut fields, and they needed ice water," he said.

Pepe also delivered ice to Poth, Stockdale, and other places in the county, but only in 300-pound blocks. "They would slide the blocks out of the plant and down a chute into the truck. Then Dad would drive it to stores in those towns. The stores would cut up the blocks and sell it to their customers," Pete said.

Life became hard for Pepe in 1953. His wife, Margaret Ramos Talamantez, died, and he had six children to raise by himself.

"Dad never stopped working. He worked seven days a week delivering ice, from noon until 9 or 10 p.m. He also did washing and cooking for the children," Sam said.

The ice plant closed in 1980. Pepe began working for FELPS and stayed active until the last years of his life.

Pete Talamantez is 67. He is retired and works as the administrator for the Floresville Economic Development Corp. Pete still lives on his father's place on Sutherland Springs Road. (December 28, 2005)

Sam Talamantez, 57, owns the La Familia restaurant on Third Street in Floresville. Sam has been blind from diabetes for 14 years. (December 28, 2005)
*************************

Samuel R. "Sam" Talamantez passed away Thursday, Jan. 5, 2012, in San Antonio, Texas, at the age of 63 years, 11 months, and 4 days. He was born on Feb. 1, 1948, in Floresville to Peter and Margarita Talamantez. He was a lifelong resident of Floresville.