PASQUALE LEO BUQUOR
Dedication 2016
Col Pasquale Buquor..... seven years ago, August 13th, 2016,  was honored in Floresville Wilson County Texas with a dedication at the Canary Islander Cemetery by the Sons of Confederate Veterans.  
Buquor was a Texas Ranger, Bexar County Sheriff, San Antonio Marshal, San Antonio Mayor, San Antonio Counsleman and Confederate Veteran. 
The Cemetery is behind the O'Riley's Auto Parts Store,  US Highway 181 N. (10th St in Floresville)  
................
COURTESY South Texas History by Glenn Toothman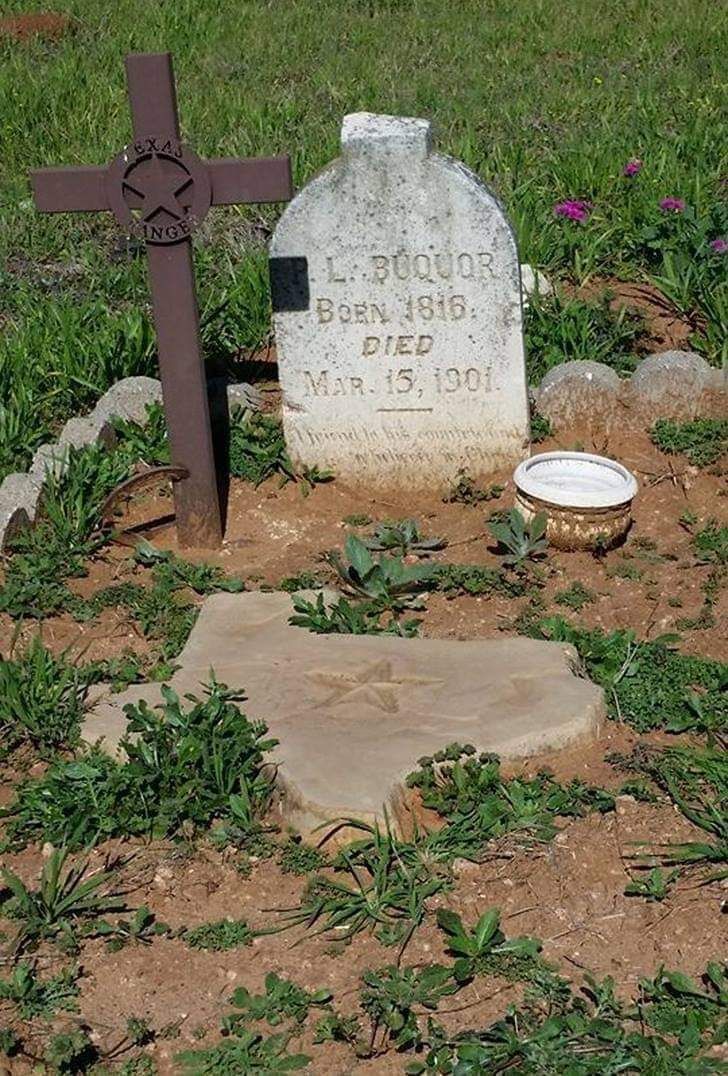 Pasquale Leo Buquor
Isn't the off-the-beaten path history of Texas fascinating? Traces of Texas reader Darla Hilton-Gurkins found this grave behind an auto parts store on Highway 181 in Floresville. It's a simple affair, but the man buried here, Pasquale Leo Buquor, was a Texas ranger, mayor of San Antonio, and Indian interpreter.  He lead an AMAZING life.  Per the THSA:
BUQUOR, PASQUALE LEO (ca. 1820–1901). Pasquale (Pasquier) Leo Buquor, or P. L. Buquor as he was more commonly known, Texas Ranger, San Antonio mayor, and interpreter, the son of Honoré Buquoy and Eugenie Prevost was born in New Orleans, Louisiana, about 1820. His great-great-grandfather, Henry Buquor was living in New Orleans as early as 1721, and his paternal grandmother, Felicite Perpetua Bugeaud (or Bujol), was a descendant of many of the early settlers of Acadia.
According to his pension application, Buquor was in Texas in 1836 and carried out his first service as "bearer of communications from President Burnett...to find Bowles chief of the Cherokee Indians." He was then "attached to [Manuel] Flores's Company" at San Antonio and served continuously until March 1837. Buquor also stated that he was "first Sergeant of the Company which included [Juan] Seguin Comp. on such as were in the Spy service."
In 1839 Buquor enlisted in the Army of the Republic of Texas. In his enrollment he was described as nineteen years of age with "hazel eyes, auburn hair, and by profession a Clerk...." He served under Gen. Thomas J. Rusk during the Cherokee War, and on July 16, 1839, was involved in the battle of the Neches between the Texans and the Cherokees in which Chief Bowles (see BOWL) was killed and his band driven from Texas.
In 1840 Buquor was an officer in the Commissary Department. He was in the Council House Fight in March 1840 at San Antonio. He stated in his pension application that during his service he was wounded twice by Indians. In March 1841 P. L. Buquor was the first soldier to sign the muster roll of the Spy Company of the Texas Rangers under John C. Hays.
Captain Buquor was with Captain Hays on April 7, 1841, during a battle north of Laredo against about thirty-five Mexicans who had reportedly been attacking traders between Laredo and San Antonio. After the battle, twenty-five Mexicans were taken prisoner, and three died. The Rangers suffered no losses. This battle is described in detail in The Texas Rangers by Walter Prescott Webb. He participated in the Woll Campaign (see MEXICAN INVASIONS OF 1842). For his service to Texas, Buquor was granted 320 acres of land on Calaveras Creek, in Bexar County about eight miles east of Mission San José. The conditional certificate was issued on June 7, 1841, in Bexar County. He later received an additional 320 acres as a married man.
On April 26, 1841, P. L. Buquor married Maria de Jesus (Jesusa) Delgado, daughter of Jose Maria Delgado and Juana Curbelo, descendants of the Canary Islanders who settled in San Antonio in 1731. They were married in San Fernando Cathedral in San Antonio, and after a honeymoon in New Orleans, Buquor resigned from the army and spent a term carrying the mail.
According to an affidavit from Jack Hays, Buquor joined Hays and the Texas Rangers again before his term of carrying the mail was over, and patroled the countryside between San Antonio and the Mexican border. He served from February 25, to April 30, 1844.
From February 11, 1846, to October 1, 1846, Buquor served as city marshall, and in 1848 he sold his property which fronted Villita Street, backing to Nueva Street.
Buquor served with Jack Hays and the Texas Rangers for a three-month term in the Mexican War and participated in several engagements along the Rio Grande. The Rangers were needed to battle the guerilla-type warfare fought by the Mexicans.
In the 1850 census Buquor was listed as a farmer having property worth $6,000. In February 1852 he was elected to the office of county commissioner by a count of sixty-five votes. On January 1, 1856, Gov. Elisha M. Pease appointed Buquor notary public in Bexar County, and on January 7, 1860, he was appointed to the same office by then Gov. Sam Houston. That same year, he was elected justice of the peace of precinct no. 2 and was noted to have an office in the Navarro building. From January 1, 1861, to January 1, 1862, Buquor was an alderman for the city of San Antonio. His friends during this time included Robert E. Lee who commanded the Second United States Cavalry at Fort Mason until he resigned his commission in the United States Army and left Texas in February 1861.
When the Civil War broke out Buquor organized a volunteer company and served as captain. According to his war records, he mustered into Company A, Third Regiment Texas Infantry of the Confederate States Provisional Army on May 25, 1861. He was ordered to Camp Verde to take command. His wife and family accompanied him to this post. His next command was at Fort Brown in Brownsville, and his family accompanied him again. The only incident of note at Fort Brown was that two of his sergeants, William Burns and Pat Johnson, were killed by a drunk named Millican, who in turn was shot by an angry mob. Upon his return to San Antonio in 1862, Buquor was well-known and decided to run for mayor against very strong incumbent, Samuel A. Maverick, one of the biggest cattlemen in the area. Buquor won by seventy-five votes and served from January 1, 1863, until January 1, 1865. One of the ordinances enacted during his term in office was outlining the proper conduct of slaves.
In January 1866, census records show he had an office on the north side of Military Plaza and was listed as a notary public, conveyor, and translator. In 1867 Buquor was appointed city assessor. He was a member of the Texas Veterans Association. He was appointed as supervisor of elections of Starr County by a U.S. District Judge in 1872 and that same year served as a notary public and justice of the peace for Starr County.
It was reported by the San Antonio Daily Express, on March 4, 1881, that: "Maj. P.L. Buquor has been employed as interpreter in the federal court. Maj. Buquor is one of the finest Spanish scholars in all Texas." He was fluent in four languages—English, Spanish, French, and German. On May 6, 1884, he was appointed by Gov. John Ireland as Honorary Commissioner to the World's Industrial Centennial and Cotton Exposition held in New Orleans.
Mayor Buquor retired to Wilson County but did not stop working. He was a notary and stayed active in the political arena. He worked with both Hispanics and Anglos, translating during their land transactions.
Buquor died after a long illness in Floresville, Texas, on March 15, 1901, at the age of eighty. He was survived by his wife of sixty years and their six children. Services were conducted at Sacred Heart Catholic Church. He was buried in the Canary Islanders Cemetery in Floresville. His obituary, which appeared in the San Antonio Light on March 16, 1901, stated:
    Colonel Buquor was a veteran of the Mexican war and mayor of San Antonio....During his administration Mayor Buquor introduced a method for the extermination of vermin by which he offered five cents for every rat tail that was brought to him. This had the effect of encouraging the slaughter of rats and there were many who did nothing else but kill rats and take the tails to the mayor for which they would receive five cents apiece.
A few years after Buquor's death, Mrs. Jesusa Buquor was interviewed by a reporter for the San Antonio Daily Express in July 1907. She recalled her memories of the battle of the Alamo and of warning David Crockett and William Travis, who were visiting her family at the time, of Santa Anna's forces in San Antonio. She was not quite nine years of age at the time. She stated that they were forced to give up their home to the Mexican soldiers and had to seek refuge from the flying bullets in the cellar of another family who lived on Arciniega Street. She also recalled that seven men who escaped from the Alamo were killed on the banks of the river near her house."
Who knew?  Thank you, Darla!  What a wonderful discovery!
**************
COURTESY / Traces of Texas