MRS. INEZ JACKSON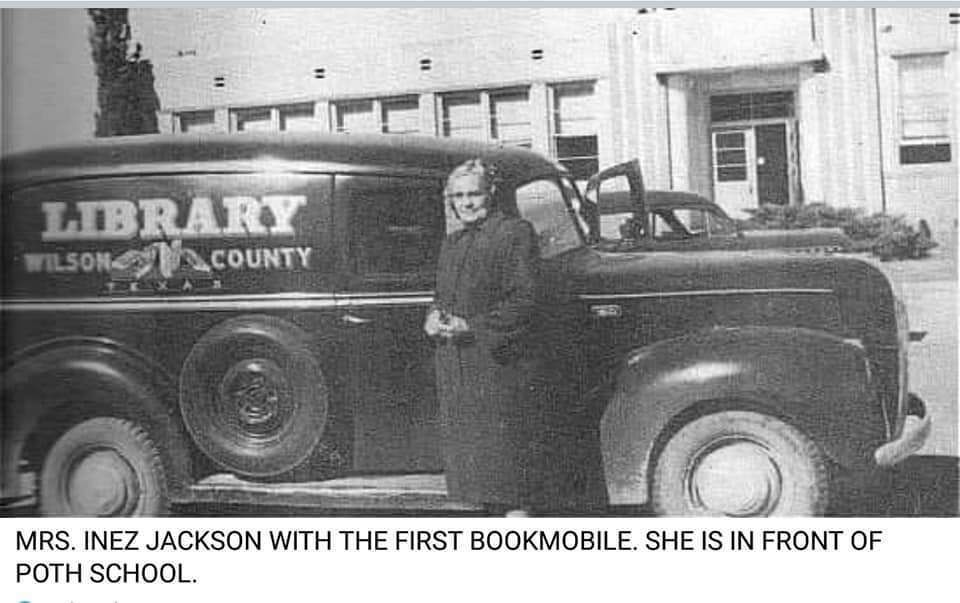 Bookmobile dream
Mrs. Inez Jackson' s dream/goal to have a bookmobile for Wilson County Texas proved valuable as it was implemented in 1940 the same year the Wilson County Texas Library opened. Mrs. Jackson drove the bookmobile to the 46 different county schools.  The bookmobile  "Making information and literature accessible to more people had the same effect that the internet has had on the modern world."

A big Thank You to Nicki Stohr, Head Librarian at Sam Fore Jr. Wilson County Library for her great assistance in providing photos.
WILSON COUNTY TEXAS .... Mrs. Inez Jackson was the person responsible for Wilson County having a Library. As well, she was the only driver of the Bookmobile. Read rest of the story in the below newspaper clippings.
[ Mrs. Inez Jackson not only gave birth to the Library idea but she put forth countless hours seeing the idea was carried out for Wilson County ]
In the 1980's, a room in the former Sam Fore, Jr. Wilson County Library was dedicated to Mrs. Inez Jackson..... the "Gold Room" became the "Inez Jackson Reading Room". 
The current library is in the former Floresville Primary School although, before it was the Primary School, it was part of the Elementary School. former Floresville Elementary School. There was not a room to set aside as the "Inez Jackson Reading Room". 
It is my hopes that placing forth the great significance Mrs. Jackson had in Wilson County even having a Library will touch many hearts. There needs to be a Memorial in the Library honoring Mrs. Jackson's historic part in Wilson County's history.
In the process of working on a second story about Mrs. Inez Jackson.... so don't unhook your seatbelts for long. 
[A big Thank You to Nicki Stohr, Head Librarian at Sam Fore Jr. Wilson County Library for her great assistance. ]