LAWMEN
Frank Hamer attacked
Frank Hamer attacked .... October 1, 1917.  Frank Hamer (left photo) , his pregnant wife Gladys, and three others are driving through Sweetwater, Texas when they get a flat tire.  Hamer stops to get it fixed--and is attacked by former lawman Gee McMeans (right photo) and a young man named Red Phillips.  It's part of an ongoing feud between Gladys Hamer's family and her former in-laws.
McMeans wounds Hamer twice--both serious injuries--before Hamer manages to disarm the assailant.  Meanwhile, Gladys pulls a pistol from her purse and keeps Phillips busy.  Red eventually breaks loose, runs toward Hamer and unleashes a shotgun blast that takes off part of Frank's hat.  It knocks Hamer to his knees; but he quickly rises, pulls his gun and shoots McMeans dead with a bullet to the heart.  Hamer's brother Harrison returns to the scene after a bathroom break.  He levels a rifle at Phillips as Red runs away.  But Frank stops his brother from shooting Red in the back.  The young man is quickly arrested by local officials.  The Hamer group is also jailed, for five days, but no charges are ever filed.
****************
COURTESY / Gunfighters and Historic Towns of the Old West  written by Mark Boardman taken from The Tombstone Epitaph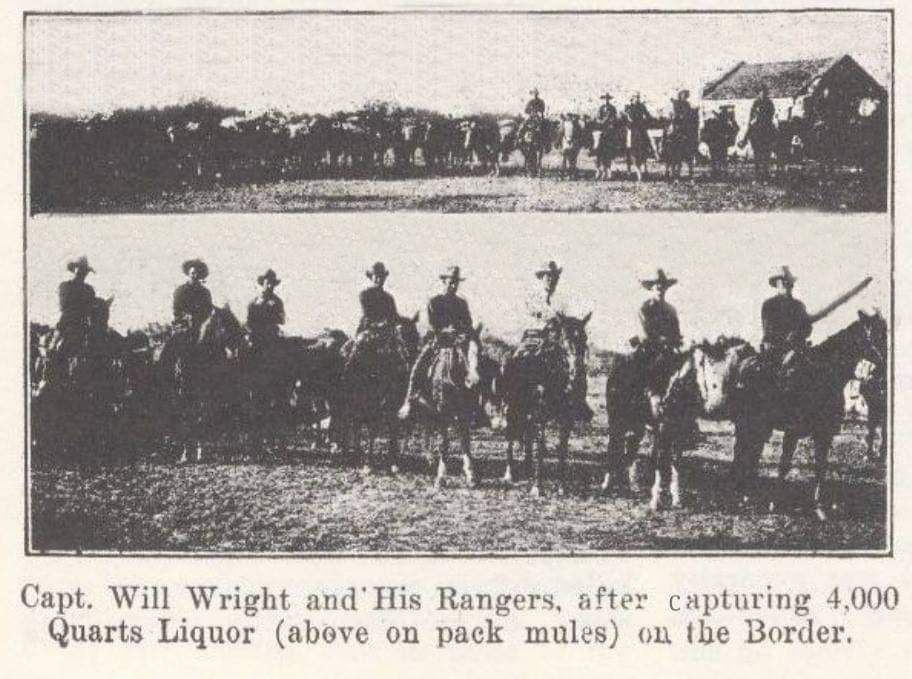 Captain Will L. Wright
When the Republic of Texas ceased to exist in 1846 and Texas became one of the States of the Union, one of the first measures enacted by the newly-created State Legislature late in that year was by the passage of a bill calling for the establishment of a State constabulary to be known as the Texas Rangers.

From the very beginning of the organization of the first company, which consisted of a captain, a sergeant and a company of men anywhere from ten to twenty fully mounted and armed, the slogan of the Texas Rangers has been, "Go get your man. Get him alive if you can; dead if you must, but don't come back until you get him."  And it was thus that when a ranger or a company of rangers started out to get some of the worst criminals that infested the State they went prepared to fight to the death, for often the criminal they were after was the leader of a gang of bad men who hesitated at nothing and such a thing as trying to kill those who pursued them was mere child's play.

The rangers of the early days of Texas had a hard life to lead, but they were of that mettle of which real men were made, and besides enduring all the hardships of weather in the great outdoors, suffering all the pangs of hunger that beset them, and encountering all the vicissitudes that could be their lot, they never flinched in their duty to their State or their country.  Ever since their organization the Texas Ranger force has been under the command of the adjutant-general's department of Texas, and often instead of dispatching a company of State militia comprising a hundred or more to put down some disturbance or run down a gang of criminals, the adjutant general sent a company of six or eight trusty Texas Rangers on the hazardous missions and they did their work in short order and with credit to their organization. In years gone by, and even at this time, when the ranchmen of Texas needed protection from the gangs of marauding cattle and horse thieves that visited their herds they always asked for ranger protection and they got it.

The oldest Texas Ranger captain now in the service, and as brave and fearless a man as ever was in the service, is Captain Will L. Wright, commanding Company B, Texas Rangers, who makes his headquarters at Weslaco, Texas, near the Rio Grande, but who, with his company of a sergeant and ten men, "covers" the entire border country of Texas from Point Isabel and Brownsville to Laredo and Eagle Pass, a border front over 300 miles in length, in addition to scouting work done far inland. Captain Wright was born in Yorktown, DeWitt County, 56 years ago, and was reared and educated in that section of Texas. He was elected sheriff of Wilson County in 1902 and served in that capacity fifteen years.

While serving as sheriff in 1904 he protected a Mexican named Refugio Jarquez, who had been arrested for a heinous crime, against a mob of about 150 infuriated citizens, who tried to take the Mexican away from him. When the mob overtook him and demanded the man Sheriff Wright pulled his revolver, stood in front of the Mexican and told the members of the gathering, which included one of his dearest friends, that as sheriff he was going to deliver his prisoner to the county jail that justice might take its course and that the first man who laid hand on that prisoner would be a deadman. As Sheriff Wright held the mob at bay some other officers arrived on the scene and the prisoner was taken to the Wilson County jail. Some time later when this same Mexican had been taken on to the scaffold at Floresille by Sheriff Wright to be hung for his crime a priest was standing on one side of him saying a prayer and Sheriff Wright was on the other side with bowed head. Suddenly the Mexican whirled about and drove a spoon knife (a knife made out of a spoon pounded flat) into Sheriff Wright's left breast just above the heart. Sheriff Wright was rushed to a room of the jail and medical aid given him, while the execution was carried out by his brother.

In 1898 Will Wright entered the Texas Ranger service under Capt. J. H. Rogers, that being before he was elected sheriff of Wilson County. As a lieutenant in 1899 he was stationed at Cotulla alone when J. R. Davenport, conceded to be one of the most dangerous "bad men" in Texas at the time, took a dislike to Lieut. Wright and decided to make Cotulla too small to hold him. Davenport and another "bad man" of the town contrived to harass Wright and then "get" him.  They fired a shot in one part of town and when Wright showed up they claimed a gun was discharged accidentally. Several other such things occurred until one day a friend of Wright's informed him that Davenport had boasted that he was going to "get" him (Wright) in short order. Wright armed himself with a revolver and Winchester and went down to the old P. & J. saloon in Cotulla, placed his Winchester just inside the door of the side room and sat down in front of the saloon and waited for Davenport to show up. In a short time Davenport. arrived and when he reached a point in front of the saloon near Wright he stopped when Wright told him to throw up his hands. Instead of throwing up his hands, however Davenport pulled his gun and fired, the bullet passing through Wright's coat. Wright had his gun in action by this time and Davenport was shot down and killed. The other bad man with Davenport, who was in the saloon, surrendered to Wright. At his examining trial for the killing of Davenport a number of witnesses gave testimony exonerating Wright.

In 1918 the commission of captain of Company B of Texas Rangers was issued to Capt. Wright by Adjutant General Harley.

In 1919 Capt. Wright was arresting a dangerous Mexican named Davila in Brownsville when the man suddenly swung about and stabbed him in the right breast, but a package of tobacco stopped the dagger and only a slight wound resulted. When the Mexican made a second lunge at him Capt Wright was forced to fire and kill the man.

Since his appointment as captain of Rangers, Capt. Wright and his company have had eight battles with Mexican smugglers and bootleggers, and while most of these running battles were at close range, neither the Ranger commander nor any of his men have been wounded or killed.  In November, 1921, in five days Capt. Wright and his company captured a total of 4,200 quarts of Mexican liquors and 63 pack horses, while several of the Mexican smugglers and bootleggers were killed and a number wounded.  One of these fights with bootleggers in 1921 was on November 17 at Colorado Chiquita, in Zapata County, on November 18 near Bruni, in Webb County, and on November. 22 near Bernaina ranch in Duval County—showing the vast range of country over which the Ranger company pursued the bootleggers with the contraband goods.

Capt. Wright and his Ranger company are still doing valiant work in preserving the safety of ranchmen and others and enforcing the laws, and the captain at this time is the oldest Ranger commander in the service from the standpoint of continuous work and still the same fearless man. Mrs. Wright and one son make their home at Floresville; another son, Charles H. Wright, is in the customs service at Rio Grande City, while another son, Will L. Wright Jr., is a member of his father's Ranger company.

Capt. Wright and his Rangers still use their ponies, as by this means they can penetrate the thickest of the dense chaparral that skirts the border of Texas and run down the criminal in his lair in some arroyo or secret place.  When he gets orders from his commander in chief, the Governor, or the adjutant general to"go and get him," there is nothing on earth to prevent Capt. Wright carrying out the order if it is within man's power to do so.
****************

COURTESY /J. Marvin Hunter's Frontier Times Magazine, September, 1924
Francis "Frank" Augustus Hamer
"Old West Photos and More" .......  Francis "Frank" Augustus Hamer was born in 1884 in Fairview, Wilson County, Texas. His father, a blacksmith, raised a daughter, and five sons, four of whom became Texas Rangers. Frank began his career in law enforcement in 1905 while working on the Carr Ranch in West Texas when he captured a horse thief. The local sheriff was so impressed that he recommended that Hamer join the Rangers. In 1906, he joined Captain John Rogers' Company C in Alpine, Texas, and began patrolling the Mexican border. In 1908, at the age of 24, he resigned from the Rangers to become the City Marshal of Navasota, Texas. Navasota was a lawless boom-town where at least a hundred men died in shootouts within two years. After bringing law and order to the town he moved to Houston in 1911 to work as a special investigator supporting the Sheriff's Office of Harris County. In 1914, he was hired as a deputy sheriff in Kimble County, assigned as the department's livestock theft investigator.

In 1915, Hamer rejoined the Rangers and was assigned to patrol the South Texas border around Brownsville during the Bandit War and La Matanza. The Rangers dealt with arms smugglers and bootleggers who plagued the border. He left the Rangers again to become a range detective for the Texas and Southwestern Cattle Raisers Association, commissioned as a Special Ranger.

On May 12, 1917, Hamer married Gladys (Johnson) Sims, the widow of Ed Sims of Snyder, Texas. Gladys and her brother had been charged in 1916 with murdering Sims, but the charges were dropped. On October 1, 1917, Hamer and Gladys and other family members stopped to get gasoline in Sweetwater when they suddenly encountered Gus McMeans of Odessa, Ed Sims' brother-in-law. McMeans was a former Texas Ranger and sheriff of Ector County. Hamer and McMeans got into a gunfight. McMeans died of a shot to the heart and Hamer was wounded.

Hamer left the Cattlemen's Association to accept a position in El Paso, as a federal agent in the Prohibition Unit, where he served for about one year. He participated in numerous raids and gunfights. Hamer transferred to Austin in 1921 where he served as Senior Ranger Captain. Beginning in 1922 Hamer led the fight in Texas against the Ku Klux Klan and saved fifteen people from lynch mobs throughout his career.

In 1928, Hamer was nationally famous when he put a halt to a murder for hire ring. The Texas Bankers' Association had begun offering rewards of $5,000 "for dead bank robbers—not one cent for live ones." Hamer determined that men were setting up deadbeats and two-bit outlaws to be killed by complicit police officers; the officers would collect the rewards and pay the men their finder's fees. But the police refused him support and the Bankers' Association's position was that "any man that could be induced to participate in a bank robbery ought to be killed." Hamer wrote a detailed exposé of the racket, which he termed "the bankers' murder machine", and he took his article to the press room of the State Capitol and handed out copies. His revelation about the racket resulted in public outrage, an investigation, and indictments. However, the bankers still did not modify the terms of the reward, and more bounty murders took place in 1930.

Hamer decided to retire in November 1932 after almost 27 years with the Rangers. The commander of the Texas Rangers allowed him to retain a Special Ranger commission as an active Senior Ranger Captain even after his official retirement.

The Barrow gang was robbing stores and banks in the Midwest and killing law enforcement, including Texas officers. On February 1, 1934, Texas prison administrator Lee Simmons, persuaded Hamer to come out of retirement and hunt down the Barrow  71) and was buried near his son Billy in Memorial Park Cemetery in Austin. Frank Hamer was wounded seventeen times during his life and left for dead four times. He is credited with having killed between 53 and 70 criminals.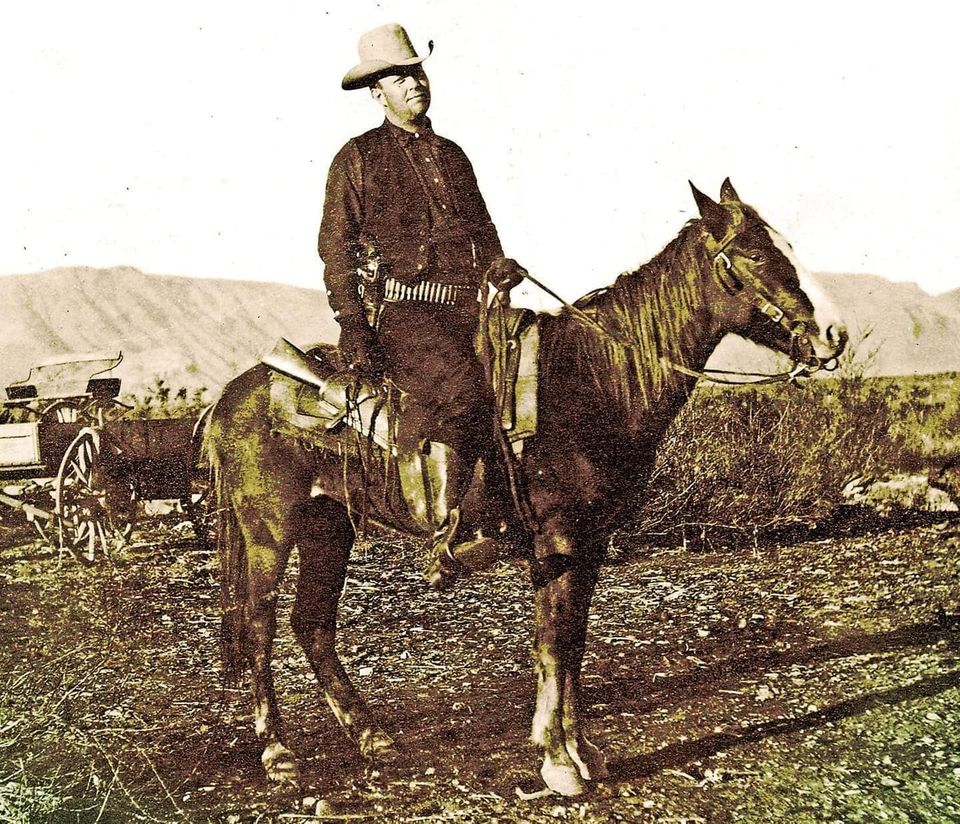 Texas Ranger Frank Hamer
BORN IN WILSON COUNTY TEXAS ....

Texas Ranger Frank Hamer atop his horse in the early days of his law enforcement career. Hamer helped modernize the legendary organization.

He is best known as the Texas Ranger captain who tracked down and killed Bonnie and Clyde, Frank Hamer was designated by Walter Prescott Webb as "one of the three most fearless men in Western history."
********************
COURTESY / Old West Legends, Myths and More

Photo provided by Texas Ranger Hall of Fame and Musuem, Waco
John Jackson "Jack"Helm
John Jackson "Jack"Helm ( c 1836 to 1839--May 17, 1873) was lawman,cowboy, gunfighter, Confederate soldier and inventor in the American Old West.

He was born in Missouri and in October 1841,his family relocated  to Texas where they soon settled on 640 acres in Lamar County.

On October 14, 1861, after the outbreak of the Civil War, Jack enlisted for a 12 month stint with Company G of the Ninth Texas Cavalry commanded by Captain  Lorenzo D. King at Camp Reeves. It was reported that he killed a black man for whistling  a Yankee song. He participated in a vigilante group  that hanged five men for Union sympathies. Jack deserted on April 14, 1862, on Des Ark, Arkansas and made his way back to Texas.

After the war, Jack worked for rancher "Shanghai" Pierce rousting cattle.  Col. Reynolfs appointed Jack Helm as a "special officer", and also Goliad County deputy  sheriff,.to assist Capt. C.S. Bell during the Taylor-Sutton feud. Jack went to Austin and became the leader of the Goliad County Regulators. During July & August of 1869, he and other Regulators carried out a reign of terror in Bee, San Patricio, Wilson, DeWitt and Goliad counties. The Galveston News reported that they killed 21 persons in 2 months and turned  over only 10 to the civil authorities.

Jack Helm was elected sherriff of DeWitt County  on December 3, 1869 and took his oath of office on April 27, 1870, but soon sought a second badge , as one of a Texas State Police Officer. On July 1, 1870, Jack joined the Texas
State Police and was appointed one of the four captains.
The Texas State Police had the authority  to overrule local law enforcement officials and this caused alot of problems, as they used their authority  to violate the rights of Texans. The majority of Texans also disliked them because a large portion of the force consisted of former slaves. The force was used to put down demonstrations that opposed Reconstruction policies.

On August 26, 1870, Captain Jack  Helm & his Texas State Police arrested  brothers Henry & William  Kelly, on a trivial charge,  who sided with the Taylors during the Taylor-Sutton Feud. Helm wanted to squeeze them for information and when they refused to give him any, Helm had both brothers shot dead. The brothers were killed while their mother, wives and children looked on. Mainly due to his heavy-handed methods & the public outrage  following their deaths, Jack was suspended in October  and dismissed by Governor  Davis, from the State Police Force in December 1870. He was legally cleared of any wrongdoing. He still wore the badge  of the elected Sheriff of DeWitt County and continued  to use tactics just as infamous as the criminals that he was sworn to apprehend. With the support of the Texas State Police who still supported their former Captain, he was known to be worse than any outlaw of the time. In April 1873, when the Texas State Police was abolished  and Jack lost his support, he gave up being a lawman and move to Albuquerque. He was living at a boarding house and working on an invention.  He used John Bland's blacksmith shop to perfect a cotton-worm destroyer and supposedly  received a patent no. 139,062 on May 20, 1873, for a new improved version  of the device. Even if that's true, he wouldn't live long enough to enjoy the royalties of his design.

Though he was a man with more enemies than most, Jack felt comfortable at Bland's blacksmith shop and was known not to wear a gun only carry a Bowie knife.

On May 17, 1873, John Wesley Hardin,Jack  Helm and Sam McCracken were talking in front of the blacksmith shop. While being distracted  by Hardin, Jim Taylor  crept up on Helm from behind & attempted to shoot him but his revolver misfired. Jack rushed Taylor, but Hardin shattered Jack's arm with a shotgun blast. Jack then attempted to flee into the blacksmith shop. While Hardin held the townspeople  at gunpoint, Taylor chased down Jack and unloaded the remaining five bullets into his head. As Hardin and Taylor mounted their horses and prepared to ride away, they boasted that they had accomplished what they had set out to do.

Jack Helm was buried  in a shallow grave  in the McCracken Family Cemetery,  in rural Gonzales County.  He was buried in a  shallow grave in case his wife, whom he married in 1869, wanted to bury him somewhere else.
Hardin was wielding a double barrel shotgun which is now on display at the Buckhorn Saloon and Museum in San Antonio, Texas.

In 1922, while digging a grave for Felder Patterson, they unearthed several bones. They called for an old timer in the area to view the burial site. That person identified  the site as the grave site of Jack Helm. They placed all of the bones back in the hole & marked Jack Helms site with a red rock which was later replaced with a concrete marker.

The history books list his name as Helm but they put Helms on his marker.

Helm was inducted into the Sheriff's Association of Texas Memorial on Panel 3, Column B, Line 8 in 1994.
********************

COURTESY / The American Wild West
The death of Jack Helms
ALBUQUERQUE TEXAS ... It is said that famous gunfighter John Wesley Hardin killed Jack Helms there in 1868. (Courtesy of Wilson County Centennial Book shared by Dawn Steenken Korzekwa) (photos courtesy of The Portal to Texas History)