KOSCIUSKO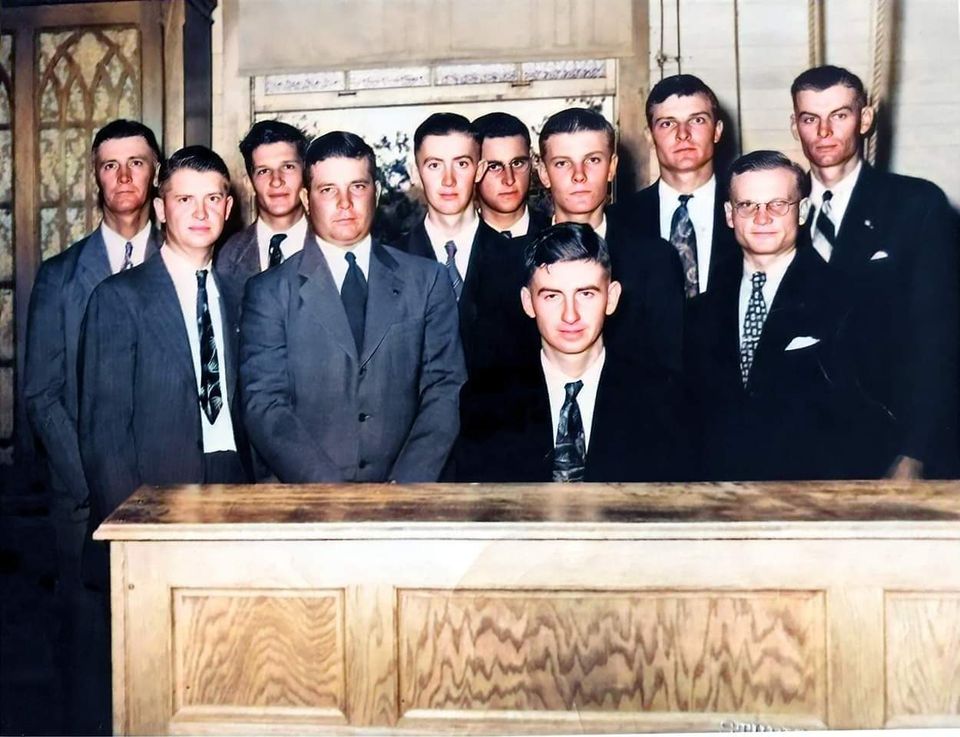 Original Polish choir at St. Ann's Catholic Church
St Ann's Catholic Church in Kosciusko in the original church. Circa late 1940s - almost certainly 1948 at the 50th parish anniversary. 
Choir members included: 
Steve Kotara, Alphonse Kotara, Pete Scheffler, Vincent Dzuik, George Dzuik, Henry Lyssy, Edwin Dzuik, Ben Jarzombek, Emil Skloss and Edmund Skloss. Anton Scheffler (seated) was the organist. 
Photo submitted by the Anton Scheffler family to History of Kosciusko, Texas , and cleaned and converted to living color by Brandon Darr . St. Ann's is celebrating its 125th anniversary on October 29th.
************
COURTESY/ History of Kosciusko, Texas by Brandon Darr
DWORACZYK'S MEAT MARKET
Courtesy/ History of Kosciusko, Texas
By Brandon Darr 
 
An advertisement for and picture of Dworaczyk's Meat Market in Kosciusko. If you look closely, the comic has "Dworaczyk's Meat and Beef" in the window. Even though the meat market is now gone, it's fond memory remains with many. People drove from all around, including from San Antonio, to buy meat at Dworaczyks. 
This ad was run in the San Antonio Light Newspaper on August 9, 1973 almost one year after Hagan Dworaczyk's (the owner of Dworaczyk's Market) wife Pearl passed away. The market sadly closed in 2014 after its last owner, Hagan's brother - Stanley Dworaczyk, passed away.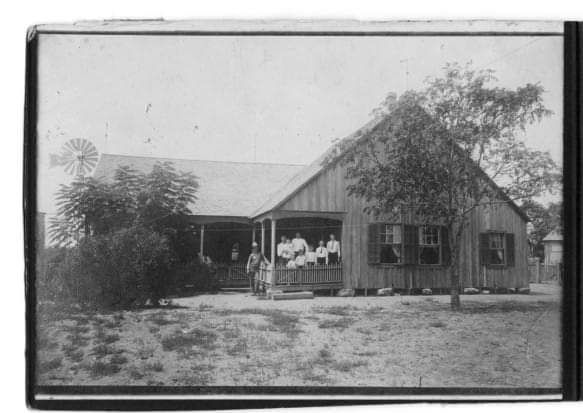 Steve Pruski home in Kosciusko
KOSCIUSKO TEXAS ... Photograph of Steve Pruski's frame unpainted house with three windows with shutters and two trees in front. Seven people in white shirts are standing on the front porch. One man wearing a hat and overalls stands to their right. Another person stands in the shadows to his rights. A windmill is visible to the far right of the photo. (Courtesy of The Portal to Texas History) It must have been a special day with everyone dressed up and posed for a portrait.... would so like to know details.
History of Kosciusko
COURTESY/ History of Kosciusko, Texas  by Brandon Darr

Source: Texas Co-Op Power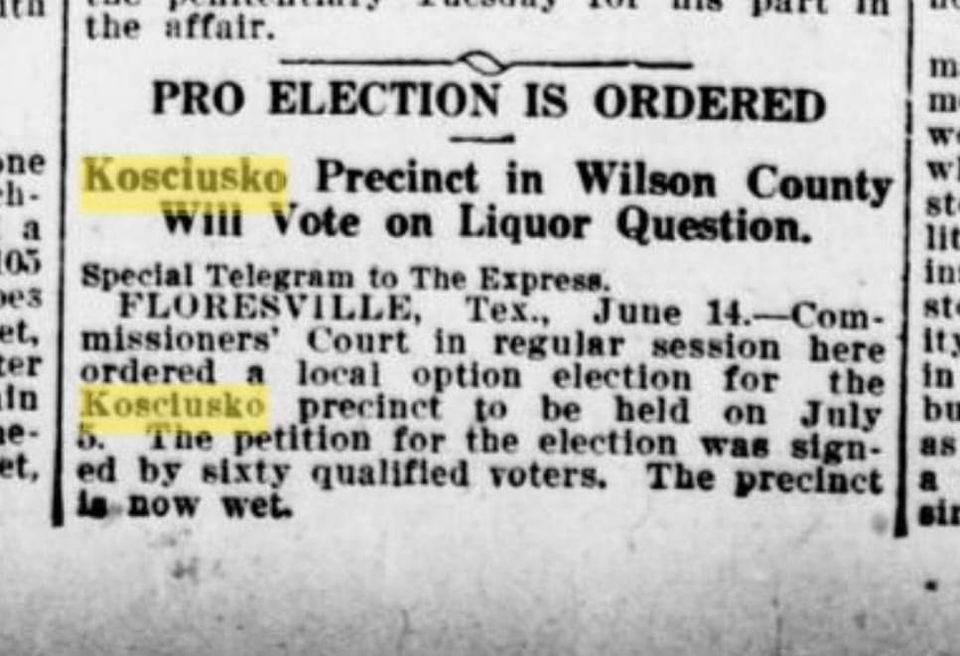 1916 San Antonio Express News article
Kosciusko Texas ..... Brandon Darr of History of Kosciusko, Texas found an interesting news article in the 1916 San Antonio Express Newspaper   Drinking became legal in the Kosciusko Precinct thanks to a passing vote on July 5th 1916.  Darr adds that the National Prohibition would mess this up four years later. Thankfully Kosciusko was then home to the largest illegal moonshine operation in Wilson County. A story for another day so stay tuned for more sharing from History of Kosciusko. ( Thank you Brandon Darr)