FLORESVILLE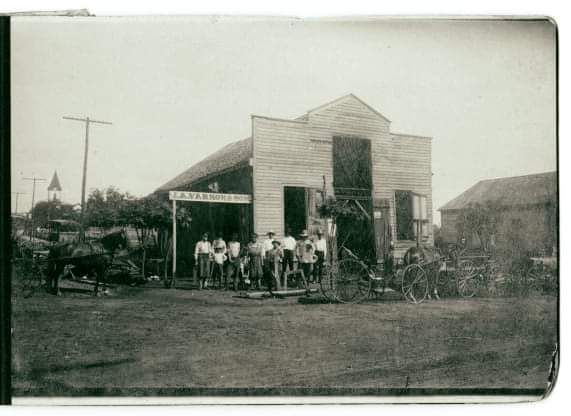 1902 - J.A. Varnon & Son
1902 Photograph of blacksmith shop. Men and boys are standing under sign the left front of the shop that says "J.A. Varnon & Son". Horses drawing buggies are parked in front of the shop. The tower of the Wilson County Court House can be seen in the background. (Courtesy of Portal to Texas History)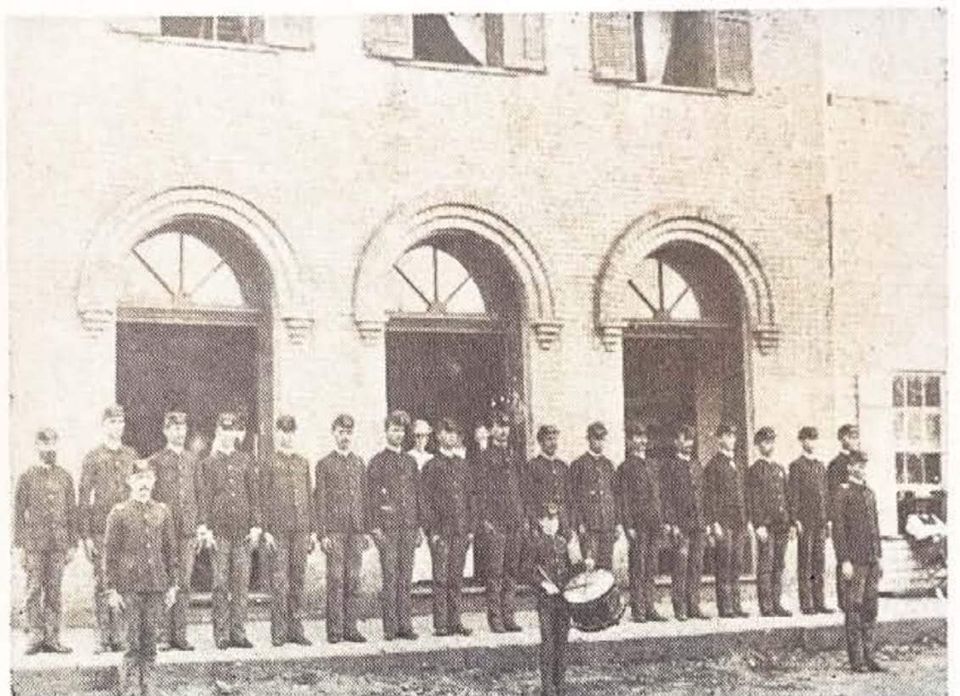 J.C. Merchant Super Market
THIS BUILDING ..... is difficult to know as the architecture is no longer recognizable.  It was the first brick building in Floresville, Wilson County, Texas,  and was completed in 1888 of bricks hand made on the San Antonio River. It is the former site of J. C. Merchant Super Market. The drug store to the right was owned by AGEE.
...taken from "Wilson County Centennial  Book".
*************
WHAT BUILDING IS THIS?  The Belknap Rifles are standing in front of an history-filled building in Wilson County Texas ... can you give me some information about it?
LOOKING FOR OLD IMPALA CLUB & TEJAS BALLROOM PHOTOS  
Julia Castro in her "Apple and Pie Salsa Column" wrote the article about remembering the Impala Club and Tejas Ballroom.  COURTESY/ Wilson County News 
I greatly enjoyed the story by Connie Morales that was published recently in the Forever issue of the Wilson County News. Frequently I see people posting their memories of the Impala Club on Facebook, but I haven't seen anyone mentioning the Tejas Ballroom. So I thought it was time to write about it, but I had to do some research.
I knew that it was "Nacho" (Ignacio) Martinez who had it built and named it, but I didn't know when. So I met with his sisters, Aurora, my forever sister-in-law, and comadre Elvira.
They said that Nacho had it built in 1963 on the property where the Sears store now sits. But the area was very different. The building faced Highway 181, which is now 10th Street. It was farther back because I remember it having a large parking lot in front. And there was no road next to it. The whole strip was undeveloped, no businesses. It became a very successful endeavor. The dance halls that had been around for years no longer existed — el Jacalito Mexicano and the old Lodi hall. People came from the surrounding towns. Nacho brought entertainers who are now well-known, such as Ruben Ramos, Flaco Ximenez, and many others. Aurora said that her husband, Arturo, worked for Nacho on Saturday nights as a bartender after delivering beer there for Henry in the morning.
They recalled that their parents had their 50th wedding anniversary reception there (of course). Also, that the Garcia girls, their cousins, all had their wedding receptions there.
The LULACs were very active here at the time, and Nacho let them have their meetings there. One year the LULACs had a contest to elect a queen to represent the organization in the Peanut Festival Parade. Sophie Gonzales won. Another time Dora Ann Castro, Henry's cousin, was selected to represent the Impala Club in the Peanut Festival Parade.
In 1975, Nacho sold the property to a Jimmy Rodriguez from Karnes City and moved his family to San Antonio. Supposedly it didn't go as well for him. At some point the property changed owners again, bought by a Delmiro Garcia. In 1984, Joe Tejada leased it from Garcia, and according to him, the last person that had operated it before him was Emilio Flores III. By then the name had changed to Tejas Ballroom. The building was getting old, so Joe put on a new roof and new floors. And he says that he too had worked for Nacho years earlier. The sisters also remember Luis Quintanilla working there with Nacho.
The local "Good Times Band" played there frequently, but Joe brought in a lot of other artists, who he feels really got their start here. Of course, he couldn't remember all of them. These are some that he remembers: "La Sombra," "Los Chamacos," Roberto Pulido, Laura Canales, "Los Hermanos Farias," Little Joe "y La Familia," Ruben Ramos, "Los Palominos," and Agustin Ramirez.
In 1992, Joe decided not to renew his lease. Instead, he bought "El Patio" downtown, where he continued to have dances.
Of our kids, not all were into dancing, but those that were went either to the Impala Club or the Tejas Ballroom, from the oldest to the youngest.
I'm sure that they remember the good times and "The Good Times."
Joe called me later to tell me that one Saturday night when Roberto Pulido was performing, a family stopped by. They were just passing through and saw that there was a dance. The father asked Joe if his daughter could sing, that she was quite good. It was Selena, only 13 years old! You Selena fans know the rest of her story.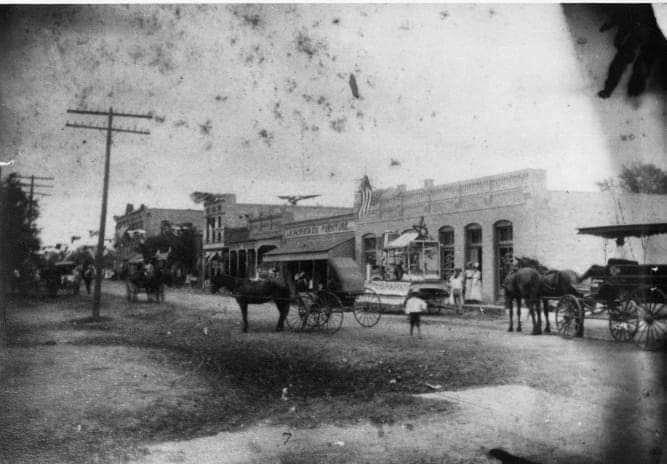 Floresville – 2nd and C Streets
FLORESVILLE WILSON COUNTY TEXAS .... Street scene photo taken from the corners of 2nd and "C" street looking west toward the courthouse. Horse, buggies, wagons and mule - people in front of stores. Can anyone read what is written on the horse-less wagon where the ladies in white are standing?
[The Portal to Texas History]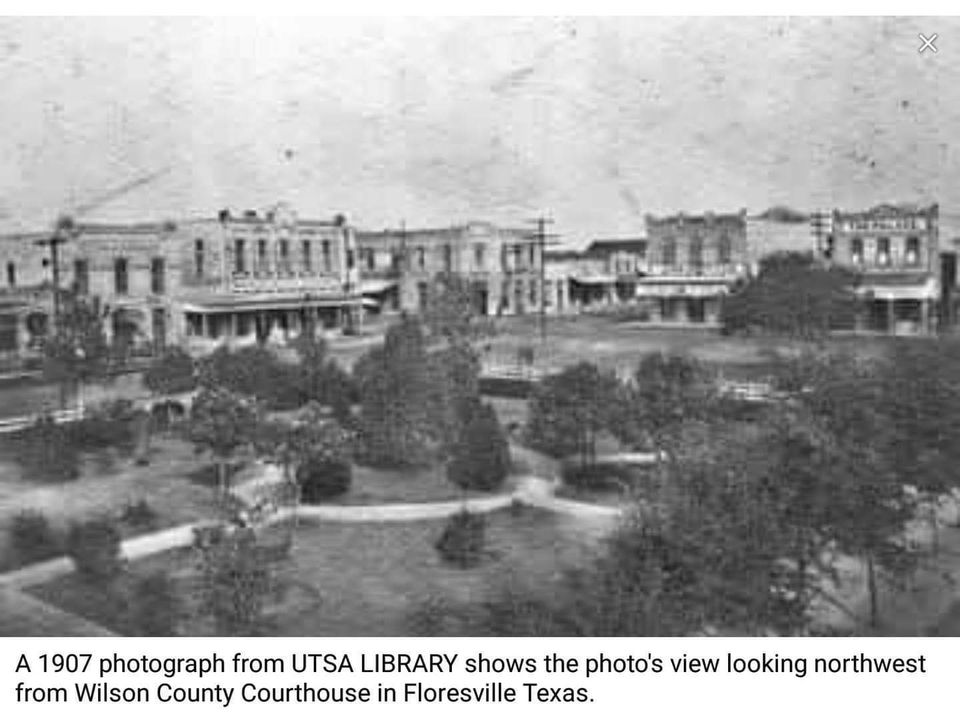 A View of the Courthouse
This amazing 1907 photograph from UTSA Library shows the photo's view looking northwest from Wilson County Courthouse in Floresville Texas. Third Street on left, B Street on right. Among the businesses are the W. W. Rhode One Price Case Store,  the John Griffith store, and the Palace.