CIVIL WAR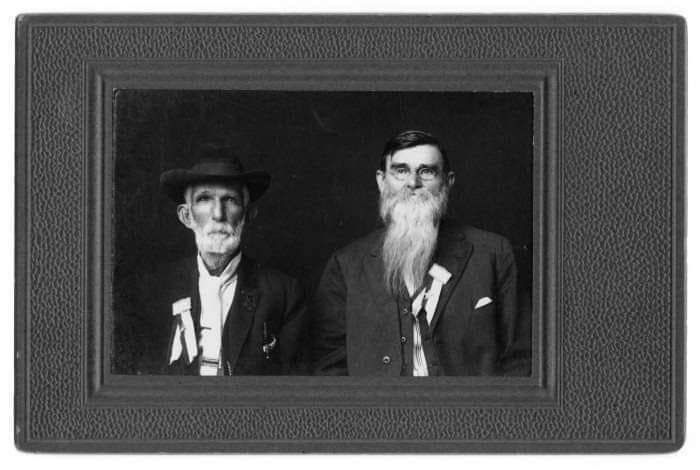 R. V. Arnold and Henry Waters Berryman
Right now, 8:45 a.m. July 2, 1863. Private Henry Waters Berryman, of Alto, Texas, 1st Texas Infantry Regiment has roused up from sleep and looking around the camp of his regiment. He and the soldiers of the 1st Texas Infantry arrived in Gettysburg around 2 a.m., after a long march. Private Berryman knows now that a huge battle is taking place around him. Not since the Battle of Sharpsburg (Antietam), fought a little under a year ago, has he seen so many signs of a terrible battle. He and his cousin Newt Berryman, heard the sounds of suffering men in hospital tents, many screaming as their limbs are amputated.
Private(s) Berryman have a long wait (almost eight more hours) until they become part of the battle at "The Devil's Den." Private Berryman, wrote home soon after the battle that he saw his cousin, Private Newt Berryman "get shot in the middle of the forehead and go down."
Private Henry Berryman is now grieving for his cousin,whom he was positive was killed, saw Newt rise up, miraculously, and Private Berryman tells his cousin to go back to the hospital tent and get his wound taken cared of.
Newt Berryman tells his cousin, "if every soldier who received a wound in battle go back to the hospital tent, then there wouldn't be any soldiers left to fight the Yankees," and continues to fire his rifle at the Federals. Both men survive the battle of Gettysburg. Henry Berryman wrote a series of letters to his "own ma" as he begins the letters describing the intense and chaotic battle. Many of his friends from home are killed around him at the Devil's Den.
50 years later Private Henry Waters Berryman would take part in the 50th Anniversary of the battle of Gettysburg, July 1-3, 1913, and would write to his newspaper back in Texas that he is "thankful to almighty GOD that both "Rebs" and "Yanks" are now joined together in friendship and brotherhood, united in pride and patriotism of their now united country,"
July 2, 1863, 8:45 a.m. Battle of Gettysburg, 154 years ago.
Below is a photograph of Privates R. V. Arnold (18th Georgia Infantry)  and Henry Waters Berryman (gentleman with the long white beard) taken at the Annual Reunion of Hood's Texas Brigade in Floresville, Texas May 10-11, 1915.
************
COURTESY / Civil War Texas  (Joe Owen Civil War Author)
HOOD'S TEXAS BRIGADE REUNION
..... FLORESVILLE WILSON COUNTY TEXAS 1915 (Long read yet very interesting!)

Right now, 8:45 a.m. July 2, 1863. Private Henry Waters Berryman, of Alto, Texas, 1st Texas Infantry Regiment has roused up from sleep and looking around the camp of his regiment. He and the soldiers of the 1st Texas Infantry arrived in Gettysburg around 2 a.m., after a long march. Private Berryman knows now that a huge battle is taking place around him. Not since the Battle of Sharpsburg (Antietam), fought a little under a year ago, has he seen so many signs of a terrible battle. He and his cousin Newt Berryman, heard the sounds of suffering men in hospital tents, many screaming as their limbs are amputated.

Private(s) Berryman have a long wait (almost eight more hours) until they become part of the battle at "The Devil's Den." Private Berryman, wrote home soon after the battle that he saw his cousin, Private Newt Berryman "get shot in the middle of the forehead and go down."

Private Henry Berryman is now grieving for his cousin,whom he was positive was killed, saw Newt rise up, miraculously, and Private Berryman tells his cousin to go back to the hospital tent and get his wound taken cared of.

Newt Berryman tells his cousin, "if every soldier who received a wound in battle go back to the hospital tent, then there wouldn't be any soldiers left to fight the Yankees," and continues to fire his rifle at the Federals. Both men survive the battle of Gettysburg. Henry Berryman wrote a series of letters to his "own ma" as he begins the letters describing the intense and chaotic battle. Many of his friends from home are killed around him at the Devil's Den.

Fifty years later Private Henry Waters Berryman would take part in the 50th Anniversary of the battle of Gettysburg, July 1-3, 1913, and would write to his newspaper back in Texas that he is "thankful to almighty GOD that both "Rebs" and "Yanks" are now joined together in friendship and brotherhood, united in pride and patriotism of their now united country,"
July 2, 1863, 8:45 a.m. Battle of Gettysburg, 154 years ago.
*****************

COURTESY / The Portal to Texas History (Cooke, John Esten. The Rockdale Reporter and Messenger (Rockdale, Tex.), Vol. 42, No. 33, Ed. 1 Thursday, October 21, 1915, newspaper, October 21, 1915; Rockdale, Texas.)

COURTESY / Civil War Texas submitted by Joe Fowler