BILL WRIGHT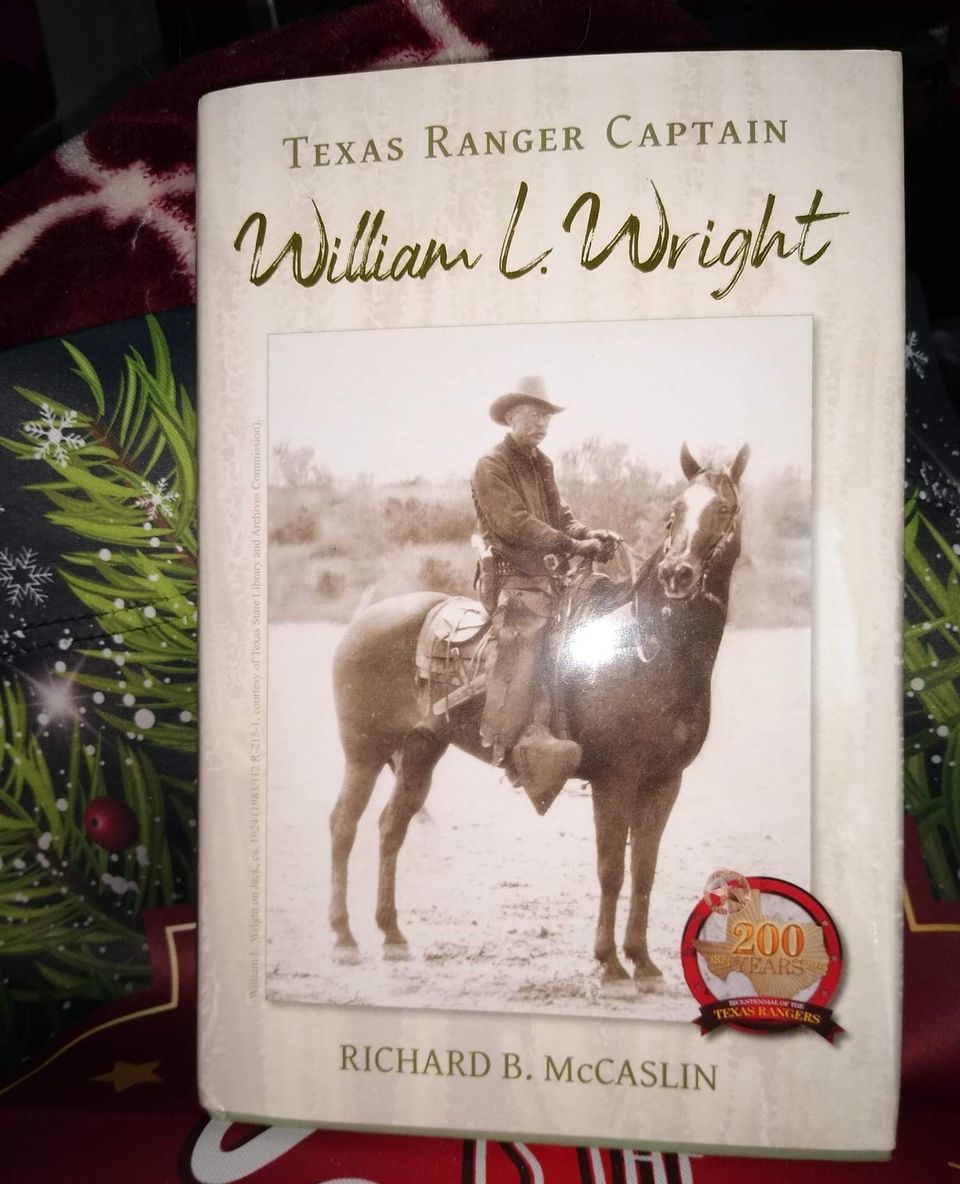 "Texas Ranger Captain William L. Wright"
Richard McCaslin, Author .... of many books including "Sutherland Springs, Texas Saratoga of the Cibolo" has a new book published. "Texas Ranger Captain William L. Wright" began from Rick's  great interest in him as he researched material for his Sutherland Springs book.
Rick gifted his newest book to me along with his permission to use parts for  my "Talk of Wilson County Tx Historic Towns" blog.  "Texas Ranger Captain William L. Wright" is based on archival sources and a researched biography of the legendary Wilson County Texas ...Texas Ranger.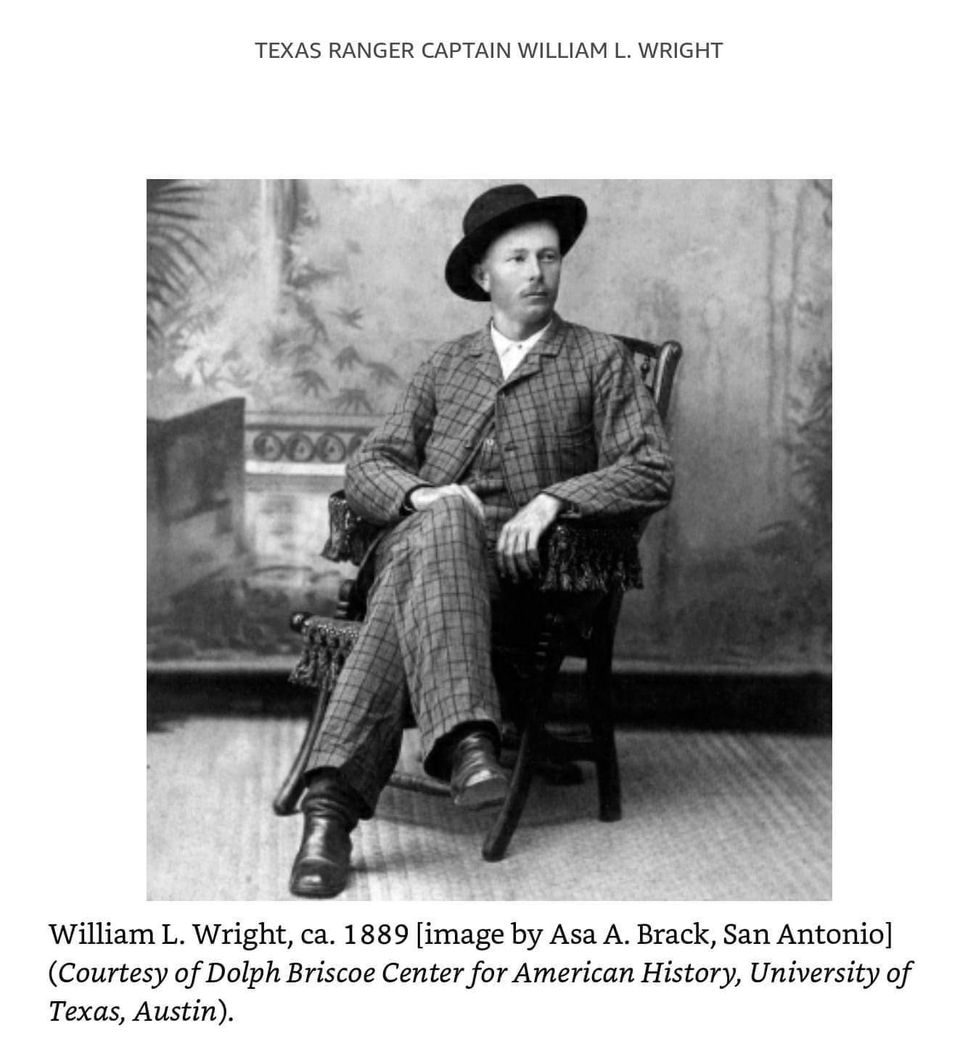 William Leonidas Wright 
William Leonidas Wright  .... was born to be a Texas Ranger; hard work made him a great one. His mother, Ann Elizabeth Tumlinson Wright, was the proud daughter of a well-known antebellum Ranger, Joseph L. Tumlinson, whose two brothers, John J. Tumlinson Jr. and Peter F. Tumlinson, were Ranger captains. Wright's brother, Milam H. Wright, became a Ranger, and their sister Zora Lee Wright married erstwhile Ranger Charles P. Warren. Wright married Mary Ann "Mollie" Brown, whose father and two brothers—Sanford N., Charles B., and Gratz D. Brown—were Rangers, and they had five sons, three of whom—Charles H. ("Pat"), Emanuel A. ("Dogie"), and William B. ("Bill") Wright—served as Rangers. Wright tried working as a cowboy and farmer, like many men of his generation in rural Texas, but it did not suit him. Instead, he became a deputy sheriff and then a Ranger, as he seemed destined to do. His need for a better salary to support his growing family pushed him to leave the Rangers and become a sheriff, an office also held by his father Little Berry "L.B." Wright, brother Milam, son Dogie, and at least six cousins: Mike B. Wright, Thomas C. "Creed" Taylor, William A. "Alonzo" Taylor, William W. Taylor, Joseph Tumlinson, and Peter C. Tumlinson. Wright remained in that office longer than any of his predecessors in Wilson County, but when an opportunity came, he returned to the Rangers as a captain and served for most of two decades. Considering his lineage, it is hard to imagine what else he might have done. At least eight relatives were Rangers before the Civil War, while five served in the Frontier Battalion,and twenty-two were in the Ranger Force. That he outshone most of his contemporaries was due to his work ethic. After his father died when Wright was just fourteen years of age, he became a ranch hand to help take care of his widowed mother. Then came his attempt at farming, followed by his decision to be a deputy sheriff and Ranger, all prompted by the need to support his immediate family. At the same time, Texas experienced rapid population growth and economic development, with New South ideals challenging those of the Old West. Wright thus not only learned to rope and ride but also became well accustomed to enforcing the law in an era marked by change, all of which made him an effective Ranger as he worked hard to uphold his family legacy and earn his pay.
****************
COURTESY / Richard McCaslin, Author
WILLIAM LEE WRIGHT
Reader Guy W Davis came up on this book in a yard sale recently. The book, " A Pictorial History of Texas Rangers" was compiled in January 1969 by Charles Schreiner III, Audrey Schreiner, Robert Berryman, and Hal F. Matheny. TWCTHT is pleased Guy is sharing the information on Ranger Wright.